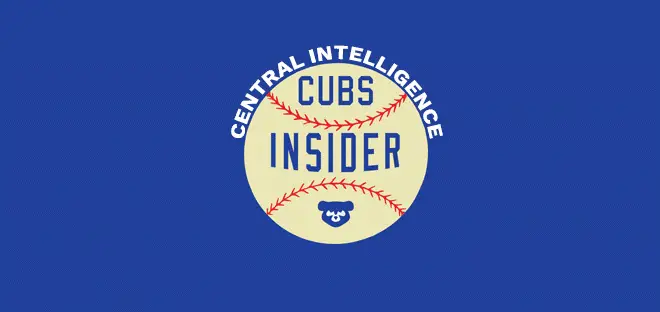 Central Intelligence: Week of June 11th
The Brewers still seem to be magically hanging around at the top of the division and the Cubs have managed to find a leadoff hitter in the most unlikely place. Let's take a look at what happened in the Central this week.
*teams listed in order of standings
Milwaukee Brewers
Went 4-3 en route to maintaining first place and jumping four games above .500 at 37-33. The Crew took three of four from the Cardinals, including a doubleheader split on Tuesday.
Eric Thames has hit a home run in four straight games, bringing him the NL lead with 20 on the season. What a comeback story.
Keon Broxton has hit a home run in four of his last five games. That's kind of what the Brewers do, hit home runs. Broxton has 11, along with playing stellar defense in center. Now, about that strikeout issue…
Top prospect Lewis Brinson made his debut this week. It's definitely been a struggle as he has gone just 2-for-18 with nine strikeouts. He is young and we will see if he can make adjustments going forward.
Chicago Cubs
The Cubs went 3-3, bringing them to 33-34. They have split the first two games with the Pirates and look for a series win on Sunday.
Anthony Rizzo, of all people, has been the leadoff hitter for four straight games. His line reads as follows: Home run, home run, (foul) home run/walk, single. Have the Cubs really found the top-of-the-order hitter that they have been longing for all year?
The Cubs appeared to have kicked their hitting with RISP demon on Friday night, scoring six runs in the 9th inning in a 9-5 win. Those problems popped up on Saturday, though, as the Cubs failed to get a clutch hit yet again.
Ben Zobrist was placed on the disabled list prior to Friday's game with a tender wrist has been bothering him for the last few weeks. Tommy La Stella was recalled to take his place.
St. Louis Cardinals
The Birds went 3-4 and they now stand at 31-36.
They may not be winning too many games, but the Cards may have found a formula at the top of the order that works. Matt Carpenter leading off with Dexter Fowler hitting second. Fowler is 11 for his last 25 with four home runs, Carpenter is also 11 for his last 25 with two dingers and six doubles. Now if only the rest of them could hit.
Adam Wainwright had a tough go on Saturday in Baltimore, throwing just 1.2 innings, giving up nine ER with three homers.
Paul DeJong may be forcing himself into the lineup. In the current series against the Orioles, DeJong is 4-for-7 with four runs scored, and two home runs. Kolten Wong may have some much-needed competition.
Pittsburgh Pirates
The Bucs went 4-2 and now sit at 31-37. They made a minor statement by taking two of three from the Rockies early in the week.
Andrew McCutchen looks more and more like his old self with every passing game. In June, Cutch is slashing .396/.459/.717 with four dingers, seven BB, and only eight strikeouts in 53 at-bats. What an absurd month.
Gerrit Cole looked like his old self against one of the best offenses in baseball. Against the Rox on Tuesday, Cole pitched seven innings, giving up three hits and just one earned run.
Jameson Taillon was brilliant in his first start back from testicular cancer surgery. He pitched five shutout innings, giving up just five hits and striking out five. Good to see from him.
Cincinnati Reds
Oy, the Reds' slide has reached ultra levels now. They lost all six games this week and their record is now 29-38. They have lost eight in a row and counting.
At least there was one bright spot this week: Amir Garrett looked better. He pitched six innings of two-run ball, striking out eight and giving up seven hits in a start Wednesday against the Padres.
Even their most reliable pitcher, closer Raisel Iglesias, has been unreliable. Last Sunday, Iglesias paved the way for a six-run Dodger rally in the 8th inning, topped off by a Corey Seager game-winning grand slam.
The Reds did something I'm not sure has ever been seen before, as yesterday in a 10-2 loss against the Dodgers, the Redlegs went a whopping 1-for-17 with runners in scoring position. That is not a typo.