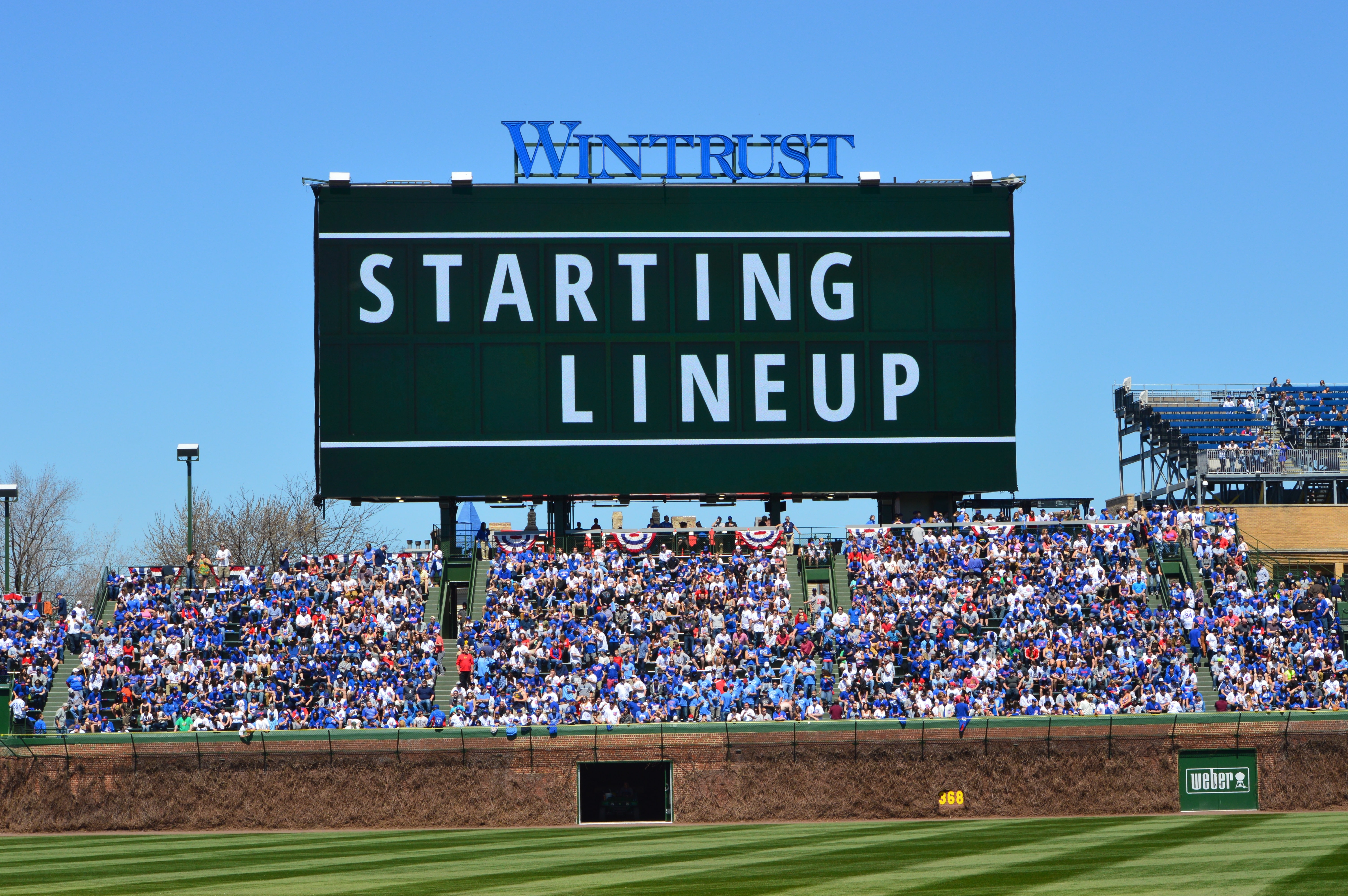 Chicago Cubs Lineup: Rizzo Leads Off, Bryant Sits Again as Cubs Try to Hit More Homers than Lackey Allows
The great Anthony Rizzo Leadoff Experiment continues for another day and the Cubs are hoping it results in another home run. For that matter, they'd better hope the rest of the lineup is ready to play longball as well. They'll have to do it without Kris Bryant, who's getting his second day off this week as he fights through a rough patch that has seen him crossed up at the plate.
Ian Happ occupies the two-hole and plays second base, with Willson Contreras batting third and Jason Heyward cleaning up. The bizzaro lineup continues with Albert Almora Jr. hitting fifth and Tommy La Stella — who I still think is best suited for the leadoff role given the current roster — batting sixth and playing third.
Addison Russell has been hot of late, but he sits in order to get Javy Baez time at short. Jon Jay brings up the bottom of the order and is playing left. That last bit might seem a little odd with a righty on the mound, but Jameson Taillon has been much tougher on lefties this season and Kyle Schwarber hasn't necessarily been lighting the world on fire. And yes, I understand that Jay is also a lefty.
Taillon is making only his second start since returning from testicular cancer surgery and the Cubs are hoping to get more off of him than they did back in mid-May. In that previous matchup, the big right-hander scattered seven hits over seven innings of one-run ball. That was Taillon's longest outing of the season and he's only gone past the 5th in one outing since.
The fastball/curve combo has somewhat handcuffed left-handed hitters, but righties have absolutely raked against Taillon this season. Well, if you consider .275/.360/.468 with a .356 wOBA raking. I guess that's why the Cubs are going with three lefties in their top four hitters and four in their first six. Of course, Taillon's career splits are less pronounced and are actually almost dead even, so a lefty-heavy order isn't egregiously bad.
Even so, I can't help but feel that Joe Maddon doesn't practice exactly what he preaches when it comes to matchups dictating his lineups and who bats where and how. But he's got way more proprietary data than I do, so I should probably just stay in my lane there.
Slugging may have to be the order of the day as the Cubs try to support homer-prone John Lackey, a man who has surrendered at least one dinger in each of his last six starts and who has allowed multiple jack-jobs six times this season. But at least he's only facing a lineup with a hot-hitting Andrew McCutchen and a slugger in Josh Bell who has hit four of his 15 career home runs off of Cubs pitching and boasts a 1.090 OPS against them.
First pitch is set for 12:35 CT and CSN Chicago will have the action from PNC Park in Pittsburgh.
Here is today's #Cubs lineup for the series finale in Pittsburgh.

Game preview: https://t.co/HpDB3Ty0m7 pic.twitter.com/rCKcjL6DTK

— Chicago Cubs (@Cubs) June 18, 2017