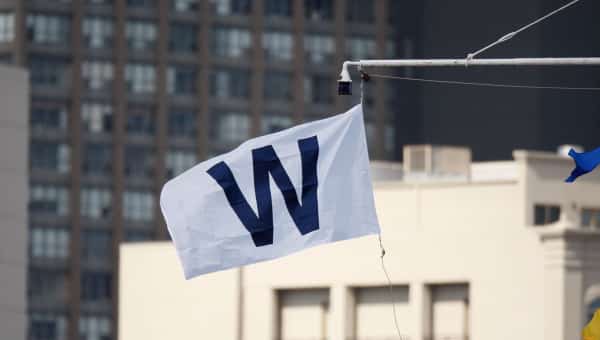 CI Recap (6/18/17) – Cubs 7, Pirates 1: Rizzo Hits Milestone HR, Lackey Pitches Well as Cubs Cruise
The offense produced behind John Lackey, who put forth one of his best performances this year as the Cubs beat the Pirates for a rare road series win.
The Cubs got off to a quick start today, scoring after seeing only three pitches from Pirates starter Jameson Taillon. Anthony Rizzo led the game off with a double, Ian Happ sacrificed, and Willson Contreras hit a double that sounded like it was long gone off the bat.
They loaded the bases in the 3rd and Contreras hit another double to drive in two more runs. Javy Baez led off the 4th with a double and Jon Jay drove him in on a single. The Cubs added on when Jay led off the 7th inning with a single and Anthony Rizzo promptly drove him in on a two-run bomb to right center, the 150th of his career.
Ian Happ hit his first major league home run as a right-handed hitter in the top of the 9th, a Sammy Sosa Special that meant nothing outside of the stats. I was wondering how long it would take Happ to do that because he's shown tons of power from the left side.
The Cubs were able to drive in the leadoff man every time he reached base, a long-awaited performance. They even drove in runners in scoring position by taking advantage of pitcher mistakes today.
John Lackey pitched a dandy, living on the corners most of the time and getting lucky when the Pirates missed most of the few mistakes he made. Lackey limited the Pirates to just two hits, one of which left the ballpark. He did walk three, but I would attribute that more to a weird strike zone than Lackey's ability to locate the ball. Hopefully this means he'll perform better in the coming weeks.
Stats that Matter
Anthony Rizzo extended his hitting streak to 12 games, tying a career high. During that streak, he is slashing .349/.481/.651 with four doubles, three home runs, eight runs scored, and 13 RBI. He continued that today, going 3-for-5 with a double, home run, three runs scored, and two driven in.
The Cubs were 3-for-9 with runners in scoring position and left only five men on base.
Since Rizzo started leading off, he is 4-for-4 with two HR's, a double, single, and a walk.
Bottom Line
The Cubs won their first road series since the last time they were in Pittsburgh, back at the end of April. The offense looked really strong, which is something they need to keep going when they play San Diego in the next series.
On Deck
The Cubs head back to Wrigley tomorrow night as an old friend comes to visit. Jon Lester faces Clayton Richard at 7:05 CT on CSN.