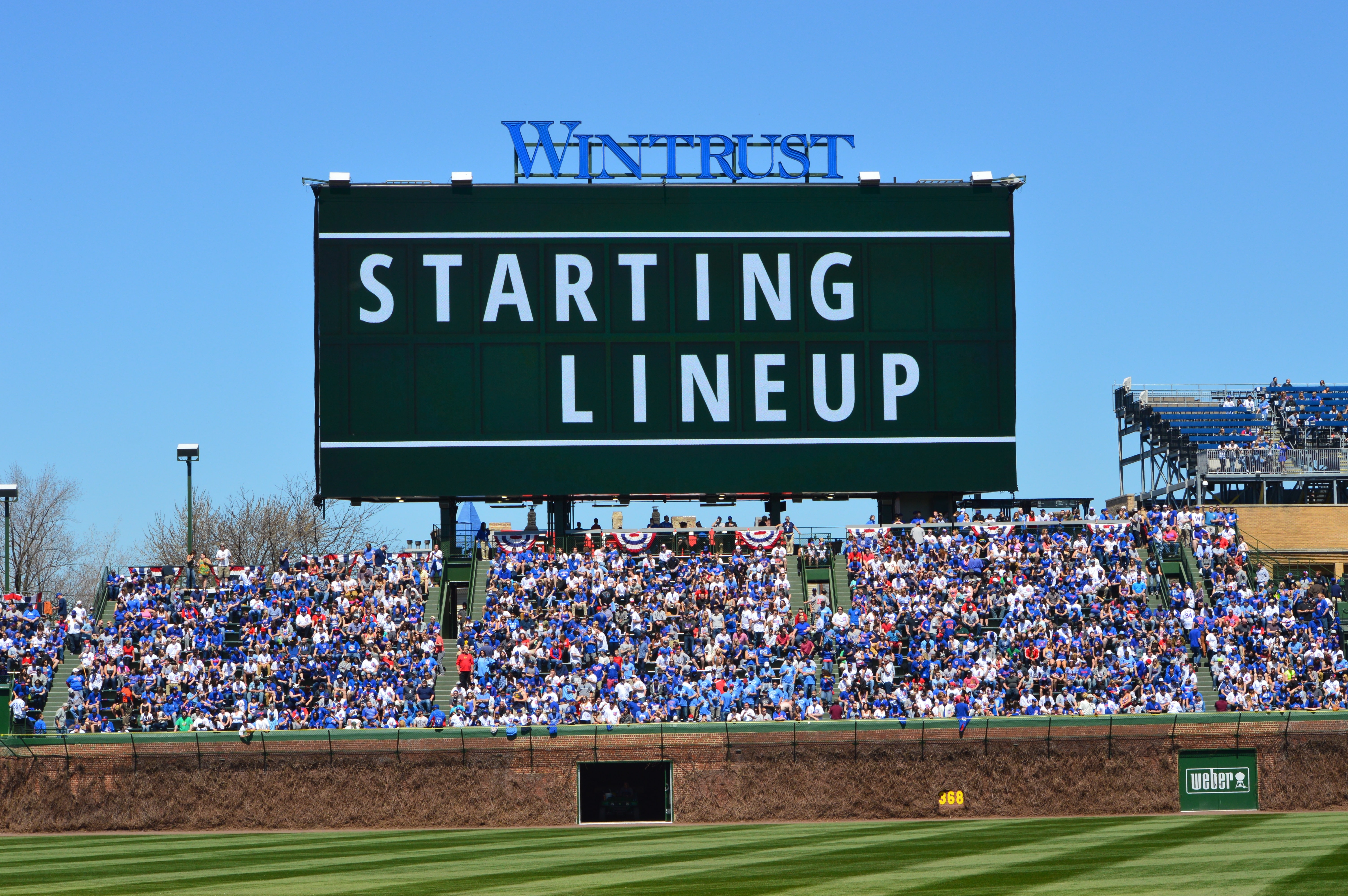 Chicago Cubs Lineup: Bryzzo Back Together, Happ Cleans Up, Contreras Playing Left Field
In six games as a leadoff hitter, Anthony Rizzo has reached via home run (twice), walk, double, and single (twice, once via bunt). It's entirely possible, likely even, that he extends that streak to seven games tonight, particularly if the Padres look to exact revenge for Monday's collision at the plate. No stranger to wearing one, it'll be interesting to see how Rizzo and the Cubs handle it. If they have to deal with it at all.
If I'm Andy Green and Padres, I challenge inside and maybe try to get Rizzo tensed up before trying to beat him up or away. Hitting him accomplishes nothing, other than giving the Cubs a free baserunner. It's also incredibly hypocritical: your play was dirty and dangerous, so we're going to throw a baseball at you. You really want to show the guy up, how about actually getting him out?
Ian Happ has been in the two-hole for a little while now, but the swing-and-miss factor and his propensity for grounding into double plays isn't really suited to that spot. As such, Kris Bryant is back at two behind Rizzo, with Willson Contreras moving up to three and…wait…he's playing left? Cool.
Happ is still in a pretty important role, cleaning up ahead of Addison Russell and Miggy Montero. Javy Baez holds down second base and the bottom third of the order, presumably while actually wearing clothes, and Jon Jay brings his scorching bat to the nine spot. Given the pitching matchup, Joe Maddon would probably love to have a couple more left-handed bats in there, but Kyle Schwarber is out after fouling a ball off his ankle and Jason Heyward is out with that palm laceration.
Mike Montgomery is making his third start of the season and should be out of piggyback range by this point. Not that he needed one in his last start, just that he should be pretty fully stretched out after going only four and five innings, respectively, as a starter. San Diego's lineup should offer Montgomery the opportunity to go a little deeper in tonight's contest, since, as noted in yesterday's lineup post, the Padres have a league-worst OPS (.643) and wOBA (.280) when facing lefties.
We saw last night and in the previous series, however, that these Friars have a little pop. It's going to be imperative for Montgomery to avoid the walks and continue to maintain his 57.6 percent ground ball rate. His 32 percent hard-hit rate is a little higher than you'd like to see, but it's more palatable when only 6.9 percent of the fly balls he allows are leaving the yard. That's actually really outstanding and has Montgomery tied for ninth-lowest in MLB (min. 45 innings pitched).
Opposing the Cubs will be righty Jhoulys Chacin, who's kind of a more likable, Venezuelan version of John Lackey. Prone to giving up home runs (four multi-HR games this season), Chacin has frequently been the victim of big innings and has allowed three or more earned runs in eight of his 14 starts this season. In fact, he's surrendered seven or more earned three times.
A majority of that damage has come from lefty batters, who boast a .311/.388/.566 line with a .393 wOBA on the season. Righties, on the other hand, are at .214/.266/.331 with a .258 wOBA. With that in mind, plunking Rizzo might actually be a good strategy after all.
Chacin is primarily a fastball/slider pitcher, with the former ranking as one of the worst pitches in the game and the latter one of the best. His fastball has cost the Padres 9.5 runs this season (73rd among qualified pitchers), while the slider has prevented 13.3 runs (second to only Max Scherzer's 20.2). It goes without saying that the Cubs are going to want to jump on Chacin early, but that'll be really important in light of having to deal with that slidepiece in two-strike counts.
First pitch is once again set for 7:05 CT and CSN Chicago will have the broadcast.
Game preview: https://t.co/29yUbSoa6n pic.twitter.com/aFDPgmjtUx

— Chicago Cubs (@Cubs) June 20, 2017