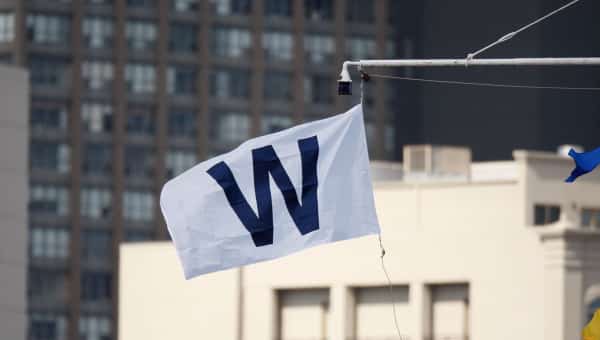 CI Recap (6/20/17) – Cubs 4, Padres 0: Montgomery Throws Six Shutout Innings, Rizzo Extends Streak
Anthony Rizzo is a machine. He has yet to record an out leading off a game and extended his hitting streak to 14 with a leadoff bomb on the second pitch of the game. Mike Montgomery made the run stand up, limiting the Padres offense to three hits (all singles) and two walks. It was a very good performance for the southpaw, and one we haven't seen from a starter in quite some time.
One run would have gotten it done, but the offense didn't want to leave it to chance. Addison Russell drove in a run on a single in the 4th, Ian Happ hit a long bomb from the right side in the 8th, and Albert Almora Jr. drove in a run on a double.
They were not perfect tonight, however. The Cubs squandered a golden opportunity to put the game out of reach in the 6th, when they had the bases loaded with one out. Javy Baez hit a weak ground ball to first, which resulted in an out at home. Tommy La Stella came up and hit a grounder to second, and he was promptly thrown out. They were 2-for-8 with runners in scoring position and left seven on base, so this game could have been a much easier W.
Montgomery had it working and he was consistently pounding the zone and inducing weak contact from the Padre hitters. He had a good mix of pitches and hitters had no answer for his changeup. I know he only struck out four, but he was getting weak contact early in at-bats and was very efficient overall.
The bullpen was excellent tonight, walking two and giving up two hits in three innings, but allowing no runs. Carl Edwards Jr. and Pedro Strop each walked a guy and gave up a single, but they had their nasty stuff going. Justin Grimm pitched the 9th and he had hitters guessing. His very last pitch, a curveball Luis Torrens swung over the top of, made me feel things.
Stats that Matter
In Anthony Rizzo's s seven plate appearances as a leadoff man, he has hit three home runs and has accumulated 16 total bases. In the 63 plate appearances before Rizzo took the job, Cubs leadoff men had hit one home run and logged 17 total bases. I believe it's safe to say Rizzo will be in the role for a while.
Montgomery's performance tonight was the first time a Cubs starter pitched at least six scoreless innings since Eddie Butler did it on May 12. The Cubs need more performances like that throughout the season.
This was the Cubs' third shutout of the year, two of which have come at Wrigley Field.
Bottom Line
The Cubs have won three straight games and there's a different feel to them these days. I can't quite describe what exactly that is, but it seems as though they have spurned their mediocre ways.
On Deck
Tomorrow at 1:20, Eddie Butler and the Cubs try to complete the sweep against the Padres in the series finale. The game will be broadcast on WGN.