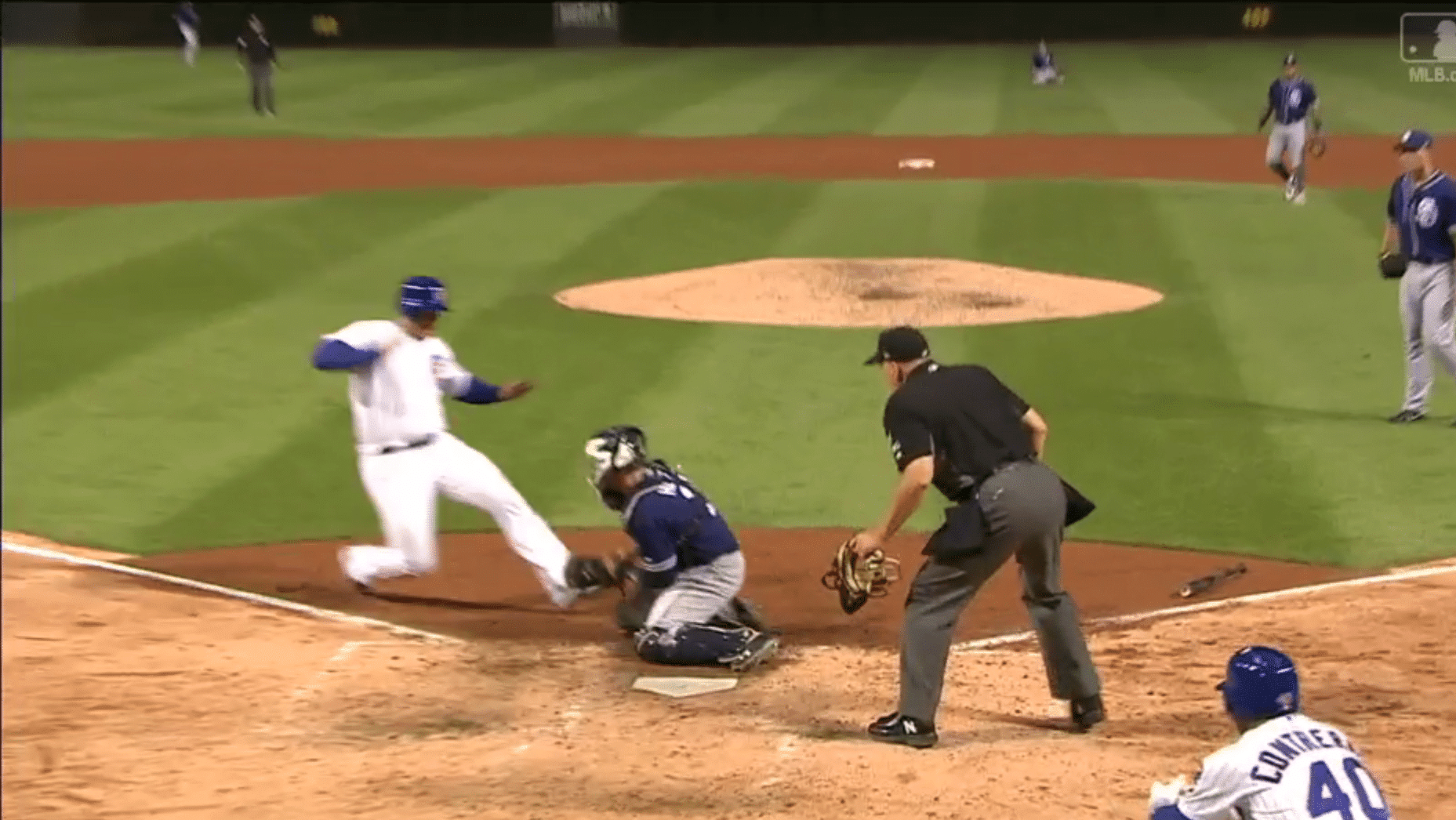 Report: MLB Says Rizzo's Slide Violated Rule, Joe Torre (Not Padres) to Determine Discipline
I have to say I'm surprised by the mushroom cloud generated by Anthony Rizzo's home-plate collision with Padres catcher Austin Hedges. It's been the talk of the baseball world, or at least the corners of it around which I tend to roam, for the 18 hours or so. But now we may finally have the answer as to whether or not it was actually illegal.
According to Ken Rosenthal, MLB has informed both the Cubs and Padres that Rizzo was indeed in violation of rule 7.13, the Buster Posey Rule, implemented in 2014 to protect catchers from bone-crushing hits at home.
Had Rizzo managed to dislodge the ball, the umpires could have gone to replay to review his path to the plate and then could have called him out if they believe that he'd proceeded improperly. As it is, Rizzo was out and the rule was moot, at least in terms of the game itself.
Reached for comment Tuesday, Padres manager Andy Green didn't add to the comments he made last night, when he called Rizzo's slide a "cheap shot" and insinuating that the Cubs first baseman should be suspended.
"If something happens with Anthony Rizzo's next number of games, then they think twice about taking that shot," Green said. "That's up to the Commissioner's Office to make that type of determination."
Joe Torre, MLB's rules czar (not to be confused with San Diego's Matt Szczur, who made the throw that led to the now-infamous collision), will be reviewing the play to see whether it merits discipline, but there have not been any previous suspensions for violation of the rule in question. That said, I can't imagine Torre will set a precedent with this one.
Then you've got the matter of baseball's tried-and-true version of justice, which is a fastball to the ribs. Of course, exacting revenge in that form pretty much removes the Padres' claim that MLB should determine Rizzo's fate and makes Green and his player(s) at least as guilty as egregious cheap shots as Rizzo.
UPDATE
Sounds like no discipline for Rizzo.
Rizzo spoke to Torre, said it was a violation of rule but no discipline.

— Paul Sullivan (@PWSullivan) June 20, 2017