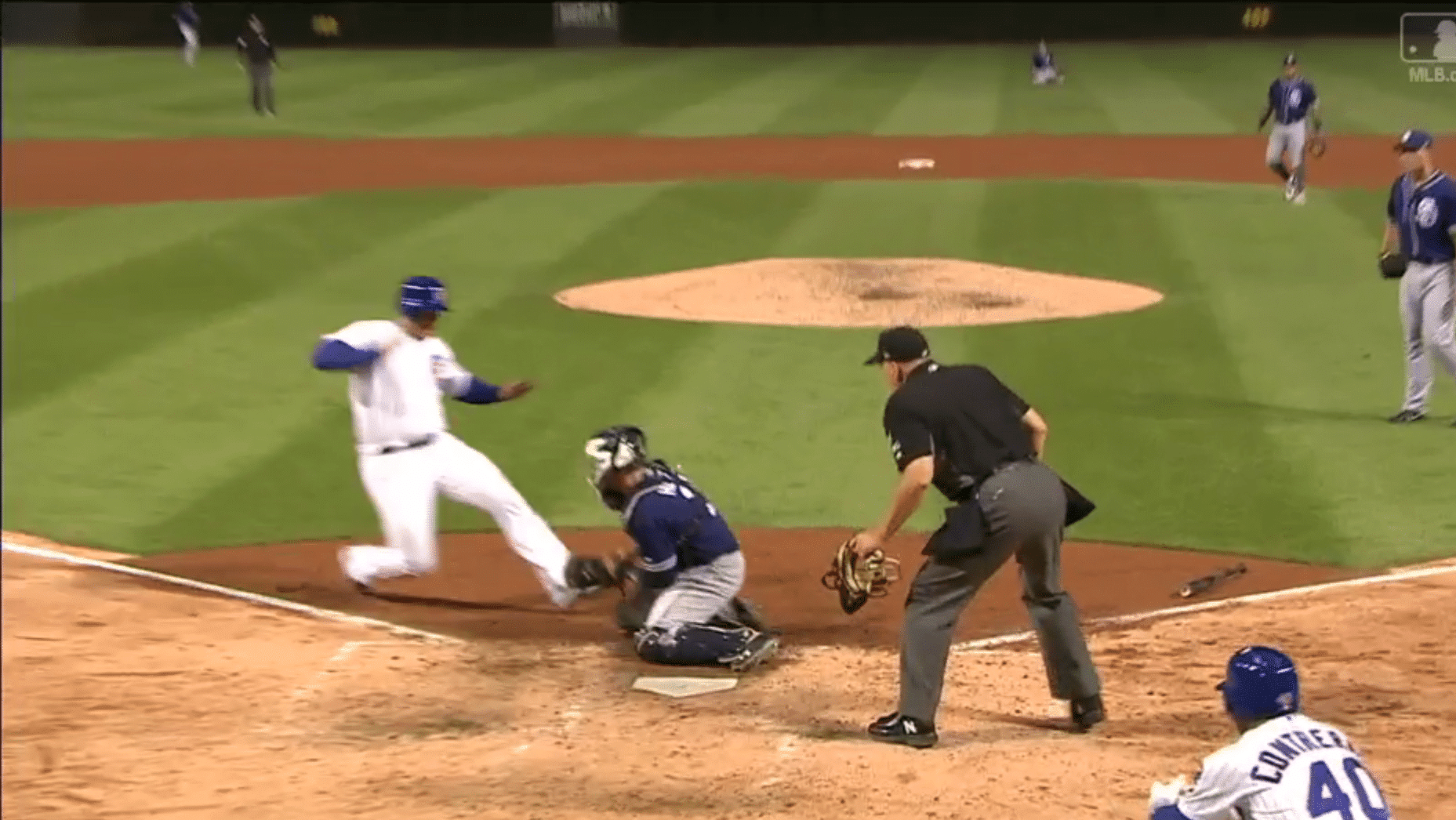 The Rundown: Eloy Jimenez's Light-Tower Power, Rizzo's Collision, Almora's Incredible Feat, Zobrist Back Soon
There was a lot of talk about Eloy Jimenez Monday afternoon and evening following Jeff Passan's appearance on the Spiegel and Parkins show in which he stated that the massive outfielder would be required to land the Rays' Chris Archer. To no surprise, the opinions pretty much fell along two lines.
A lot of folks were saying you pull the trigger on that deal in a heartbeat, though they seemed to be treating it like a one-for-one swap, which it wouldn't be. Then you had those who are irrationally attached to prospects like Jimenez and overvalue them, particularly in light of the Gleyber Torres (more on him later) trade last year.
But how can you not fall hard for a hitter who can do this…
.@DEvanAltman anything look strange about that light tower? @Lamantha21 destroyed the top corner in the Carolina League HR Derby. pic.twitter.com/S8u2itZncf

— Kris North (@krisnorth_85) June 20, 2017
Light-tower power!

Eloy Jimenez channels Roy Hobbs. pic.twitter.com/mfrGPa8lrb

— MLB (@MLB) June 20, 2017
His literal light-tower power knocked out power to the light tower. Well, part of it. The clip below doesn't feature said monster shot, but it does offer a bit of Jimenez in action during the Carolina League All-Star home run derby.
This isn't just any prospect, folks, it's Roy Freaking Hobbs. It's hard to part with something like that, regardless of the return, though it'd be foolish to unconditionally turn down deals just because Jimenez has the potential to destroy fixed structures with batted balls.
Rizzo's collision at home
When Anthony Rizzo raced home to try to score from third on a sharp lineout to center, he was beaten by the throw and plowed into catcher Austin Hedges in an attempt to jar the ball free. It didn't appear egregious in real time and even the initial slo-mo angle in the clip below makes it look pretty clean (or at least not dirty), though it was obvious in subsequent replays that Rizzo went out of his way to go through Hedges.
Here's the thing, though: Rizzo was within his rights as laid out by the letter of the law and the still I clipped for the featured image show that he's clearly coming in feet-first and isn't terribly far inside the baseline. That doesn't make it a "good" play, per se, nor does it mean that I necessarily approve of it (as if my approval, or lack thereof, is consequential). Here's a look at the rule in question:
The failure by the runner to make an effort to touch the plate, the runner's lowering of the shoulder, or the runner's pushing through with his hands, elbows or arms, would support a determination that the runner deviated from the pathway in order to initiate contact with the catcher in violation of Rule 7.13. If the runner slides into the plate in an appropriate manner, he shall not be adjudged to have violated Rule 7.13. A slide shall be deemed appropriate, in the case of a feet first slide, if the runner's buttocks and legs should hit the ground before contact with the catcher. [emphasis mine]
This basically becomes an issue of semantics in which we're left arguing intent, whether Rizzo meant to do harm to Hedges. You'll never get me to believe that, though I have no doubt Rizzo initiated contact because he knew he was beat and could not have gotten home safely by going wide to the other side of the baseline.
Rizzo on home-plate collision: "I've talked to a lot of umpires about this rule. My understanding is: If they have the ball, it's game on."

— Patrick Mooney (@PJ_Mooney) June 20, 2017
Is that a dirty play? Some sure think so.
Without saying so explicitly, Andy Green called for MLB to look into possibility of a suspension for Rizzo. Called the play a "cheap shot."

— AJ Cassavell (@AJCassavell) June 20, 2017
The general sentiment from Padres and their fans seems to follow the same logic, only ratcheted up a few notches. This is one of those deals where you worry about going beyond rhetorical pissing match and into flat-out retaliation. And with a team that isn't any good yet still maintains some bastardized sense of Davidian self-righteousness. It's possible this all blows over, but I think it's far more likely we see Rizzo plunked this evening.
Oh, and it probably didn't help that Willson Contreras, who was on deck and clearly visible in the frame when Rizzo came home, flipped his bat lustily and barked at the Padres dugout after hitting the game-tying homer. You can't see the verbal exchange in the clip below, but there's a fun little hop that might look familiar.
Something very familiar about that Contreras HR. If only I could put my finger on it… pic.twitter.com/vxPDCeCytT

— Cubs Insider (@realcubsinsider) June 20, 2017
Resorting to beaning is stupid on multiple levels, not the least of which is that it gives the Cubs a free baserunner, something a team like the Padres can ill afford. It also perpetuates the cycle of a wrong for a perceived wrong without offering anything that even resembles intelligent justice.
My last thought on this topic is that it's possible for this play to have been both unnecessary and avoidable while also being legal and not malicious. It's easy to dissect things from the comfort of our couches and determine intent, but it's quite another to be in the heat of the moment going full-tilt and trying to make a play. I've been involved in countless plays on courts and fields of all types in which the result of a play ended up being more severe than initially intended.
Whether that's a hard foul at the rim, a tag or slide into a base, or even a smash at the net, I have been on both the receiving and giving ends of injuries of varying degrees on plays that were well within the legal parameters. Given the steps baseball has taken to eliminate or limit contact, though, I wonder whether the commissioners office will come down with some kind of punitive measure in this case.
This is all just part of the drama for a man who has already cemented himself as the greatest leadoff hitter of all time after only six games in the role. Actually, Rizzo assumed that mantle after his first two games in the top spot, and now is simply adding to his legend.
Almora walks…twice
Albert Almora Jr. isn't exactly known as an on-base machine. He's only walked 91 times in 1,996 plate appearances since being drafted in 2012, and when he walked for the second time Monday night, it was the first time he'd ever done so at the MLB level. Taking it another step further, it was only the fourth time in his professional career that Almora has drawn more than one free pass in a single game.
Prior to the most recent occurrence, he had done it once each in 2013, 2015, and 2016. That means no multi-walk games in either 2012 or '14, which is actually pretty impressive.
Even more impressive is that Monday's bases on balls pushed Almora's season walk rate to 8.3 percent, the highest mark he's ever notched as a pro. Playing time has been hard to come by for the sophomore centerfielder, but he has made an impact nonetheless.
The official scoring held that Javy Baez scored as the result of an error by left fielder Jose Pirela, but it was Almora's double that made it possible. He made a couple plays out in center as well.
"I have a growing appreciation for Albert Almora the ballplayer," Jim Deshaies said on the broadcast.
Preach, JD.
Zobrist planning Friday return
It doesn't look like my issues with the Cubs' handling of Ben Zobrist's wrist injury are going to be alleviated anytime soon. For a team that has been so proactive in so many areas, particularly when it comes to injury prevention, I fail to understand why they allowed Zobrist to continue playing despite being obviously hampered by the wrist. And now it sounds like they're letting him determine his own path back.
Zobrist is eligible to come back off the DL as soon as Friday, though he admitted that his return might be pushed back to the weekend or even Monday. An MRI showed no structural damage, so Joe Maddon is content to let his longtime charge tell him when he's ready.
"The mind of Zo," Maddon opined prior to Monday's game. "You just listen to it. He's very direct. He has no other method. It's unfiltered. It's the most unfiltered mind in history. So listen to him, and he'll tell you exactly what he needs, and that's what you do."
The most unfiltered mind in history, huh?
More news and notes
Former top Cubs prospect Gleyber Torres will miss the season following planned Tommy John surgery on his left (non-throwing) elbow

The injury occurred when Torres was sliding into home
He's expected to return in time for 2018 spring training
The Yankees had hoped/planned to call the 20-year-old up this summer

Kyle Schwarber exited Monday's game after fouling a ball off his ankle, but X-rays were negative
With two homers last night, the Dodgers' Cody Bellinger set a new MLB record with 21 in his first 51 games
Not realizing his mic was live, Mets broadcaster Keith Hernandez uttered, "Roark's been getting his tits lit," when discussing Nats' starter Tanner Roark's performance in a game against the Marlins

No word on whether he followed with "Your beard is weird" or "Your 'stache is trash"