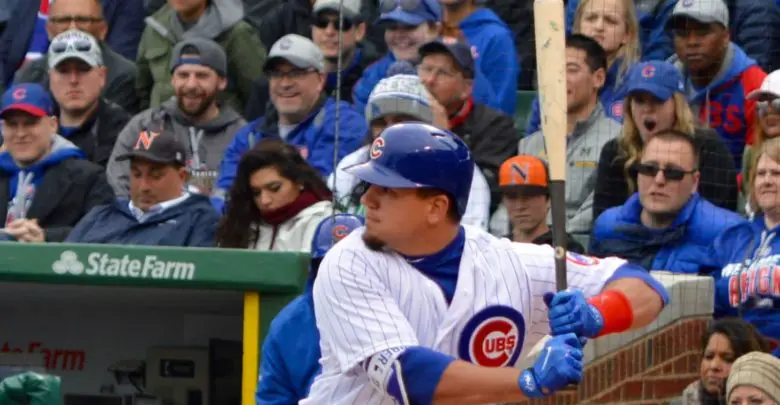 Breaking: Cubs Sending Schwarber to AAA to 'Clear His Head'
Despite cries from fans to send him down, the Cubs have been sticking with Kyle Schwarber through his struggles this season. Theo Epstein had said, though, that no one was above a demotion and he admitted that Schwarber appeared to be battling himself at the plate. Three weeks later, the Cubs finally had to pull the trigger.
According to CSN Chicago's David Kaplan, the Cubs are sending Schwarber to AAA Iowa to "clear his head."
Cubs are sending Kyle Schwarber to Class AAA Iowa. Not expected to be gone long but it is an opportunity to clear his head.

— David Kaplan (@thekapman) June 22, 2017
I've struggled with this for a while because I'm not sure what good being demoted actually does for a guy like Schwarber. Unless, and this is really the most plausible scenario, it's a matter of hoping that he can get away from the fishbowl of Chicago and mash for a while in the hitter-friendly Pacific Coast League.
The part in Kap's tweet about Schwarber not being gone long makes me think that this will run through the end of the first half, if all goes according to plan. The I-Cubs have a stretch of 18 straight games beginning tonight and running through July 9. The Cubs finish the first half that same day at home against Pittsburgh and won't play again until Friday, July 14 at Baltimore.
Without concern for the actual product, Schwarber can be in the lineup every day as either an outfielder or DH and then can get five days off to further re-center himself. At least that's what I'm assuming the plan is at this point.
There has been no official announcement from the team as of post time, but we'll update as more information becomes available.
Update
OF Mark Zagunis to join team today. First big-league callup. RHP Dylan Floro back with club too (Heyward expected to be DL'd)

— Gordon Wittenmyer (@GDubMLB) June 22, 2017