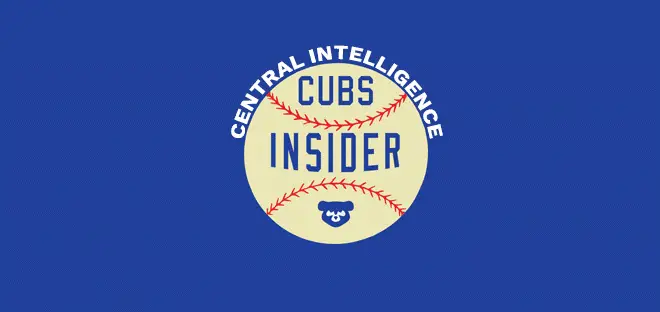 Central Intelligence: Week of June 18
Ed. note: This piece was prepped to run Sunday, but someone got lazy and had too many beers before topping it all off with a Plague Bringer burger from Kuma's Corner. Sorry for the delay.
The All-Star break creeps ever closer and teams are longing for some time off to be with their families or just recharge for a couple days. But first, there are still two weeks or so to play. The National League Central is pretty much status quo for the week, but here's a more in depth look.
Milwaukee Brewers
The Brewers went 3-4 this week, but still sit atop the division at 40-37.
Jimmy Nelson's breakout season is in full swing now. Nelson pitched his first career complete game last Sunday against the Padres in a 2-1 win and his ERA now sits at 3.28.
Three of the Brewers' top relievers — Corey Knebel, Carlos Torres, and Jacob Barnes — are all in the top four in the NL in appearances. All three have appeared in over half of the Brewers' games.
Speaking of Knebel, he set a record on Thursday for most games to start the season with at least one strikeout (38). He broke Aroldis Chapman's previous record of 37, ever heard of that Chapman guy?
Chicago Cubs
The Cubs took what looks like a major step forward this week, going 5-2. They currently sit at 38-36.
John Lackey may be righting the ship after what has been a dreadful start. He beat the Pirates Sunday by going six innings and giving up just one run, then he went another six innings against the Marlins, giving up just three hits and two runs. Continued performances like those moving forward would be huge for the Cubs.
Ian Happ and Addison Russell have both been ripping the cover off of the baseball this week. Happ was 11-for-25, including an 8-for-12 in the first three games of Marlins series alone. The encouraging thing is that Happ isn't striking out all that much during this stretch and is adding some singles to his game. Russell, since last Sunday, is 8 for 21, with one homer and three doubles.
Anthony Rizzo has become the greatest lead off hitter of all time. Here is what Rizzo did each time he led off: Home run, home run, walk, single, double, bunt single, home run. That's 7-for-7, with three home runs. Ya don't see Rickey Henderson or Tony Gwynn batting 1.000 leading off games, do you?! Checkmate. His streak of reaching base to start a game did end at seven games on Wednesday, though.
Pittsburgh Pirates
The Buccos went 4-3, jumping all the way up to third place in the division…at 35-40.
Chad Kuhl, one of the Pirates' young pitchers, showed lots of progress on Tuesday night. He only pitched five innings, but was able to keep the walks in check while striking out six and giving up just two runs.
Andrew McCutchen's scorching June continues. Entering Sunday's action, Cutch is posting a .387/.472/.693 slash with six dingers. That'll certainly help a guy's trade value.
Felipe Rivero has quietly been one of the best relievers in baseball this season. He has a 0.68 ERA with a 28.7 K%, a .137 BAA, and a comically low .181 BABIP, which is almost unheard of in this era. How's that for dominance from the young lefty?
St. Louis Cardinals
Whatever rock bottom is for the Cardinals, it feels like this is it. The Cards went 2-4 this week and are 8-15 in June. As strange as it sounds, they just seem to keep getting worse every game.
Matt Carpenter and Dexter Fowler have switched spots in the order, Carpenter leading off, Fowler to second. Since? Both have posted OPS's over 1.000. The problem? Nobody else is hitting in that lineup and the pitching isn't recording very many outs between the runs given up. The other problem? Fowler just went to the DL.
Yadier Molina has gotten two days off this week, consecutively. When has that ever happened, if ever, in his career? Eric Fryer has stepped in and taken four walks, but the Cardinals have lost both games to the Pirates without Yadi in there. Something to keep an eye on.
In a bit of an oddity on Tuesday, the Cardinals won an extra-inning game by a wide margin. The Birds scored seven runs in the 11th inning to grab an 8-1 win over the lowly Phillies. Stephen Piscotty hit a two-run double in that inning, while Molina and Tommy Pham each hit two-run home runs.
Cincinnati Reds
Hey, speaking of rock bottom, I think the Reds are falling deeper and deeper through it. They went 1-5 on the week, and are now 30-43. The Redlegs have lost 13 of 14, and the June record is 6-15. This is the Reds team many expected to see after they got off to such a nice start.
Homer Bailey returned from injury on Saturday. Yes, the same Homer Bailey…and it was a sight for sore eyes. Bailey lasted just 1.2 innings, giving up six hits, three walks, and eight earned runs. He may not have much left.
One bright spot for the Reds is still Scott Schebler. He and teammate Joey Votto are part of a five-way tie for second place in the senior circuit with 20 home runs apiece.
Bronson Arroyo has a decision to make. After he got hit hard against the Dodgers last Sunday, he told reporters he heard a pop in his arm and that he may have pitched his last game. If that's the case, happy retirement to one of the better people in baseball over the past fifteen years or so.
One last note here on Central Intelligence: The College World Series final has been set. LSU pulled the upset over Oregon State, and will face Florida, starting on Monday at 6 pm CT. Cubs first round pick Alex Lange looked dominant on Friday, pitching 7.1 innings of two-hit baseball, holding a juggernaut of an Oregon State offense to just one run. That, my friends, is music to Cubs' fans ears.