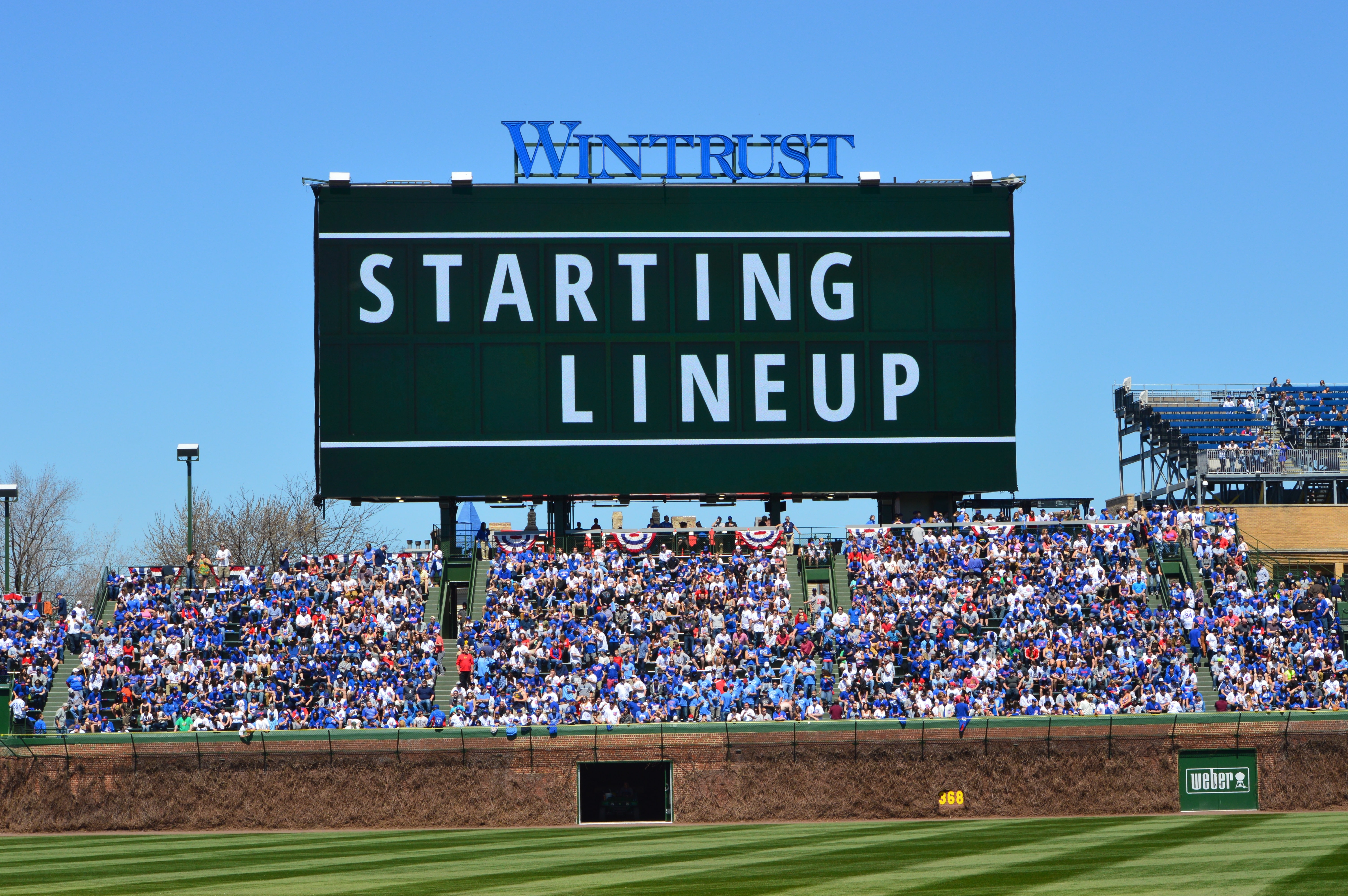 Chicago Cubs Lineup: WillCo Leads Off, Rizzo Two, Bryant in Left, Candy at Third as Cubs Try to Swat Nats
You'll never guess today's lineup. pic.twitter.com/jot3GFPVL4

— Chicago Cubs (@Cubs) June 26, 2017
Holy jeez, they were right about that one. Joe Maddon's random lineup generator app really outdid itself this time, with Willson Contreras taking over the leadoff spot tonight in DC. He's followed by Anthony Rizzo, Kris Bryant, and Ian Happ, though, so at least some semblance of a "normal" order is there. Javy Baez is hitting fifth and playing short as Addison Russell sits with shoulder soreness.
Jeimer Candelario is right in there playing third and hitting sixth after being recalled (Dylan Floro was optioned back to Iowa, for what it's worth) to add a little depth back to the roster in light of all the injuries. Albert Almora Jr. and Mark Zagunis round out the order and give the Cubs seven right-handed hitters (including two switch-hitters), an important fact given the pitching matchup. More on that later.
Eddie Butler is going to need to limit the walks if he wants to keep the Cubs' recent run of good pitching alive. He's handed out at least three free passes in his last two starts and in five of his eight starts on the season, though the fact that he's been on the bump that many times at all is a good thing. Sort of. It's never good when your K:BB ratio is only 1.19:1, particularly when you're facing a tough squad.
The ginger is going to have to tread lightly — or gingerly — against a Nats team that leads the NL with a .343 OBP and .345 wOBA. Butler has shown an ability to limit home runs, part of the reason the walks haven't come back to bit him any harder thus far. That 7.1 percent home run per fly ball rate will be put to the test by the Nats' team mark of 15.4 percent that has them third in the NL. Interestingly enough, Washington's batted ball stats — line drive/ground ball/fly ball; soft/medium/hard contact — line up really closely with what Butler has given up this season.
Opposing Butler and the Cubs will be enigmatic lefty Gio Gonzalez. Never a real fireballer, Gonzalez has seen his fastball velocity erode over the last few seasons to the point that he's only averaging around 90 mph. He's throwing it less as a result, but the pitch is more effective than it's been since his first year with the Nationals in 2012. He also has a curveball and change, though neither is exceptional.
Gonzalez is walking more batters (3.82 BB/9) and allowing more home runs (1.14 HR/9) than at any point in his tenure in Washington, which is why his 4.28 FIP is so much higher than his 2.96 ERA. None of those homers have come against lefties, who Gonzalez has limited to a .218 wOBA so far this season. Conversely, righties have put up a .328 wOBA and are responsible for 12 dingers.
If there's a bright spot here, it's that the veteran southpaw is not as good against lefty hitters at home, where they've got a whopping .240 wOBA. Righties, on the other hand, are actually much worse (.289). So much for that advantage I thought I'd sussed out.
Though the years of bad teams on the North Side of Chicago have certainly skewed the stats, Gonzalez has put up some really good career numbers against the Cubs. He's logged 55.2 innings in nine starts and has a 3.23 ERA with a 1.096 WHIP and a measly .565 OPS (third lowest of any of his opponents) against. Perhaps even more telling of his overall performance is that he's only allowed two home runs to the Cubs in that time (0.324 HR/9).
The most recent of those was hit by Kris Bryant in an 8-5 Cubs win at Wrigley on May 7 last season. The previous homer? Well, that was hit by Derrek Lee back in June of 2010 when Gonzalez was still pitching for Oakland. So maybe it's time to start a new trend.
First pitch is set for 7:05 from Nationals Park and CSN Chicago will have the broadcast for you.
Here's how we'll open our four-game set in D.C.

Game preview: https://t.co/DijiRCjvre pic.twitter.com/qoXnUglkOi

— Chicago Cubs (@Cubs) June 26, 2017