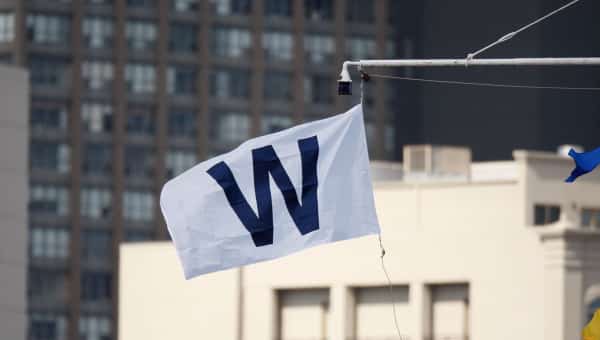 CI Recap (6/26/17) – Cubs 5, Nationals 4: Ednel Javier Baez Steals Show
The Cubs started a big series against the first place Nationals in Washington Monday. What seemed like a ho-hum affair early ended up being about as tense as a June game can get. With a big assist from their shortstop, the Northsiders came out ahead.
Amazingly, another one of Joe Maddon's new-look lineups paid immediate dividends. New leadoff hitter Willson Contreras took Nationals starter Gio Gonzalez deep to right to open the game.
Cubs starter Eddie Butler wasn't super sharp, but he kept Washington off the board with the help of his defense. Key plays included a pick-off of Trea Turner by Contreras and a diving Javy Baez stab of a Bryce Harper line drive.
The Cubs could not add on against Gonzalez, who went six strong innings. Butler only went five before being lifted for a pinch hitter, but he was efficient even if he wasn't dominant.
With the score still 1-0 in the 8th, Baez singled with one out. Newly recalled Jeimer Candelario hit a grounder to second and the force attempt was ruled late after replay. It was an odd play, as Javy assumed the throw was going to first and came in standing up at second.
Baez's crazy baserunning continued when he stole third on the next pitch, completely oversliding the bag (no throw). Albert Almora Jr. executed a perfect squeeze bunt to score Javy and pick up a base hit. Jon Jay came on to pinch-hit and grounded into a double play, but the Chicago lead had grown to 2-0.
In the 9th, pinch-hitter Tommy La Stella reached second on a throwing error by pitcher Matt Grace. He would score when Anthony Rizzo punched a single through the vacated right side of the infield.
Ian Happ added an a RBI single to extend the lead to 4-0 before Baez knocked in what turned out to be the winning run with a double to right to make it 5-0.
Hector Rondon came on for the 9th and allowed a run to score. Wade Davis relieved him and added fuel to the fire with back-to-back doubles to make it 5-3.
Davis did not have it at all on Monday night, which could have spelled disaster against the powerful Nats lineup. Ryan Zimmerman came to the plate with the bases loaded and a wild pitch cut the lead to 5-4. Davis was finally able to get a strikeout — on a dropped third strike that required a throw to first — to win the game.
Stats That Matter
Willson Contreras had a very good night in the leadoff spot with a single and a homer. His back-pick of Trea Turner was also a huge help to Eddie Butler.
Javy Baez was all over this game. He extended his hitting streak to eight with his single, created the second run with his legs, and doubled home the winning run. He made two incredible plays at short, including a diving catch on a pop-up behind third.
Bottom Line
The Cubs played an excellent game, and then it almost fell apart in the 9th. They were able to hold on and get a big win against a tough opponent.
On Deck
It's a battle of power arms as Jake Arrieta takes on Max Scherzer Tuesday night. The game starts at 6:05 CT and airs on ABC-7 and MLB Network (out of market).