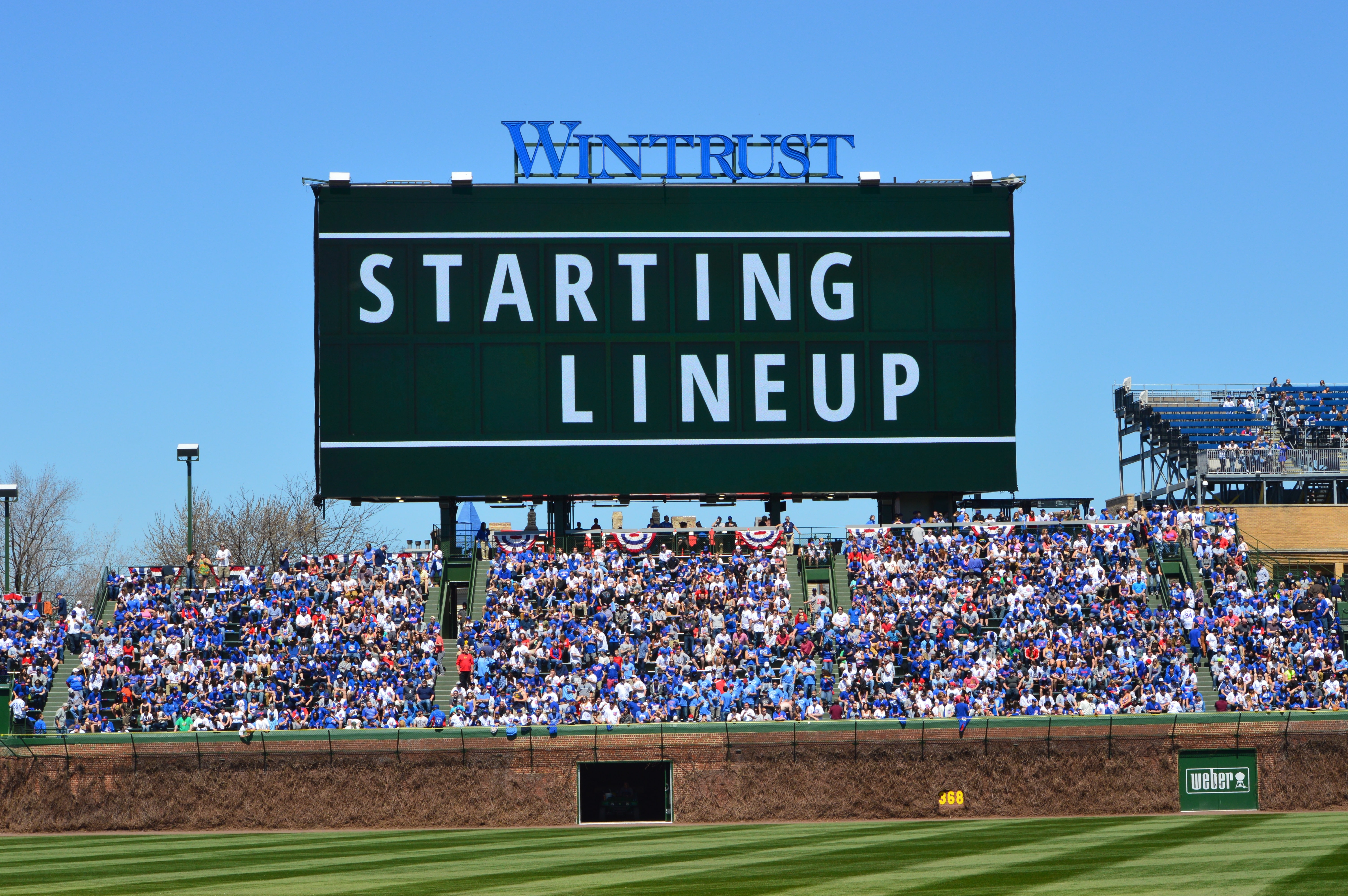 Chicago Cubs Lineup: Rizzo Leadoff, La Stella Second, Bryant Cleanup as Cubs Try to Take it to the Max
Another day, another lineup being spit out Wild Joe's batting order randomizer. After giving us a Monday group in which Anthony Rizzo, who only makes $7 million this season, earned roughly 30 percent more salary than the other eight starters combined, there was a sense that Tuesday would see a return to normalcy. And I guess that's the case.
Anthony Rizzo moves back to the top spot, but he's followed by Tommy La Stella and then Ian Happ. Kris Bryant is down in the cleanup role, which is further down in the order than we've seen him all year. Then you've got Miguel Montero and Jon Jay, both of whom earn more than Rizzo, with Javy Baez and Jeimer Candelario finishing things up. Pretty much what you'd expect given the current state of the roster.
But when you're facing arguably the best pitcher on the planet, does it really matter who you roll out there?
The man who was once deserving of that BPotP title will be on the mound for the Cubs as he attempts to settle his season and earn that monster payday he's been dreaming of for the past two years. Jake Arrieta hasn't been lights-out by any stretch, though his last seven starts represent a drastic improvement over the first eight. While the swing-and-miss stuff isn't as prevalent of late, the walks are down.
Likewise, Arrieta's ERA, FIP, and xFIP are all in much more acceptable ranges. Buoyed by better command and feel for his nasty stuff, he seems to be gathering a little momentum as the season progresses. Decreased velocity continues to be an issue, which is why being able to locate that biting curveball is so important to Arrieta's performance. The bender easily grades out as his best pitch, but the fastball has to be on point in order to really set things up.
We've also seen changes in where he's locating his pitches, namely more inside to righties instead of down and away. That said, there should be more than a little concern for how he'll fare against the Nats' lefties, as Arrieta has allowed a .283/.355/.566 to left-handed hitters on the road this season.
What's more, 11 of the 13 home runs the bearded righty has allowed have come on the road and seven of those have been launched from the left side of the plate. Arrieta has pitched twice as many innings on the road as he has at Wrigley this season, though, so take the counting stats with a grain of salt. Maybe this will be the start in which he really puts it all together and makes us remember that 2015 campaign. The Cubs may need that given his counterpart tonight.
There are probably more eloquent ways to put it, but Max Scherzer is really freaking good. He's pitching better to this point in the season than in either of his Cy Young campaigns, and that's saying something. The intimidating righty is striking out just over 12 batters per nine innings while walking only two per, and has just a 2.09 ERA with FIP and xFIP marks that are either the best or within a few points of the best he's ever posted.
Simply put, dude is a BAMF and the Cubs can't really expect to get over on him without a serious effort. Or a lot of luck. Scherzer has struck out 10 or more batters in each of his last six starts and has only walked as many as two in any of those. All that said, he's also worn a loss in two of his last three starts despite allowing only two earned runs combined. So he's not infallible or invincible, though it is admittedly very difficult to truly vince him.
The Cubs' history against the Cy Young front-runner (I know, it's still too early for such talk) doesn't necessarily bode well. He's only faced them five times for a total of 31 innings and has a 3.19 ERA that's only slightly better than his career mark (3.31), but 45 strikeouts against only 10 walks is a little daunting. Or maybe not, since he's averaged 6.18 K/BB ratio over the last three seasons.
I guess what I'm trying to say is that, again, Scherzer is really freaking good.
If the Cubs are going to get it done tonight, it's probably going to be the lefty batters. Right-handed hitters are slashing only .123/.160/.226 against Scherzer and have struck out 89 times with only five walks (17.8 K/BB), though that bumps all the way to .147/.171/.265 at Nationals Park. Lefties are raking by comparison, to the tune of .238/.319/.373 with only 25 strikeouts to seven walks (3.57 K/BB) when facing Scherzer at home.
Oh, I didn't mention the K/BB against righties when he's pitching at home, did I? You wanna hear about that? You sure? Okay, but don't say I didn't warn you. Scherzer has struck out 34 righties in DC this year and has walked only one. Yes, you read that correctly. He has walked just a single righty while setting down 34 on strikes. That's a 34:1 ratio for those of you who aren't great at numbers.
What it really comes down to is that Scherzer is really freaking good.
First pitch is at 6:05 CT and can be seen on ABC-7, which many stations throughout the Midwest will be carrying in syndication. If you don't reside beneath the oversized blackout cloud, you can watch the game on MLB Network.
Here is tonight's #Cubs starting lineup in D.C.

Game preview: https://t.co/erQHteL0AL pic.twitter.com/KwF80aDHFY

— Chicago Cubs (@Cubs) June 27, 2017