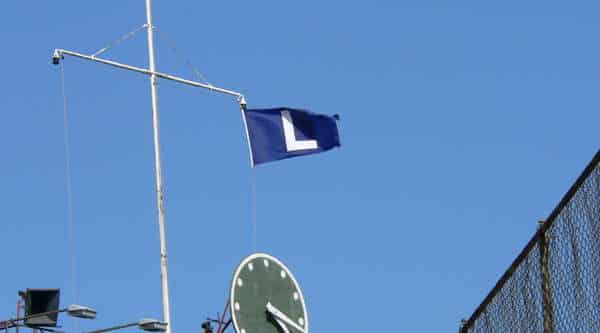 CI Recap (6/27/17) – Cubs 1, Nationals 6: Nationals' Speed, Cubs' Poor Defense Lead to Defeat
Poor throws from Tommy La Stella and Miguel Montero really hurt the Cubs tonight, and Jake Arrieta's pitching didn't help. The offense was also shut down by Max Scherzer, which isn't that much of a surprise because that's what Scherzer does.
The Cubs' bats were relatively silent tonight. They reached base a total of four times, and three of those (HBP, triple, and a double) cane in the 3rd inning or earlier. From the 4th inning on, the Cubs were only able to reach base via walk, and that was promptly erased by an inning-ending double play.
Arrieta, to put it lightly, was really, really bad tonight. He went into the 5th inning, when he allowed two straight baserunners and was promptly yanked in favor of Felix Pena. Arrieta walked six of the 24 batters he faced and allowed seven runners to swipe bags.
The blame for a steal goes to the catcher and Miguel Montero didn't help the cause with his weak throws, but Arrieta is very slow the the plate. I don't think any catcher would have been able to throw out the guys who stole bases tonight. Arrieta also allowed six hits and was responsible for every run that scored tonight. If you're interested in game scores, his 26 was the third lowest of the season. That tells you something about how disappointing 2017 has been.
On the bright side, the bullpen performed well tonight. The Nationals sent only nine men to the plate after the 5th inning, so hats off to Felix Pena and Hector Rondon for pitching well and allowing the misery to end quickly.
Early in the game, La Stella's defense was brutal. On the very first play of the game, he lacked a sense of urgency on a slow ground ball that Trea Turner, the fastest shortstop in the game, hit to him. Turner was able to reach base, steal two bags, then score on an infield hit that Arrieta did not cover first base quick enough on.
In the 2nd inning, La Stella fielded a ball going to his left that should have been an easy third out with a runner on third. Instead, he threw a little wide of first from 40-ish feet away, which pulled Anthony Rizzo off the bag and allowed the second run to score. Arrieta's poor performance didn't help, but those two early runs could have easily been avoided had La Stella been more fundamentally sound.
Stats that Matter
The Nationals stole seven bases tonight, which broke their previous record of six stolen bases in a single game.
Bottom Line
This game was one the Cubs need to forget quickly. They started off well and simply fizzled out after.
On Deck
Tomorrow night at 6:05, John Lackey and the Cubs face off against flame-throwing Stephen Strasburg on CSN.