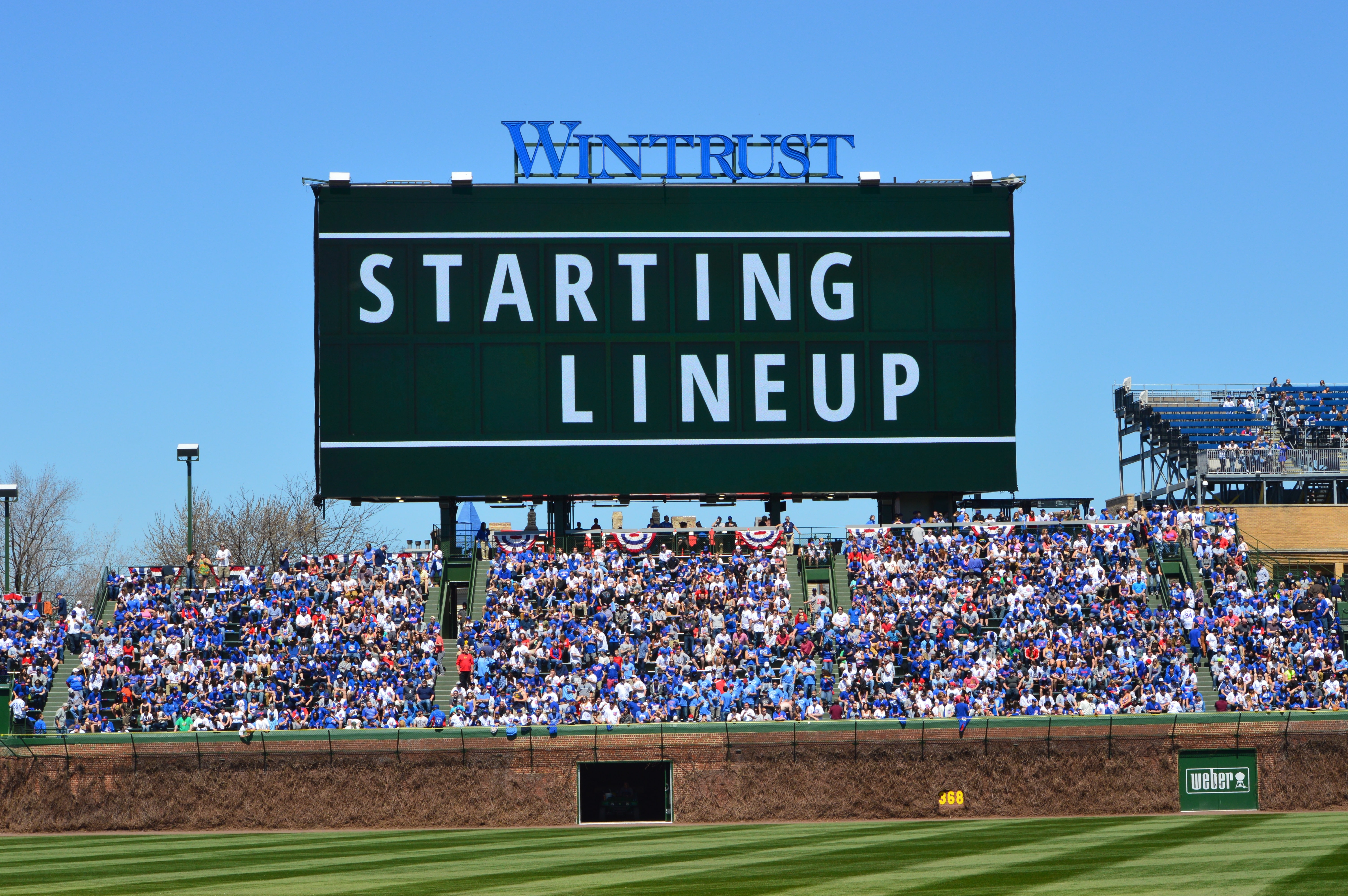 Chicago Cubs Lineup: Rizzo, Bryant, Happ at Top of Order as Lackey Goes for MLB Lead in Home Runs Allowed
It's been a pretty slow day for Cubs news, so I'm sure you've all been patiently awaiting today's lineup in order to slake your thirst for something new and interesting. Or maybe you just want anything that doesn't involve Miggy Montero or the White House.
In that case, I've got some good news for you: John Lackey is starting tonight for the Cubs against the first-place Washington Nationals! Yeah, on second thought, that probably wasn't the uplifting #content you were looking for.
Believe it or not, Lackey is coming off of two consecutive quality starts in which the only earned runs he's allowed have come from a pair of solo shots, one in each game. Never mind that those dingers extended his streak to eight straight starts in which he's allowed at least one opponent to park it in the yard. With 21 bombs given up so far, Lackey is only two shy of the major league lead for home runs allowed shared by Ricky Nolasco and Bronson Arroyo.
Attempting to give Big John an early lead will be Anthony Rizzo and Kris Bryant, who are back together at the top of the order. Ian Happ is batting third and playing second, with Willson Contreras cleaning up and trying to limit the Nationals to fewer than seven stolen bases. It'll be Chief Justice Jon Jay, Oval Office Bird-Flipper Albert Almora Jr., and I Can't Think of Anything Vaguely Political to Call Him Mark Zagunis across the outfield with Javy Baez once again playing short.
They'll have their hands full with Stephen Strasburg, a guy whose fastball sits 95-96 and who can also roll an 82 mph curveball up there. Oh, then you've got a changeup and slider that clock in at 90 or so. Not hard to see how he's able to strike out so many batters with that arsenal.
Strasburg has only faced the Cubs four times for a total of 27.2 innings, which seems low, and he's posted a 1.95 ERA and 1.065 WHIP in that time. He's logged 28 strikeouts against only six walks, though he has surrendered three home runs in the two most recent starts. One of those dingers came off the bat of Anthony Rizzo in a 5-4 Cubs loss on June 15 last year.
Before that? Brian Bogusevic and Donnie Murphy went deep on August 22, 2013 in yet another 5-4 Cubs loss. That information was totally arbitrary and inconsequential, but it was a perfect excuse for me to name-drop a pair of random former Cubs. Which makes it a win. For me. You may have lost.
As for the splits, batters from both sides of the plate have virtually identical stats against the fireballing righty, both this year and over the course of his career. Right-handed hitters have slightly higher average and OBP, lefties slug better. In the end, the OPS marks are within two points this season and only four over his MLB tenure. Strasburg doesn't appear to suffer much diminution as the game wears on, either, posting very similar stats each of the first three times through the order.
He's far from invincible, though, and has yielded 13 earned runs over his last three starts against the Braves, Mets, and Reds. The key for the Cubs will be getting to that fastball early and not letting Strasburg establish and get ahead with it. All of his offerings grade out with positive value, but he's had trouble getting a feel for the fastball, change, and slider over the last few starts.
First pitch from Nationals Park is 6:05 CT and will be shown on CSN Chicago.
Here is tonight's #Cubs lineup against the #Nationals.

Game preview: https://t.co/NcfI7H1v0T pic.twitter.com/8iX7sGPUFv

— Chicago Cubs (@Cubs) June 28, 2017