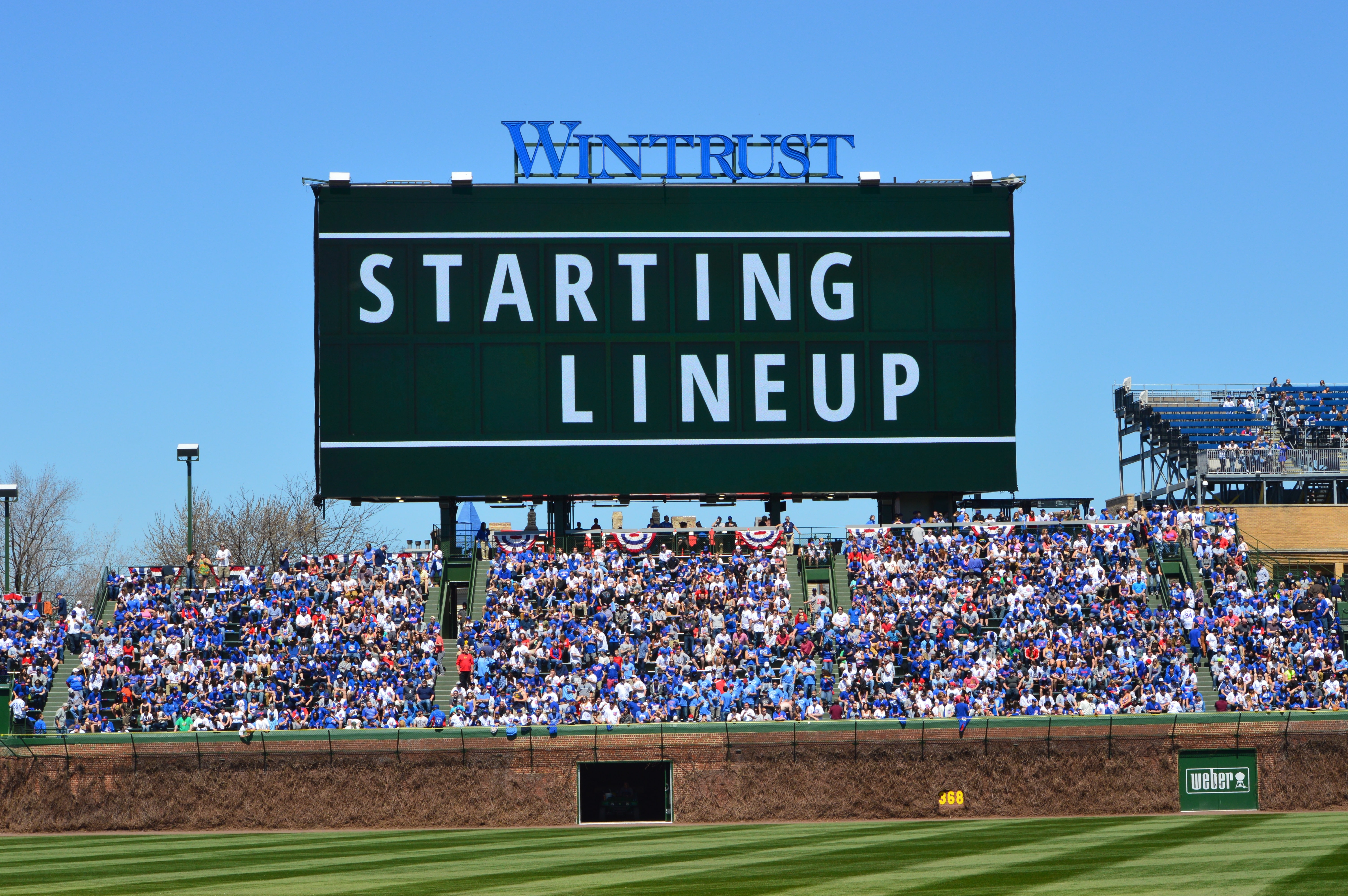 Chicago Cubs Lineup: Jay Leads Off, Rizzo Third, Russell Returns as Cubs Try to Salvage Split
Between the various kerfuffles over the Cubs' trip to the White House and DFA-ing Miguel Montero, not to mention a couple of lifeless performances against the Nationals, it's easy to forget that the Cubs can still get out of DC with a series split. They'll have to do it without Kris Bryant, who rolled his ankle fielding a pop-up yesterday, but at least they've got a favorable pitching matchup this time.
Jon Jay is batting leadoff and playing left again, followed by Ian Happ in right and Anthony Rizzo, who slots back into his more natural spot at three.
Willson Contreras cleans up ahead of Addison Russell, whose shoulder is apparently feeling good enough to give it a go. Jeimer Candelario fills in at third, Albert Almora Jr. is in center, and Javy Baez is at second base and batting eighth.
Jon Lester was able to work through a rough 1st inning his last time out, allowing a three-run bomb before absolutely dominating the Marlins for six more frames. He's been touched up a little by the longball this season, but he's generally been able to limit the damage from those big flies. Lately, that has come from keeping free bases to a minimum, as Lester has only walked one batter in each of his last four starts.
Having him on the mound as the stopper offers quite a bit of confidence, as does the knowledge that the guy going for the Nats isn't quite on par with Max Scherzer or Stephen Strasburg.
The Cubs had been after Tyson Ross this past offseason, but they were only able to get his brother Joe. Today. Because he's the Nationals' starter. Wow, maybe the guy on Twitter who told me his nieces could come up with better jokes was right.
After strong campaigns in each of the previous two seasons with the Nats, Ross is looking decidedly more mediocre thus far in 2017. What's weird about that at first blush is that he's striking out more batters (8.26 K/9) and walking fewer (1.91) than ever. And that walk rate is really good, like top-10 good. Scherzer is at 1.90, just for the sake of comparison. But Maz Scherzer, Ross is not.
A sinker/slider pitcher, the 24-year-old righty's velocity is down a couple ticks on the heater this season. He's also had a lot of trouble locating it effectively, which has resulted in him getting absolutely tagged. Where Ross was once able to pound the low-outside corner against righties, holding them to roughly a .200/.250/.300 slash, he's all over the heart of the zone this season.
And I'm talking right in the wheelhouses of hitters from either side. This, my friends, is not the heatmap generated by a successful pitcher.
This inability to stay to the fringes of the zone has righties and lefties alike teeing off. Where he'd previously been able to suffocate them, right-handed hitters have a line of .295/.333/.508 against Ross this season. Lefties are higher across the board and boast a .931 OPS when facing the Nats starter. But we've seen plenty of pitchers whose numbers on paper didn't quite play out in real life when the Cubs faced them.
The slider has still been a decent pitch for Ross this year, so the Cubs will want to jump on him early and keep him from using it to get outs. He's a strike-thrower and six of the 12 home runs he has allowed this season have come the first time through the order, so that tells me hitters need to go up there looking to do damage. Maybe Javy's early swing-away strategy will pay off this afternoon.
First pitch from Nationals Park is set for 3:05 CT and will be carried by CSN Chicago.
Here is today's #Cubs starting lineup for the finale in D.C.

Game preview: https://t.co/Bp7ACgjEab pic.twitter.com/PZyNRvWP47

— Chicago Cubs (@Cubs) June 29, 2017