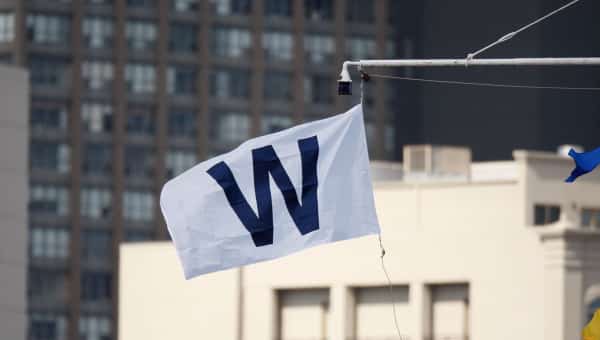 CI Recap (6/29/17) – Cubs 5, Nationals 4: Boy, That Escalated Quickly
The Cubs found themselves at the .500 mark yet again heading into Thursday's game. They looked primed to fall a game below before the porous Washington bullpen unraveled late.
Things got started when Anthony Rizzo, back in the third spot in the lineup, doubled off of Joe Ross with two down in the top of the 1st. Willson Contreras singled to score Rizzo, but was thrown out by left fielder Ryan Rayburn at second.
The Nationals answered right back off of Jon Lester in the bottom of the frame, when Trea Turner walked and immediately stole second base. As Bryce Harper took ball four, Turner attempted a delayed steal of third and was gunned out by Contreras. It would turn out to be a key play, as Ryan Zimmerman doubled Harper home to tie the score.
Both pitchers sailed through the next five innings holding the game at 1-1. The Cubs finally got to Ross when Jeimer Candelario (who has struggled mightily at the plate at the MLB level) hit his first career home run to right to give Chicago a 2-1 edge.
CJ Edwards entered in relief of Lester and had issues immediately. After a walk to Daniel Murphy, Anthony Rendon hit a go-ahead two-run bomb to make it 3-2 Nats. Edwards walked Michael Taylor before being lifted for Brian Duensing, who gave up a single to Adam Lind on the only pitch he threw.
Washington then loaded the bases when Pedro Strop hit Trea Turner and added to their lead when Brian Goodwin singled home a run to make it 4-2. Strop was able to stop the bleeding (which would prove crucial later) by retiring Harper and Zimmerman.
Acting Nationals manager Chris Spier (Dusty Baker was ejected in the 6th) called on Blake Treinen for the save. He hit Candelario in the knee with one away, then he got pinch-hitter Victor Caratini to hit a tailor-made double play ball to shortstop. The second baseman, Murphy, couldn't get the transfer out of his glove and Caratini reached.
That play would come back to haunt Washington in a big way, as Javy Baez and Tommy La Stella singled back-to-back to cut the lead to 4-3. Jon Jay, who had been 0-for-4, split the right-center gap to score Baez and La Stella and give the Cubs a 5-4 lead.
Wade Davis slammed the door on the Chicago win with a 1-2-3 9th.
Stats That Matter
Willson Contreras knocked in the first run of the game with a single. The real contribution was with his golden arm yet again. He threw out two of four would-be base stealers Thursday. In a tight game getting outs on the bases can be huge, as Cubs fans know all to well.
Jon Lester was a bit shaky early, but he settled down nicely: 6 IP, 1 R, 3  H, 7 K, and 3 BB. After Candelario put the Cubs ahead, I felt Maddon was too aggressive pulling Lester for a pinch-hitter with two out and nobody on.
It was good to see Candelario get a big hit for Chicago, although more important was probably his painful hit-by-pitch in the 9th that started the rally.
Bottom Line
Heading into the last inning I was ready to rip the Northsiders a new one. I've given up on declaring that this team has turned a corner. I just know I feel better now than I did in the 8th inning.
On Deck
The Cubs finish their 11-game journey with three in Cincinnati. Mike Montgomery faces former Cub Scott Feldman at 6:10 CT, the game airs on WGN.