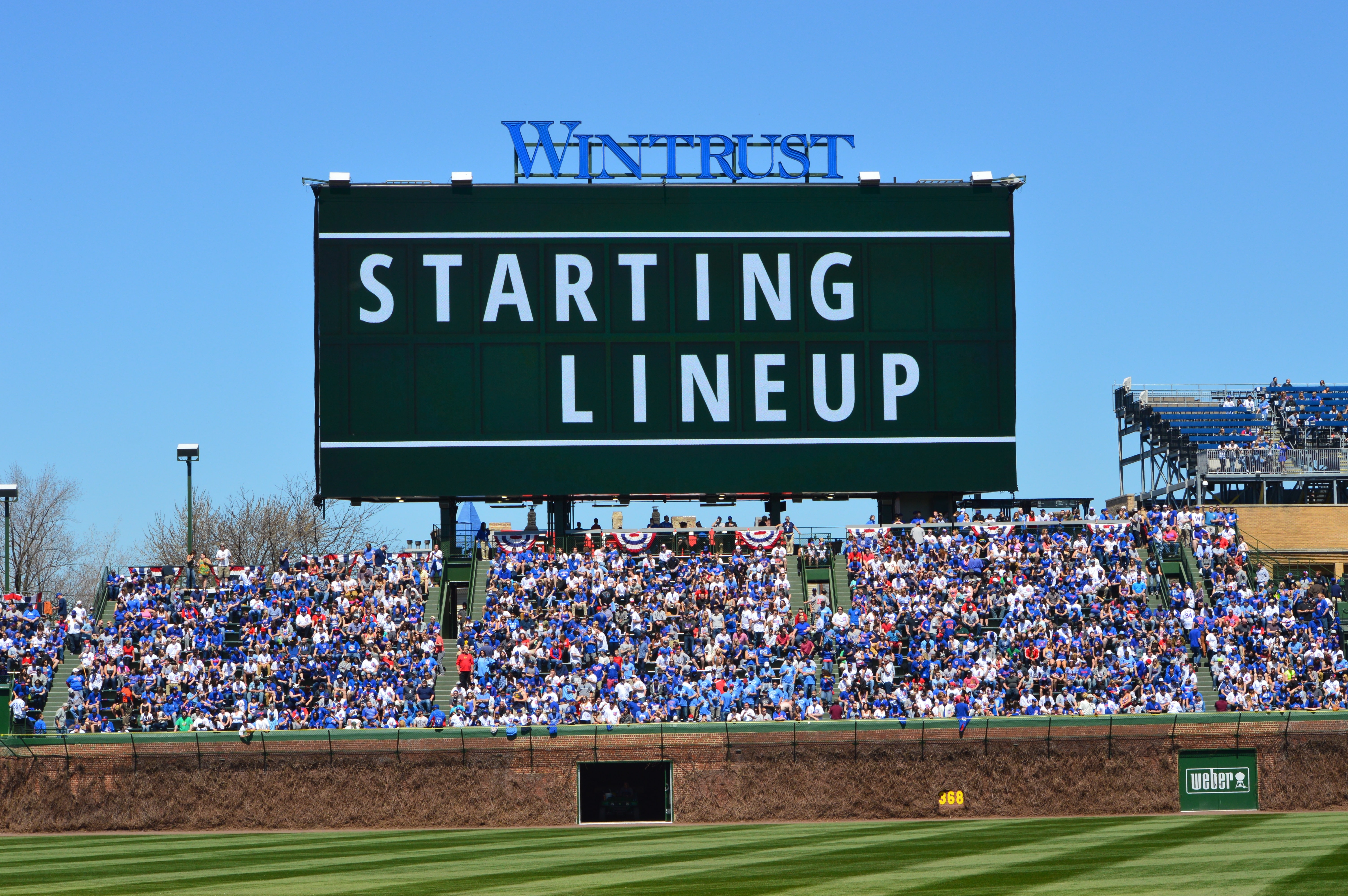 Chicago Cubs Lineup: Jay Leads Off, Bryant Returns as Cubs Try to Ruin Jackson Stephens' MLB Debut
KB is back!
After rolling his ankle on a freak play in Washington, Kris Bryant has been absent from the lineup for the last two games. But when he hit a BP homer off the centerfield batter's eye Friday, it looked like his return was imminent. The MVP will slot between Jon Jay and Anthony Rizzo this afternoon, with Willson Contreras cleaning up.
Ian Happ slides down to fifth, a spot I have maintained for a while is more suitable for him. It's a good sign that Addison Russell is able to start again after pain in his shoulder forced him out a few games back. Javy Baez and Albert Almora Jr. complete what is probably the best possible lineup Joe Maddon can roll out at this point. The only gripe I've got, and it's a small one, is that there are only three lefty batters out there.
Eddie Butler is an odd pitcher to watch, man. His numbers are all over the map, he's got much less swing-and-miss ability than you'd expect, and he gives up a lot of hard contact. The peripherals tell you he's nothing short of awful. And yet, here he is with a 4-2 record and a 3.71 ERA (neither of which is truly indicative of performance) built from five appearances in which he's surrendered one or no runs.
Butler has been able to outrun the regression monster to this point, but that thing has got its jaws wide open and is waiting to take a big wet bite out of his ass. You never know, though, maybe he's got a second wind and can stay ahead of it a while longer. It helps that he's facing the Reds.
Righty Jackson Stephens didn't see any action when he was called up in May, so he'll be pitching in the majors for the first time as he fills in for the injured Brandon Finnegan. The green Red has a 4.97 ERA and 4.68 FIP over 76 innings at AAA, but has been much better of late. After a 6.66 ERA in April, Stephens posted a 4.91 in May and had a 3.28 mark in June.
Though he has given up nine homers, only one has come in his last nine appearances. That may be put to the test at Great American, particularly with some of the left-handed thunder — limited though it may be — the Cubs have in the lineup. Stephens has had trouble with lefty hitters, allowing a .310 average and compiling a 1.79 WHIP so far this season. Walks have been an issue too, as evidenced by the 3.91 BB/9 so far.
"We like his mix of pitches," Reds manager Bryan Price told C. Trent Rosencrans of his new charge. "He's got four pitches, he throws them all for strikes. I feel like this is a great opportunity to get him up here and get an opportunity to get his feet wet and pencil him in to a start where he knows for sure that he's going to pitch."
Given their anemic output Friday against Scott Feldman, you've got to think the Cubs are licking their chops knowing that they're facing a rookie who's had inconsistent control.
First pitch is 3:10 pm from Cincy and will be broadcast on CSN Chicago.
Welcome back, KB!

Game preview: https://t.co/0DcJeUvmDl pic.twitter.com/YeNSTwZAG3

— Chicago Cubs (@Cubs) July 1, 2017