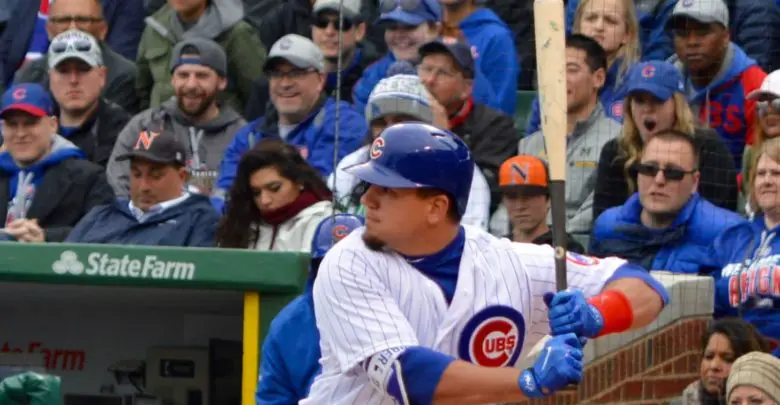 The Rundown: Instant Karma's Gonna Get You, Karma Police, Kyle Schwarber Creates Own Karma
There's a pervasive sense this year that when something good happens to the Cubs, it means there'll be an inevitable swing back to the mean. Oh, they won a game in Washington after a furious late comeback and a few fortunate breaks? Guess that means Scott Flippin' Feldman is going to absolutely lay waste to them.
It's as though .500 has a gravitational pull that they just can't achieve enough exit velocity to escape. Whether it's nagging injuries, sagging production, or tagging issues (sorry, I had to come up with a rhyming word that indicated defense), the Cubs are fighting against enemies both foreign and domestic.
Watching the Cubs has been like my experience with installing a smart thermostat in our house. I took off the old one and diligently wired the new one according to the instructions. White-collar fingers sore from all the bending and twisting, I popped the main unit onto the wiring plate and…nothing.
So I did what any self-respecting DIY doofus does: I tweeted the manufacturer. After a quick follow, they slid into my DM's and we got to work on the fixes. I was feeling better. Given the late hour, I had to reinstall the old thermostat in order to cool my home in the encroaching summer heat. But I felt like I knew what I was doing and I got back at it the next day, only to experience the same fruitless results.
I took once more to the Twitters for help, got a few more pointers, reconnected the main power line to the furnace (since the old thermostat was battery-powered), and…nothing. Argh! Each time I thought I'd figured it out, another defeat put me right back at Square One. But then I realized something, almost as though the "Aha!" light bulb above my head had been replaced by one of those fluorescent numbers that takes a while to warm up.
There's a switch that cuts power to the furnace circuit when you remove the front plate, which is why my thermostat wasn't turning on. So I replaced the plate and hurried downstairs to find that it was working. The resultant celebration was somewhat akin to Ben Zobrist running in from the outfield following that Game 7 win, which is to say it was awkward enough that my wife thought something was wrong.
The Cubs have been in that stage of trying to fix problems without really knowing exactly what is causing them. So when will they reach the point at which it all comes together? Who knows, but the division certainly offers them plenty of chances.
Not done yet
There's every reason to believe the Cubs will remain in contention in the NL Central, but if they do decide to sell I'd love to see them move Jake Arrieta. Maybe they could flip him and Pedro Strop for that Scott Feldman guy who just shut them down Friday night.
That's clearly over the top, but a lot of people are indeed throwing in the towel. Do what you want in that regard, I'ma continue holding onto that piece like Rocky when Apollo fought Drago. Wait, no, that didn't end up well. And maybe that's what'll happen to the Cubs, battered as they were by the Reds. Get it? Because Drago was a shining example of the Red Menace and the Cubs are red, white, and blue?
Whether the Cubs make a splash in free agency or not, they'll be able to remake their team just by getting several key players back to full health. And maybe they'll get another key player back to being fully himself.
Schwarber figuring it out
"I think it's going pretty well," Kyle Schwarber said before Friday's game. "Adjustments are being made. I like where I'm at."
I had been convinced that the main issue Schwarber needed to address was in his head, and I maintain that's a big part of it, but it appears as though he has made a pretty significant change with his hands. No longer resting the bat on his shoulder/upper chest, Schwarber is starting his move in a way that reminds you of Anthony Rizzo.
The cult hero hammered two homers Friday, though the overall results have been somewhat mixed. Schwarber has struck out nine times in five games, which is a little worrisome. Until you realize that six of those K's came from a pair of hat tricks in his first three games. And when you consider the mechanical adjustments he's been trying to implement, early struggles are understandable.
So is he ready to head back up?
"I'll put it this way, he's closer," I-Cubs manager Marty Pevey told the Des Moines Register's Tommy Birch. "He might not be there yet, but he's getting closer. I would love to say by the end of this homestand, he goes back to the big leagues and he's a productive major leaguer for the rest of the year."
Iowa has three more games against Round Rock before heading to Oklahoma City on Tuesday. I wouldn't be surprised by Schwarber heading to either OKC or ORD, though I had said at the time of his demotion that I thought he'd stay in AAA through the end of the first half. That would give him a few more games to continue honing his new move, followed by several days off for the All-Star break.
Though he's proven himself adept at handling pressure, part of the Cubs' reasoning for sending Schwarber to Iowa was to allow him to find himself without the attendant hype of playing at Wrigley Field. Rejoining the big club on Tuesday would see him back in Chicago for a six-game run to end the first half, but coming back in the second half might offer a softer landing. The Cubs open in Baltimore, which gives the option to deploy Schwarber as a DH if they so choose.
Either way, the results he's gotten so far look really promising and I'm looking forward to what the next few games show us.
More news and notes