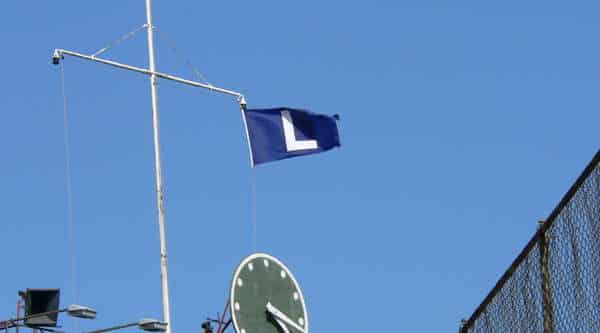 CI Recap (7/1/17) – Cubs 3, Reds 5: A Pair of Homers Not Enough as Butler Struggles
Jon Jay hit his first home run as a Cub in the 3rd inning and Willson Contreras followed with his 10th of the year, but Eddie Butler's struggles were the story Saturday.
The Cubs offense was unable to do much of anything outside of that inning, in which they scored all three runs on the aforementioned long bombs. They had men on first and third with no outs in the 2nd, and, as we've seen before, they somehow found a way to not score.
Javy Baez and Albert Almora struck out, with the latter starting a strike 'em out, throw 'em out double play as Addison Russell attempted to steal second. Their only other opportunity to score came in the top of the 6th, in which Contreras led off the inning with a double down the left field line. Ian Happ flew out, Addison Russell got hit by a pitch, and Baez grounded into a 5-4-3 double play to kill the rally.
Eddie Butler looked pretty good in the first three innings. He even picked Billy Hamilton off after allowing him to single to lead off the Reds' 1st inning. Butler wasn't allowing much hard contact, but he was not fooling many guys.
To start the 4th, he walked grown man named Scooter Gennett and allowed a sharp ground ball single that sped past Anthony Rizzo. Then he allowed a double into the left center gap off of Adam Duvall's bat. After striking out Eugenio Suarez, Joe Maddon decided to intentionally walk Scott Schebler because of the open base.
Butler got Jose Peraza to pop to short, but walked Tucker Barnhart to force in a run. He then allowed a sharp single off the bat of pitcher first-time starter Jackson Stephens, which drove in two and ended Butler's day. It was a frustrating inning to watch, because Butler could not find the strike zone with any consistency. It reminded me of the one problematic inning we usually see from Jake Arrieta in every start these days.
Koji Uehara came on and pitched poorly in the 7th. He walked three, although one of them should have been a strikeout on a pitch that wasn't even borderline but was still called a ball for some reason. Fortunately, he only allowed one run in that inning, because it could have been a lot worse if not for the double play Uehara induced off of Duvall's bat.
Aside from him, the trio of Brian Duensing, Pedro Strop, and Carl Edwards Jr. looked really good.
Stats that Matter
The Cubs continued their inability to get the big hit with guys in scoring position, going 1-for-6.
Today marked the third time this season that Eddie Butler walked more men (3) than he struck out (2). He previously did this on May 19 against the Brewers and on Jun 16 against the Pirates. Given the kind of stuff he has, it's truly mind-boggling to see him walk so many and strike out so few.
Bottom Line 
The Cubs, who had owned the Reds both this season and in recent history, were unable to do much against Reds pitching. They sit a game below .500 (40-41) and are fortunate enough to be fairly close to the division-leading Brewers (3 games behind).
On Deck
The Cubs will try to salvage a game as Jake Arrieta goes toe-to-toe against Tim Adleman at 12:10 CT Sunday. The game will be broadcast on WGN.