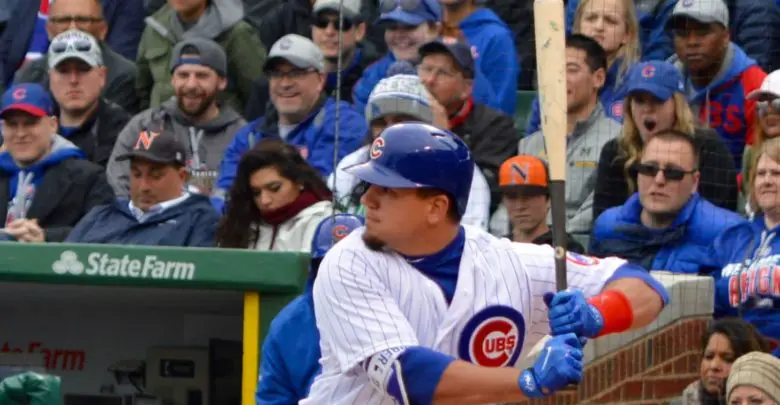 The Rundown: Whither Schwarber, Cubs Asked After Verlander and Avila, More Juiced Ball Controversy
Ed. note: It has been confirmed that Schwarber did make the trip to OKC with the Iowa Cubs, which presumably means he'll be at AAA for the remainder of the first half.
There's been no official word on Kyle Schwarber's immediate fate, but we should find out today whether his time in AAA will span the minimum 10 days or whether he'll stick with the team through the remainder of the first half. As of Monday afternoon, signs and reports had pointed to Schwarber heading back to Chicago rather than travel to OKC with the I-Cubs.
But Jason McLeod, who was in attendance to see Schwarber go 0-for-4 with two K's, cast more than a little doubt on the idea of Iowar Bear heading back up so soon.
Jason McLeod said he envisions Kyle Schwarber making the road trip with Iowa but "things can always change at a drop of a dime." #Cubs

— Tommy Birch (@TommyBirch) July 3, 2017
Perhaps I should have better contextualized that for the sake of those folks who aren't familiar with McLeod, the Cubs' senior VP of scouting and development. Though Schwarber's promotion isn't going to be a unilateral decision, McLeod being there at Iowa to watch him feels like it means something. Then again, traveling around to the various affiliates is a key part of McLeod's job duties and could be nothing more than that.
"I believe in the talent of Kyle Schwarber," McLeod told Tommy Birch of the Des Moines Register. "I believe in the hitter first and foremost.
"The pitch recognition, the way he's managing his at-bats — not willing or forcing himself to do too much," McLeod said. "I know it's kind of a cliché, but kind of taking what the pitchers are giving him — I think he feels really good about the work he's put in so far down here."
So have McLeod and the Cubs seen enough to warrant a recall or will they want to see Schwarber head out on the road and further test his "new" approach? We'll know soon enough.
Cubs asking about Tigers
While both names have been out there for a while as possible targets, we got a little confirmation that the Cubs are indeed looking into Detroit Tigers Justin Verlander and Alex Avila.
#Cubs inquired to #Tigers on availability of Justin Verlander and Alex Avila, sources say, but sides have not engaged in trade negotiations.

— Jon Morosi (@jonmorosi) July 4, 2017
Interest in Verlander is obviously due to the rotation situation, and Brendan Miller took a deeper dive into that topic last night, but Avila become a lot more interesting the day after Miguel Montero mouthed off. Before I get to that, though, one more quick note on Verlander, whose recent performance makes him look like a natural fit to succeed John Lackey.
#Cubs had a scout in attendance Sunday in Detroit, when Verlander gave up 7 earned runs in 3-1/3 innings. @MLBNetwork @MLB #Tigers

— Jon Morosi (@jonmorosi) July 4, 2017
While Montero was a highly abrasive and divisive personality who didn't leave too many friends behind in the Cubs clubhouse, he was also a veteran presence on a team very much in need of exactly that. But when the negative qualities finally subsumed Montero's ability and impact, it was time for him to move on. It didn't help his cause that stud prospect Victor Caratini was waiting in the wings.
At the risk of inciting talk of David Ross and how his retirement cast a pox upon this team, I must admit that there is definitely something to the whole grizzled backstop deal. Oh, and multiple clutch home runs from both backup catchers in the playoffs didn't hurt either. Like, seriously, how many teams carry real-life versions of broken-down has-beens like Crash Davis and Jake Taylor and get storybook dingers from them?
It's fitting, then, that the sequel to last year's championship season has been significantly worse in nearly every way. Not that Avila — or any veteran catcher, for that matter — can solve all the issues, but it makes sense to add an experienced guy behind the plate rather than trying to roll with a pair of greenhorns. Many have pointed to Avila's breakout offensive season as a reason for other teams to target him, but it's his makeup that intrigues me.
Ashley MacLennan of Bless You Boys, a Tigers blog, wrote this of the longtime Tiger (and one-time White Sox backup):
Additionally, he's the kind of even-keeled, level-headed player the Cubs desperately need in their clubhouse to fill the void left behind by David Ross's retirement. Avila is professional, intelligent, and works well with veteran players and young guys alike. He's precisely the kind of settling force the Cubs could benefit from having on their bench.
Boom. The "additionally" was required because MacLennan had just laid out the other factors that enhance Avila's marketability, namely that he's a cheap rental who's performing at an elite level offensively. Oh, he's also throwing out a fair percentage of runners. Let's face it, though, anything more than 0-for-31 would be an improvement for the Cubs.
Expecting Avila to maintain a .310/.431/.571 slash line would be less than smart, mainly because those numbers are 65-164 points above his career averages, but maybe he's figured something out and can ride that wave for a while. Either way, the Cubs and Tigers alike surely know those numbers are fool's gold and would negotiate with that in mind. And with only about $1 million owed on the remainder of his contract, it'd take a massive drop-off for him to fail to live up to his salary.
Then you've got the psychological bump from a guy who's happy to be (we hope) vying for a playoff spot, not to mention another contract. Still only 30, Avila could easily parlay a strong finish into a deal that might pay him more than the $18.4 million he's earned so far in eight big league seasons.
Dude checks pretty much every box, so now it's just a matter of finding out what the Tigers actually want for him. They can't expect to get too much for half a season of a guy the Cubs would view as a backup, nor do they have the leverage granted by youth and/or control. On the other hand, the Cubs aren't exactly holding the high ground on this one.
Weezin' the juice
I'm sure you've heard about the whole juiced balls theory by now, which is funny because that's kind of a euphemism for the Steroid Era when you think about it. In any case, there's been a ton of research into why baseballs are leaving the yard at the highest rate in history. The 13.7 percent home run-per-fly ball rate is significantly higher than the previous record of 12.8 percent set last year, which was much higher than the record of 11.4 percent set in 2015.
What's more, hitters are on pace to eclipse the 5,693 home runs hit in 2000. Heck, Aaron Judge and Cody Bellinger alone are on pace for 157 apiece or something. And John Lackey's 2.33 home runs allowed per 9 innings is the highest such mark in history, easily surpassing the 2.20 set by Jose Lima 17 years ago. Hence all the statistical analysis and various in-depth studies.
Why those folks aren't just ball-hawking home runs or picking up a case of balls from Rawlings and actually examining them, I don't know. Our primary source of juiced-ball theories to this point has been pitchers saying the seams are lower and conspiracy theorists looking to find the smoking gun.
In an effort to curtail further spreading of the juiced-ball idea, MLB recently sent a memo to all 30 teams regarding the results of tests on the baseballs currently in use. Among the guidelines cited were seam height, COR (bounciness of the ball), circumference, and weight. The memo read, in part:
The baseball in use today tests well within the established guidelines on every key performance metric. Furthermore, there is no evidence that the composition of the ball has changed in any way that would lead to a meaningful impact on on-field play.
Because I'm sure MLB would be completely forthright in their findings and would never want to cover up the possibility of a change in the composition or construction of the ball. I mean, no way would they want to see more home runs and run-scoring in general or anything.
While I don't want to dismiss the idea out of hand, I tend to think the results we're seeing are largely due to an increased emphasis on launch angle and a de-stigmatization of strikeouts and even fly balls. But what do I know?
Before I wrap this up, I do want to present one final tidbit that could be a byproduct of these "different" baseballs. Check it out at your own risk or leisure, but I'd warn you to avoid the comments on the Gregor Chisolm tweet below. The rest of the Rob Arthur tweet is interesting though.
Stroman with some strong words on blister issues in baseball. #BlueJays pic.twitter.com/SaCxnBRHi6

— Gregor Chisholm (@GregorChisholm) July 4, 2017
https://twitter.com/No_Little_Plans/status/882088303444590592
More news and notes
Jason Heyward should rejoin the Cubs today after a couple games in South Bend
Angel Hernandez is suing MLB for racial discrimination

I can't really comments on the merits of the suit, which is surely more complex than my disdain for Hernandez's ability to call balls and strikes
But here's this:
Jesus… pic.twitter.com/OLBN02Yrx9

— Andy (@Behind_The_Ivy) July 1, 2017
Welp, guess we can stop any of that Verlander talk
Teams asking about Justin Verlander; perception is DET looking for big,big,big return w/out salary offset. Owed $70m for rest of '17,'18.'19

— Buster Olney (@Buster_ESPN) July 4, 2017
And while we're on the topic of potential Cubs targets…
As of this morning the only calls Billy Beane has had on Sonny Gray were "keep me in mind" requests, none recent

— Peter Gammons (@pgammo) July 3, 2017