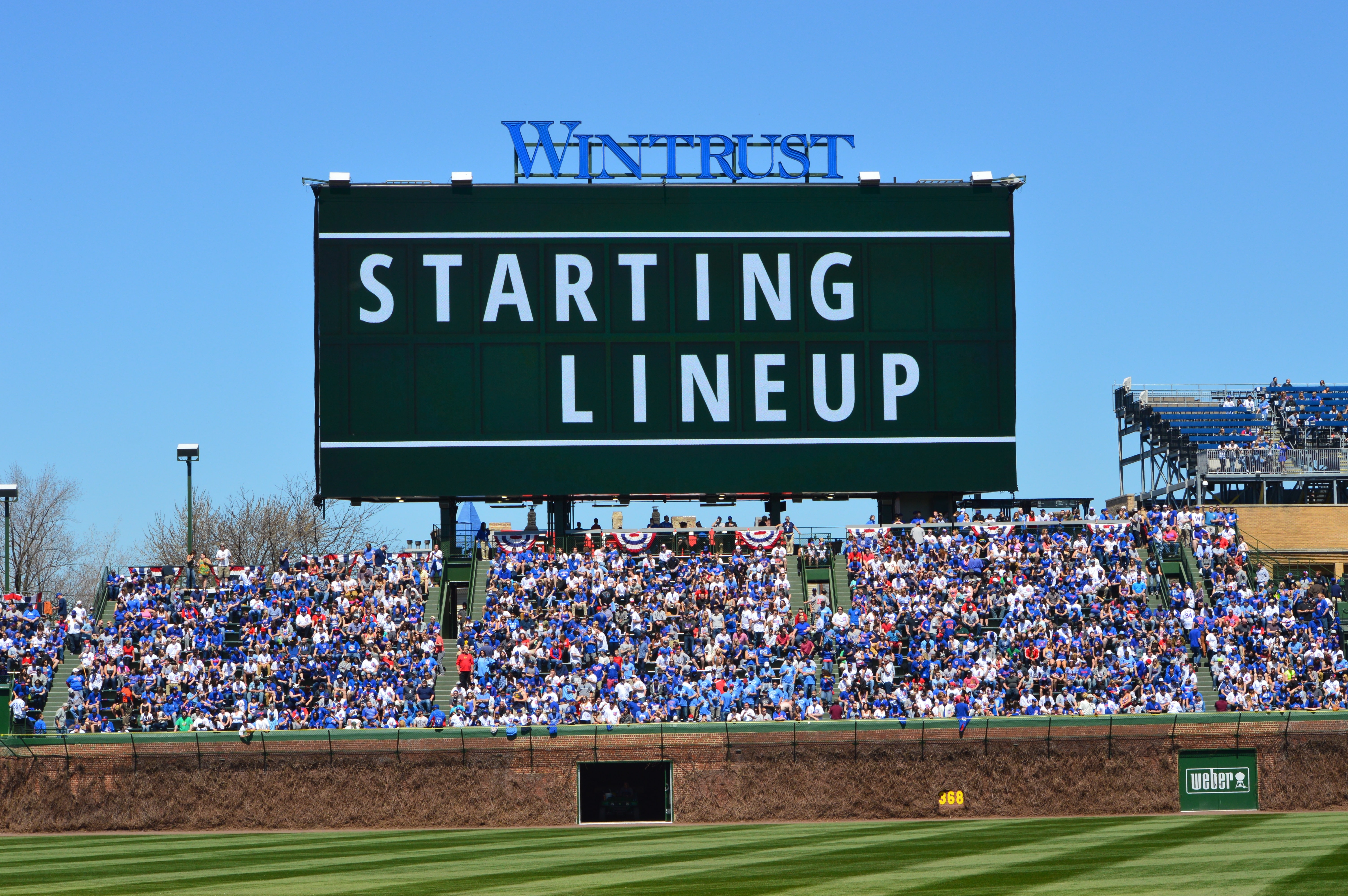 Chicago Cubs Lineup: Zo Leads Off, Schwarber Fifth, Javy at Short as Cubs Go For Two Straight Against Anagrammatical Nemeses
Those more consistent lineups Joe Maddon recently promised are starting to show themselves. Ben Zobrist is at second base and leading off ahead of Bryzzo, with Ian Happ in center cleaning up and Kyle Schwarber in the five-hole. Willson Contreras is behind the plate, Jason Heyward is in right, and Javy Baez is at short.
Outside of a few tweaks here and there, namely Addison Russell, this is pretty much your standard lineup vs. righties. Something tells me this is going to be a fun one for Cubs fans, but we'll get to a couple specifics on that a little later.
A distilled version of the Cubs' team-wide inconsistency, Jake Arrieta has been both very good and very bad at times this season. He's even thrown a little meh in there for good measure. The real problem for Arrieta this season has been finding the feel for his pitches and getting established early in games. To wit, he's giving up a .784 OPS with nine of the 13 homers he's allowed coming the first time through the order.
As a result, his pitch count is elevated right out of the gate and he's had trouble going deep into games. Decreased velocity and a tendency to pitch over the plate more has resulted in lefties really working Arrieta over. Despite facing 36 fewer left-handed hitters, Arrieta has walked more (19 vs. 14) and has given up more home runs (7 vs. 6) to them than he has righties.
Arrieta's last start may have been his best of the season and his performance in the 4th inning — when he struck out the side — was easily the best I've seen him pitch in more than a year. If he can be close to that again, the Cubs will win. If not, ready the Josh Bell dinger alarm.
In the hierarchy of novas, I'd put Ivan somewhere below super and bossa, but still well above Chevy. He's definitely looked a little more like the latter over the last four games (25.0 IP), allowing 13 earned runs on five homers and striking out 13 while walking seven. That's not an accurate portrait of his season on the whole, but the sample in question did start with the Cubs.
Nova and Arrieta last dueled on June 17 in a game the Pirates ended up winning 4-3 and that was notable for Arrieta's game-tying homer. Nova was pretty solid that night, though he did allow another dinger to Addison Russell. The big right-hander struck out six Cubs too, the highest total he's put up in his last dozen starts.
Never a huge strikeout guy, Nova is posting a career-low 4.82 K/9 this season. That hasn't mattered, though, because he's also walking fewer batters (1.11 BB/9) and is allowing fewer homers (1.05 HR/9) than ever, at least when we're looking at full seasons. That walk rate is third-lowest in baseball among qualified pitchers and the home-run rate puts him in the bottom 20. Or is it top 20? Depends on how you sort it, but it's good.
So how do the Cubs get to Nova? It all starts with the fastball that he throws nearly 72 percent of the time, more than all but two pitchers in MLB (Antonio Senzatela – 74.9; Lance Lynn – 78.7). He is also in the top 20 in terms of pitching in the zone and gives up a 92.2 percent contact rate on those pitches. While it's tempting to think those are signs of a guy the Cubs can easily tee off on, there's a reason he's acquitted himself well overall.
Nova's go-to pitch is a sinker, which frequently has hitters beating balls into the ground with either soft or medium contact. As the season has progressed, however, he's been giving up fewer grounders and has been squared up a little more often. It's difficult to judge performance on a game-by-game basis, but Nova has not been as sharp of late.
Given that he's a strike-thrower who pounds the zone early and often, look for the Cubs to be aggressive in trying to get to him before he can get established. Happ, a fantastic low-ball hitter, should be licking his chops over this matchup. Lefties in general have done really well against Nova (.280/.310/.452), and I'd love to see War Bear stop taking pitches and start taking advantage of the matchup.
First pitch is at 6:15 CT, with the wacky start time necessitated by the national FOX broadcast. Also necessitated are the takes that will licking forth from you television like flaming tongues of redundancy. What's the over/under on how long we go before hearing about the Cubs' lack of All-Stars? I'll set it at 30 seconds and take the under.
Here is tonight's #Cubs lineup against the #Pirates.

Game preview: https://t.co/7JykkRDunD pic.twitter.com/d2MD8CVJjy

— Chicago Cubs (@Cubs) July 8, 2017