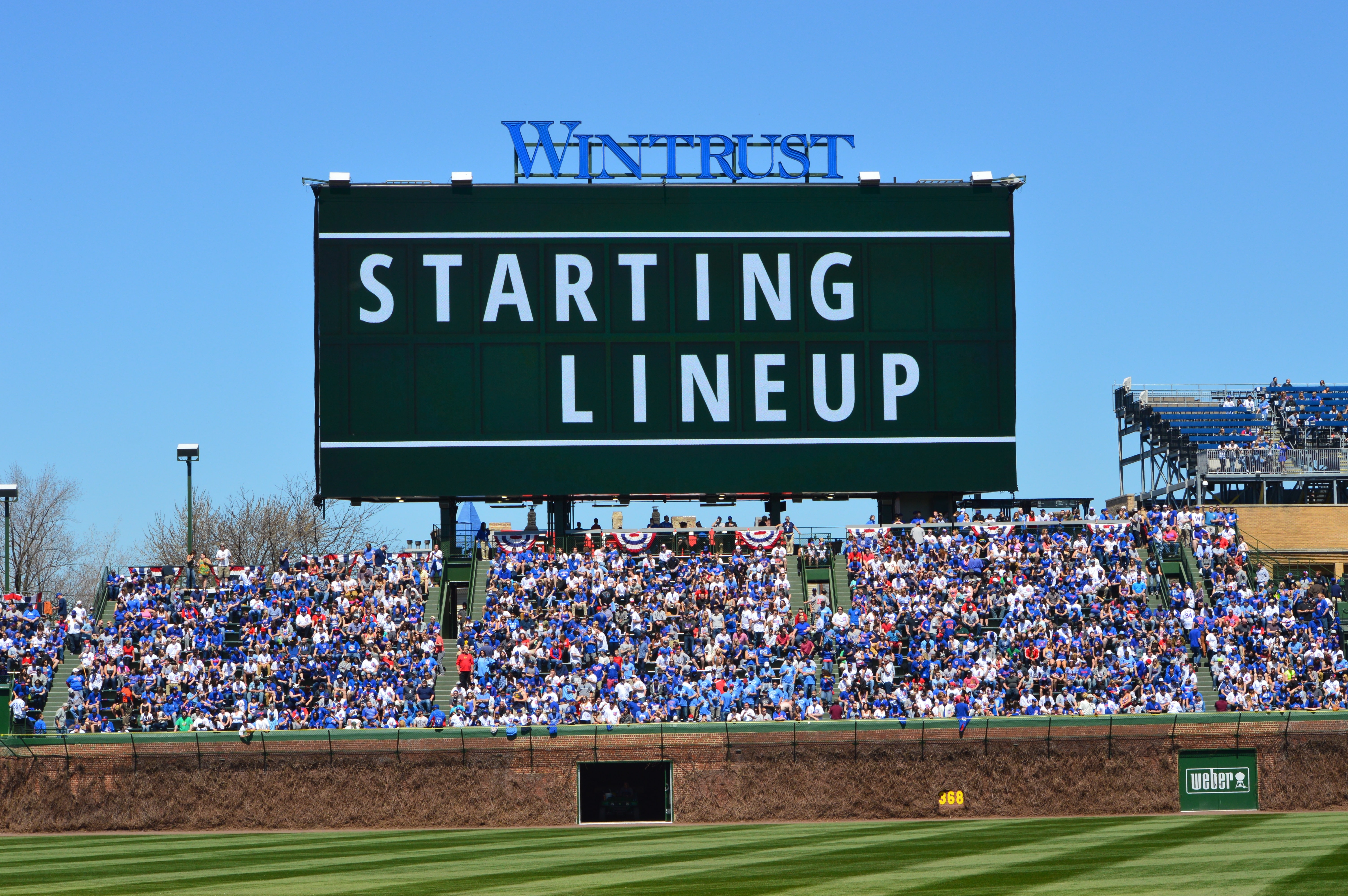 Chicago Cubs Lineup: Jay Leads Off, Happ in Left as Cubs Try to Come in Like a Wrecking Ball Against Miley
What began like a party in the USA almost resulted in achy-breaky hearts for the Cubs last night, but they're hoping to keep things a little less dramatic when Jake Arrieta takes on the Orioles and Wade Miley.
Setting the tone will be leadoff DH Jon Jay, which is kind of a weird thing to say. And not only because that sentence rhymed, just because it's not something I'd have envisioned. But the decision makes sense when you figure that Jay is 5-for-7 with a 1.571 OPS against Miley and the Cubs probably want to take it easy on Ben Zobrist, who'd be batting righty with that left wrist still maybe a little tender.
Kris Bryant and Anthony Rizzo hold down the corner infield spots and the top of the order, with Willson Contreras behind the plate and Ian Happ in left.
Fresh off of his game-winning homer, Addison Russell moves up to sixth in the order. One game isn't enough to make a proclamation, but the rest does appear to have helped the struggling shortstop. Jason Heyward hammered a homer onto Eutaw Street last night, only the 92nd such home run in Oriole Park history, another good sign.
Javy Baez and Albert Almora Jr., whose playing time has been sparse and spotty this season, finish up the order. With the leeway afforded by the interleague matchup, Almora was a no-brainer this time around. He's hitting .352/.462/.537 against left-handed pitching this season and Miley has not fared well against righties (more on that in a bit).
While he has faced the O's once before (8/22/14), Arrieta is pitching his first game at Camden Yards since the trade that sent him to the Cubs in 2013. A reprise of that seven-inning, one-run outing would be a nice way to start his second half, especially after seeing such inconsistent results over his last few games.
Though he was roughed up the second time through the order in his most recent start, Arrieta has generally gained steam after taking an inning or two to settle in. He doesn't strike out as many batters and the average against him is a little higher as the game goes on, but he doesn't make nearly as many mistakes and tends to stay within himself.
The Orioles haven't scored many runs this season and they walk less than any team but the Royals (only 6.7%), but they have a lot of power in that lineup. Adam Jones, Mark Trumbo, and Chris Davis are all scary hitters, particularly when you have a guy on the mound who is prone to piping fastballs now and again. I guess that just means the Cubs will have to hit a few more home runs.
Miley, a well-traveled lefty playing his first full season in Baltimore, will try to keep the Cubs from jumping out to a big lead on the strength of several dingers like they did Friday night, but he may not be up to the task. Among starters with at least 80 IP, only nine have allowed greater than Miley's 18.8 percent home runs per fly ball. Some of that is because he's a ground-ball pitcher, but it's clear that hitters can get to him if they get it up in the air.
As you might imagine, Miley relies on a sinker to generate grounders, setting it off with a slider, change, and curve. That repertoire has allowed him to neutralize left-handed hitters this season, holding them to a .184/.298/.265 slash that amounts to a mere .262 wOBA. While that's based on only 57 lefty batters faced this season, Miley has traditionally been much better against like-handed hitters.
Naturally, those results tell us that righties are absolutely raking against the 30-year-old. Sure enough, they've got a .306/.393/.469 line with a .373 wOBA and 12 of the 13 homers Miley has allowed. Something tells me the guys at the bottom are going to do some damage tonight.
What has really gotten the former D-back and Mariner into trouble this season isn't the home runs, it's the walks. His 5.18 BB/9 is the highest mark among that same sample of starters we referenced earlier and it's a big reason he's only averaging 4.93 IP per start. It'll be imperative for the Cubs to jump out early, though, since Miley actually improves as the game goes along. An ERA of around 6.03 the first two times through the order drops to 1.80 once he faces opponents the third time through.
First pitch is set for 6:05 CT and you can catch the action on on ABC-7 if you're in the Chicagoland area, or various local affiliates if you're elsewhere in the Midwest. The rest of you can watch on MLB.tv, which Cubs Insider has made better.
Here is tonight's #Cubs starting lineup.

Game preview: https://t.co/fmtkazEyFN pic.twitter.com/7HkjWR5TB2

— Chicago Cubs (@Cubs) July 15, 2017