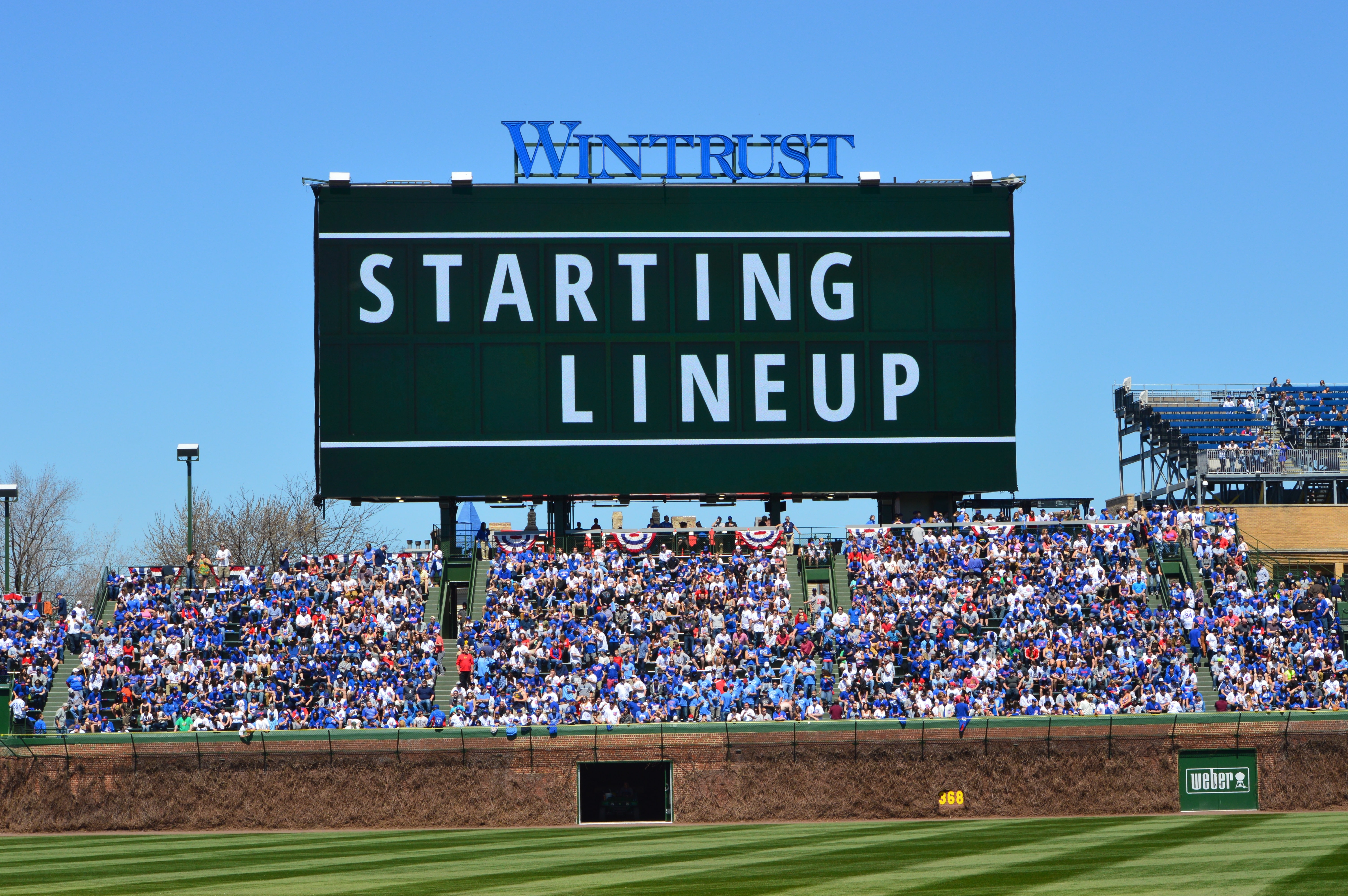 Chicago Cubs Lineup: Jay Leads Off, Schwarber Fifth, Caratini Catching as Cubs Try to Knuckle Up against Dickey
I've to be honest, dear reader, I was thiiiis close to making a joke about full Monty an Dickey in the headline. So I think it's best for all of us that I avoided that awful #DadJoke and just got down to business.
Ben Zobrist seems to have been established as the primary leadoff hitter, but Joe Maddon is still taking it easy with him. After testing that left wrist last night, he's sitting in favor of Jon Jay this morning/afternoon. Kris Bryant and Anthony Rizzo, stalwarts that they are, assume their familiar roles.
Ian Happ is in center and batting cleanup in place of the smoking-hot Willson Contreras, who's getting the day off after five straight starts. This is just a matter of Maddon pairing WillCo with John Lackey last night and giving him a break from the muggy conditions today.
Javy Baez and Addison Russell man the middle infield and Caratini bats ahead of his pitcher.
Mike Montgomery, whose spot in the rotation could be in jeopardy with Kyle Hendricks' imminent return, will be on the mound for his eighth start of the season. Despite a strong pitch mix and overall solid performance, the lefty has a tendency to get shaky from time to time.
He's given up at least 3 earned runs in each of his last four starts and has allowed 11 earned in 6.2 innings over his last two. But with the way the Cubs have been scoring runs in bunches, it may not matter.
Robert Allen Dickey has got an incredibly interesting backstory that would make for a fascinating read in other circumstances. The distilled, baseball-only version is that he has managed to pitch for more than two decades despite not having a UCL in his right elbow. With his career in danger of mimicking said ligament, Dickey turned to the knuckleball and eventually became a Cy Young winner in 2012 with the Mets.
While he hasn't been quite the same since then, the 42-year-old has been pretty effective in terms of taking the bump every five days and doing his job. That's the thing about knuckleballers, though, they don't rely on velocity and aren't subject to the same age-based degradation we usually see with pitchers. In an odd twist, Dickey is actually throwing his signature pitch harder now (76.8 mph) than at any point other than that Cy Young campaign.
He'll mix in a fastball that sits low 80's and a change in the low 70's, but the knuckler is his bread and butter. Cubs hitters are going to need be patient and look for it to stay up. Then it's a matter of making a decisive swing and hoping the ball doesn't float down. Or so I've been told. They were able to do just that against Boston's Steven Wright back in April, tagging him for a pair of homers and 5 earned runs.
Because of his style, Dickey doesn't have very pronounced splits. In fact, they're almost identical over the course of his career, to the extent that there's a variance of only two thousandths of a point between wOBA by righties and lefties. The gap is slightly larger this season, with righties seeing the ball a little better and drawing more walks than their counterparts.
Dickey's been on a real roll lately and the Cubs are going to have their work cut out for them. He's allowed no more than one run in each of his last five starts and hasn't allowed a homer in any of those. As is the case with pitchers of his ilk, though, there's a tendency to fall apart and really lose feel from time to time.
If nothing else, the novelty of watching the knuckler in action is worth the price of admission. But here's to hoping the Cubs can make it entertaining in their own right.
First pitch of the extra-early matinee is scheduled for 11:10 CT and will carried by CSN Chicago.
Feels like we never left.

Game preview: https://t.co/9wQ4y3j8hW pic.twitter.com/VxRmEdGXlO

— Chicago Cubs (@Cubs) July 19, 2017