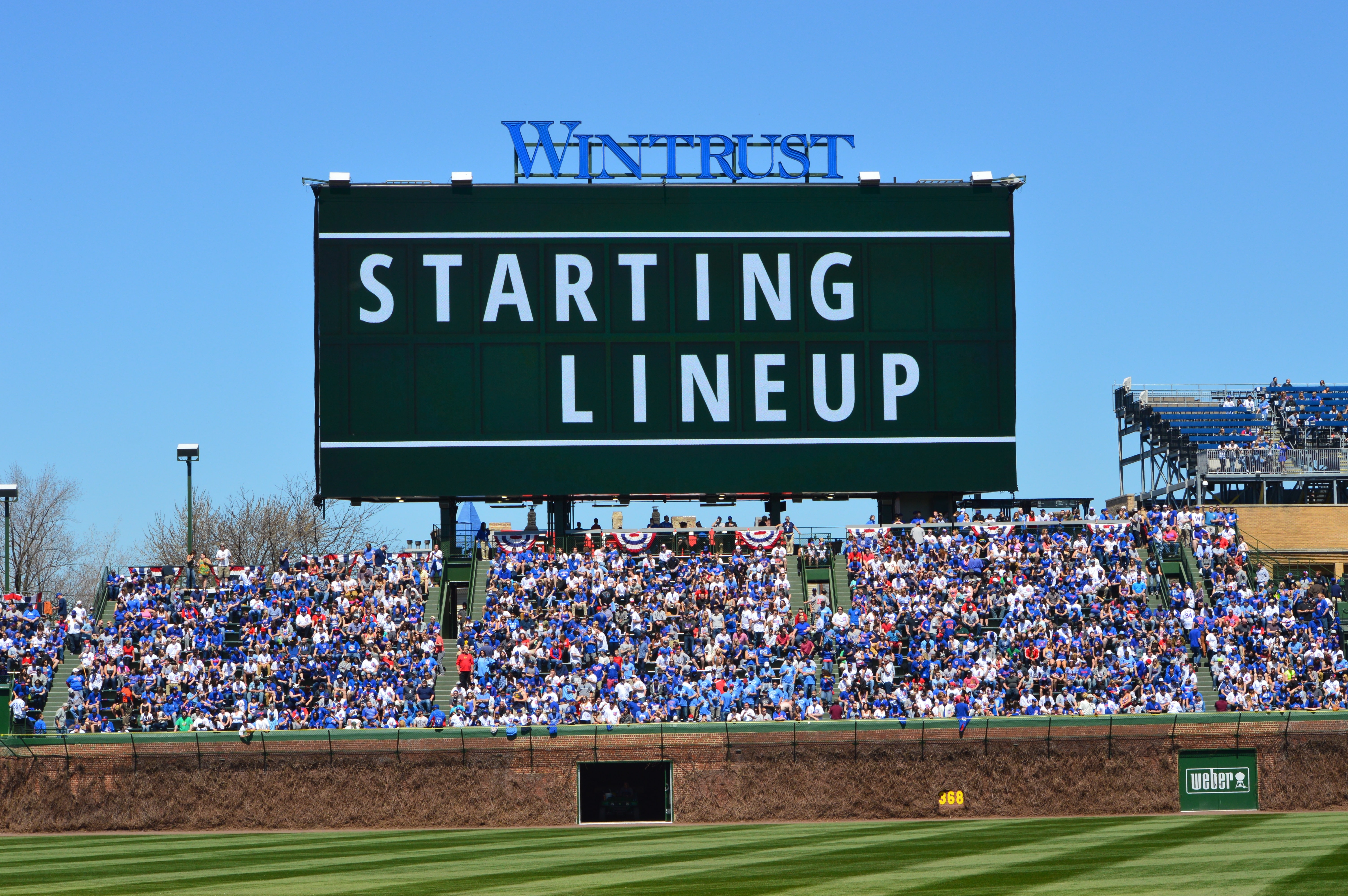 Chicago Cubs Lineup: Heyward Leads Off, Bryant Sits Against C-Mart and Cards
Well this is an interesting development. Kris Bryant's absence due to a sprained left pinkie has caused Joe Maddon to shuffle his lineup a bit, moving Ben Zobrist to the second spot behind…Jason Heyward?
Since coming back from the break (yes, I understand it's a minuscule sample), Heyward is hitting .429/.478/.714 with more extra-base hits (3) than strikeouts (1). Pushing out to his performance since July 4, when he returned from a hand laceration, Heyward is slashing .333/.400/.500 while continuing to play that patented stellar defense.
But don't think the right fielder is out there trying to justify his contract or make up for last season in any way.
"I don't feel like I have to prove sh– as far as what I can do," Heyward told Sahadev Sharma of The Athletic (subscription recommended). "There are a lot of things I have done. As far as this season goes, I'm not thinking about any other season. It's good to be on the field right now. That's huge."
Let's see if his bat can keep doing the talking. Heyward is followed by the aforementioned Zobrist (who's playing second in addition to batting there), after which the lineup is pretty much what we've been seeing all second half. Anthony Rizzo, Willson Contreras, Kyle Schwarber, Ian Happ in center, and Addison Russell at short.
The one big exception follows Bryant's absence, as Javy Baez will man the hot corner and bat eighth. With the way these guys have been hitting lately, the bottom of the order is as potent a group as you're going to find outside of the AL. And maybe even including that, since Jake Arrieta is no slouch with the stick.
Arrieta's results against the Cardinals in two games this season are a microcosm of his campaign on the whole, which is to say they haven't been very consistent. He held his division rivals scoreless over 6 innings in his first start, then allowed 4 earned runs on a pair of homers a month later. Arrieta has been keeping the ball down more in recent starts and has seen his ground-ball rate rise as a result, something he'd do well to continue this afternoon.
Opposing the Cubs will be Carlos Martinez, who has been running hot and cold all year. His overall results balance out nicely, but he's got a tendency to allow homers and give up runs in bunches when he gets a little sideways. Martinez has surrendered seven homers and 16 earned runs over his last five starts, though four of the dingers and 10 runs came in just two of those starts.
C-Mart faced the Cubs in the season opener, locking them down with 10 strikeouts and no walks over 7.1 innings. He wasn't nearly as effective back on May 13, walking four and striking out seven over 6.2 innings. With a sinker he can run up to the plate in the upper 90's and a wicked wipeout slider, Martinez has held righty hitters to a .177/.233/.289 slash line. Lefties have a .796 OPS and .341 wOBA, so the Cubs will need to get some production from that side of the plate to get over.
First pitch is at 1:20 pm CT and will be shown on ABC-7.
Here is today's #Cubs lineup for the homestand opener against the #STLCards.

Game preview: https://t.co/DjeK0ySwEz pic.twitter.com/19nklDyobg

— Chicago Cubs (@Cubs) July 21, 2017