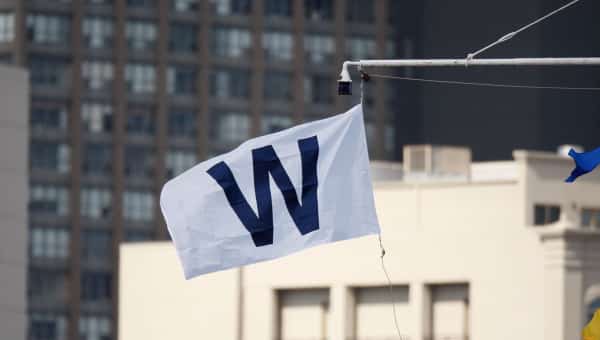 CI Recap (7/22/17) – Cubs 3, Cardinals 2: The Cubs Do It For Jonny!
The Cubs tried to bounce back on Saturday from an epic bullpen meltdown on Friday, hoping to even their series with St. Louis. A late rally ensured a terrific starting pitching effort did not go to waste.
Last time Jon Lester started at Wrigley he didn't survive the opening inning. Things were much different on Saturday, Lester retired the first seventeen men he faced.
Unfortunately for the Cubs, Adam Wainwright was nearly as good for the Cardinals. The curveball-specialist allowed only three baserunners the opening seven innings of the game. For good measure, Wainwright also singled to break up Lester's perfect game bid in the 6th.
Both pitchers continued to dominate until the 8th inning. Paul DeJong hit a solo-homer to left off of Lester to break the scoreless tie. His irksome teammate Randal Grichuk made it back-to-back homers with a shot to center.
Chicago finally got to Wainwright in the bottom of the frame. Jon Jay singled to center and scored when Ben Zobrist doubled to right-center.
Matt Bowman came on to face Kris Bryant (nice to see him back) in relief. Bowman shattered KB's bat, but the Cubs third baseman muscled it into left for a game-tying single.
Brett Cecil then entered to face Anthony Rizzo, who worked the count to 3-2. With Bryant running, Rizzo blooped a ball into shallow left for a hit. Kris never slowed down and went for home, where Dexter Fowler's throw got away from Yadier Molina allowing the go-ahead run to score.
Wade Davis, on for the save in the 9th, got the first two hitters easily. Then Fowler and Jedd Gyorko walked ahead of Molina. This time, Yadi didn't come through in the key spot and struck out swinging to end the game.
Stats That Matter
Jon Lester was outstanding on Saturday: 8 IP, 2 R, 3 H, 10 K, and 0 BB. It looked as if Jonny was going to get an undeserved loss after his two mistakes in the 8th. Luckily the Cubs rallied and got him a well deserved win.
Kris Bryant appeared fully healed after his pinkie injury in Atlanta. He had two singles, including the game-tying hit in the 8th. The biggest play of the game was his brilliant baserunning to score the winning-run on Rizzo's bloop hit.
Anthony Rizzo's only hit was that bloop double, but it was possibly a huge moment for the 2017 Cubs season.
Bottom Line
Chicago was on the verge of dropping two consecutive winnable games to the rival Cardinals. Over the course of five hitters, they were able to flip the script and hand St. Louis a devastating loss.
On Deck
Jose Quintana makes his home debut against Michael Wacha in the rubber match of the series. The game is ESPN's Sunday Night Baseball and begins at 7:05 CT.