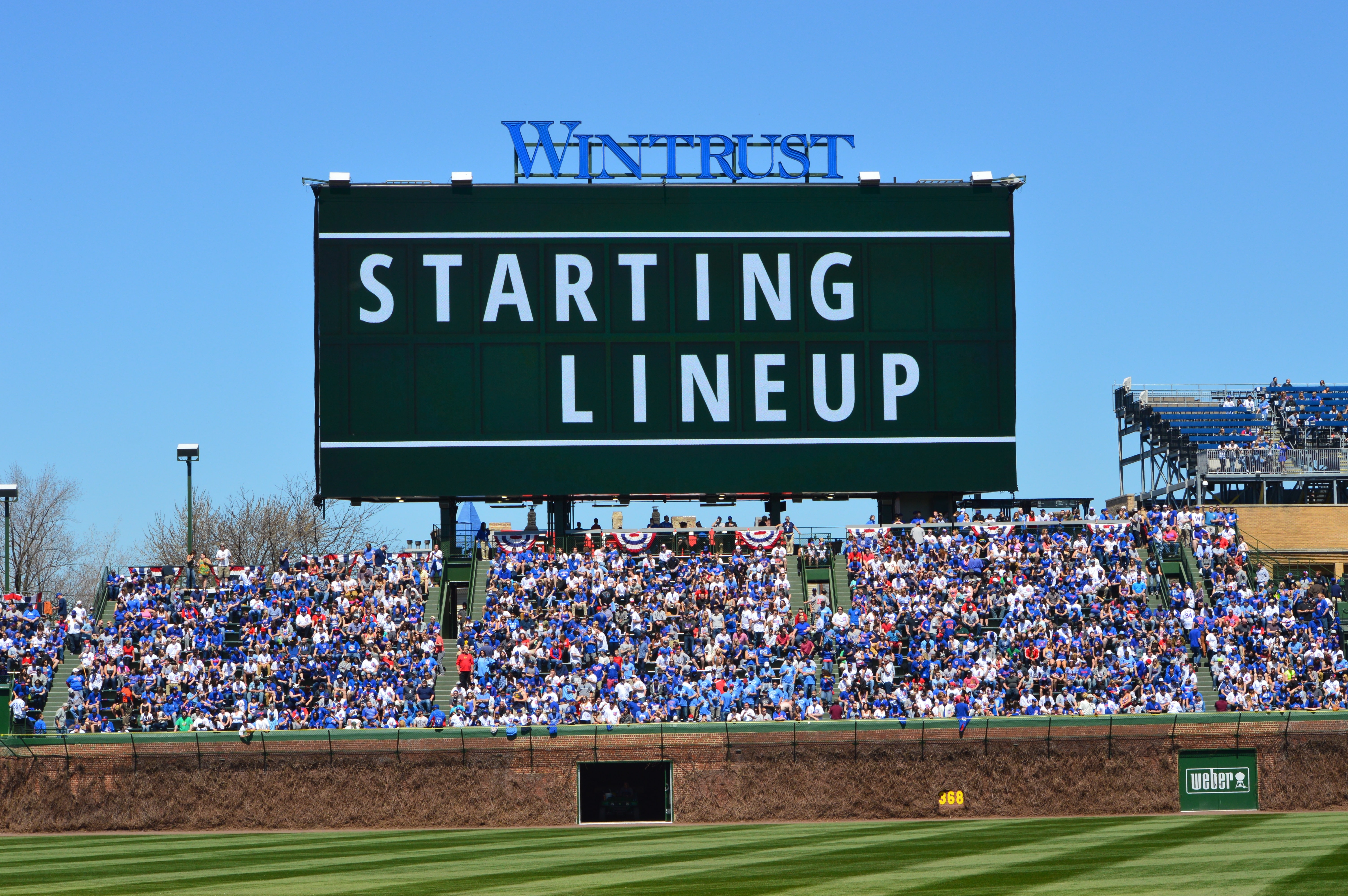 Chicago Cubs Lineup: Heyward Leads Off Otherwise Regular Group Backing Quintana's First Home Start
Other than suffering through the tired tropes of the national broadcast, watching the Cubs playing Sunday Night Baseball is a treat. It's even more so when they're facing the Cardinals, a matchup that's ratcheted up a notch with Jose Quintana making his home debut for the Cubs. If he pitches anything like what we saw in Baltimore…woo, buddy.
Jason Heyward will get things started for the Cubs with Ben Zobrist sitting, perhaps to give that left wrist a rest. Zo is only batting .182 (2-for-11) against Cardinals starter Michael Wacha, but Heyward is 0-for-8, so it's not necessarily a matchup thing.
The rest of the lineup is quite standard: Kris Bryant, Anthony Rizzo, Willson Contreras, Kyle Schwarber, Ian Happ, Addison Russell, and Javy Baez. Look for yesterday's heroes to come up big once again, as Bryant has a 1.118 OPS (four XBH) in 19 at-bats against Wacha while Rizzo has a 1.306 OPS (three HR) in 31 at-bats. Maybe back-to-back dingers to get things started.
Quintana pitched one of his best games ever in his Cubs debut, inducing 21 swings and misses from Orioles hitters. That was the most he's generated in his last 73 starts (per Elias, via Buster Olney), which I suppose is pretty good. He should have a little more room for error against a Cardinals lineup that doesn't possess nearly as much thunder as the O's, though you can never underestimate skilled practitioners of devil magic like Paul DeJong and Randy Grichuk.
After being held in check for most of the last two games, it would certainly be nice for the Cubs to hang some early runs on the deceptively solid Wacha. The lean righty works with a mid-90's fastball that he uses to set up a hard change that sits upper 80's and a cutter in the low 90's. Wacha mixes in a curve from time to time as well. The cutter rates out as his best pitch, but none of them are remarkably good or bad.
In fact, that's pretty much how you'd describe Wacha's overall performance. He doesn't generate a ton of strikeouts, though his 8.94 K/9 mark is respectable. He doesn't walk a lot of guys (3.04 BB/9) and doesn't allow too many homers (0.74 HR/9), and his 46.2 percent ground ball rate is solid. A .330 BABIP against says that maybe hitters are getting a little lucky, which bears out in a 3.34 FIP that is nearly four-tenths lower than his ERA.
Wacha's numbers across the board, from the traditional box-score stats to his batted-ball and plate discipline data, are all remarkably similar to his career averages. There's nothing mystifying about the guy; he's just a good pitcher who goes out and executes. And while he's had his share of implosions, Wacha is riding a nice little run of late.
The former All-Star has posted a 1.47 ERA (1.62 FIP) with 34 strikeouts to just six walks and has not allowed a home run over his last five starts (30.2 IP). That includes a complete-game, three-hit shutout of the Mets in New York in his most recent start, which could mean one of two things. One is that Wacha is going to continue rolling along at Cy Young pace and will dominate the Cubs in the rubber game. The other is that ol' dude is about to fall back to earth.
We will find out which is the case at 7:05 CT on ESPN. Or if you've got one of those SportSync delay radio deals, you can mute the Four-Letter and listen to Pat and Ron on 670 The Score.
Here is tonight's #Cubs lineup for the rubber game vs. St. Louis.

Game preview: https://t.co/WE4OAtZ9in pic.twitter.com/3iBW5FmMT6

— Chicago Cubs (@Cubs) July 23, 2017