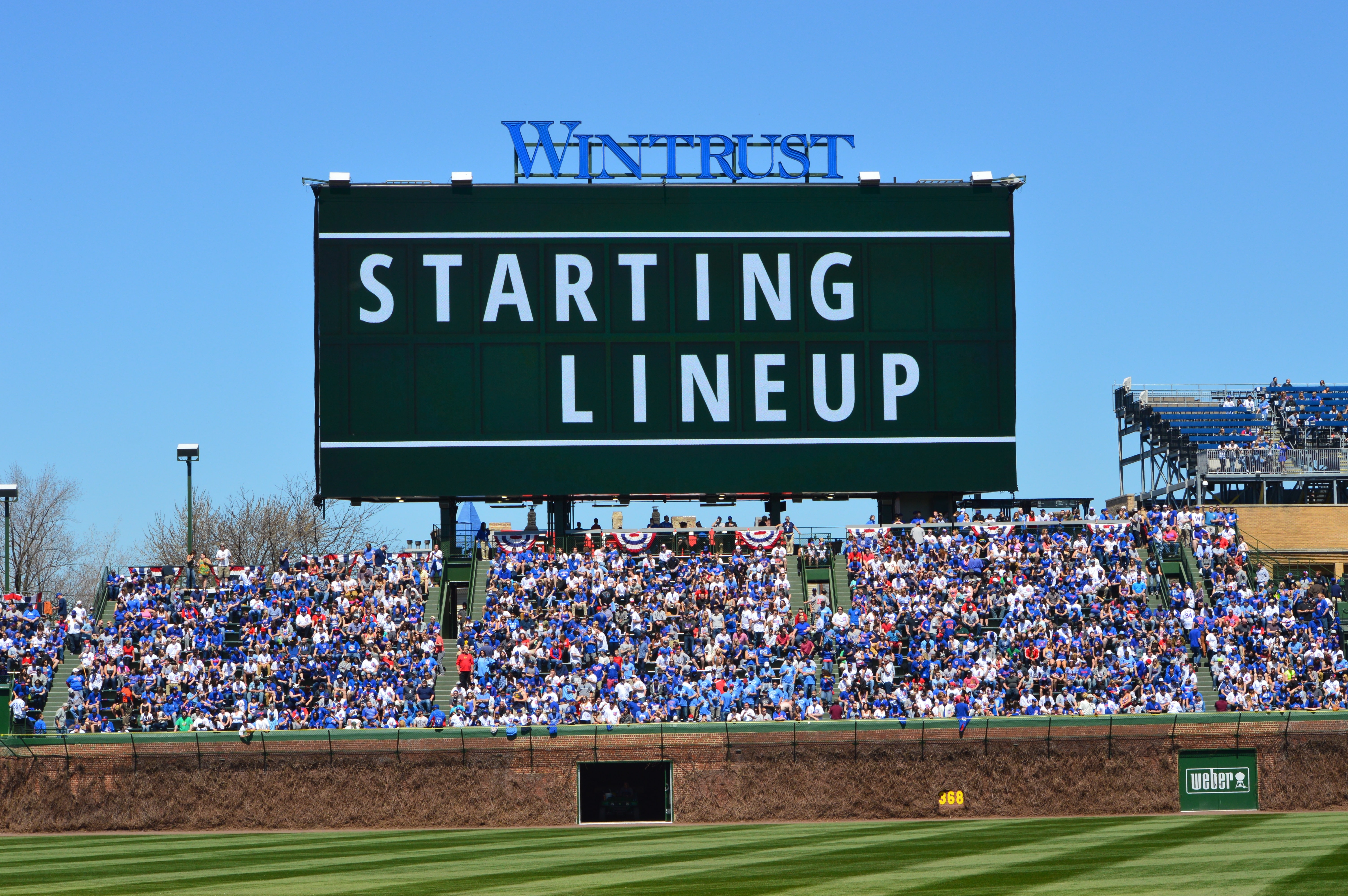 Chicago Cubs Lineup: Heyward Leads Off, Zobrist Sixth as Cubs Open Battle for Fake Cup
Just like red line trains that could take you to either Wrigley or Guaranteed Rate Fields, the two teams opening up four straight games of interleague action this afternoon are moving in opposite directions. The Cubs are buying and the White Sox are selling, and with each other no less.
With a win Sunday night behind former Southsider Jose Quintana, the Cubs pushed their second-half mark to 8-1 and moved into first place in the NL Central. A loss Sunday afternoon was the ninth in a row and 12th in the last 13 games for the Sox, who now boast the worst record in the AL.
As strange as it may sound, though, the Sox are plummeting with a purpose. Like their neighbors to the north, they have embraced the suck and are working on a full-on rebuild that means forgetting about the present in order to focus on the future. That's good for Cubs fans right now and for Sox fans starting in the next couple of years.
Because of his recent start, Quintana will miss out on the opportunity to face his old team in his old ballpark, but there will be a homecoming of sorts Monday afternoon. Rick Renteria will be back at Wrigley for the first time since he was let go by the Cubs in favor of Joe Maddon, which is certainly a little bittersweet for him. But if things go according to plan, Renteria will have a contender of his own to helm before long.
This Cubs lineup looks quite a bit different from those Renteria penciled in, with Jason Heyward leading off for the third time in four games. Nothing's ever static with Joe Maddon in there, but if Heyward continues to swing the bat well, his baserunning at the top of the order could be huge.
The next four hitters remain the same as what we're used to, but there's a change in the six-hole as Ben Zobrist steps into the role previously held by Ian Happ. He's followed by Jon Jay in center and Javy Baez at short. Happ is only hitting .214 at Wrigley, so this is just a day off for him. And with a righty on the mound, Jay makes sense over Albert Almora Jr, who's only OPS'ing a mere .581 against right-handers.
Addison Russell is also out of the lineup, again for rest. After starting eight of the Cubs' nine games in the second half, Maddon is giving his shortstop a break to ensure he remains strong down the stretch.
Kyle Hendricks makes his return to the rotation after sitting out since June 8 with tendinitis in his right hand and he further strengthens a unit that has really stepped up since the break. Hendricks pitched five perfect innings for AA Tennessee in his last rehab start, displaying good velocity and command of his pitches. That start could be very telling since the Sox are basically a minor-league team at this point (I kid…but only sort of).
It was evident prior to his DL stint that Hendricks lacked his typical pinpoint control and that even his pedestrian velocity was down. Hand issues could very well have contributed to those shortcomings, so that's something to keep an eye on now that he's 100 percent healthy. Even if he comes out throwing darts, though, expect a fairly short outing as the Cubs ease him back to full strength.
On the mound for the Sox will be Miguel Gonzalez, a slightly built righty whose mediocre results this season could spell big things for Cubs hitters. Gonzalez has a five-pitch repertoire and works in that Hendricksian velo range, pumping the four-seam and sinker in the low 90's and working a slider, curve, and splitter off of the fastballs.
Only the curveball has saved the Sox any runs this season, but a value of 1.1 is nothing to write home about. Gonzalez has very little swing-and-miss in his game and 61.6 percent of the contact he allows is in the air. Combine that with a paltry soft-hit percentage of 15.7 (among the lowest in MLB, which is not a good thing) and you've got a recipe for some damage.
Gonzalez isn't much for platoon splits and allows nearly identical wOBA numbers (.353 vs. .352) to lefties and righties in very similar samples. Right-handers tend to see the ball slightly better, while left-handed hitters slug better. Pick your poison, I guess.
I don't really understand this particular rivalry matchup from a marketing standpoint, since everything about it is a contrast in contrivances. The teams compete for a fake Crosstown Cup, yet they play an even number of games that makes the likelihood of a tie that much greater. The games no longer take place on subsequent weekends, which would maximize attendance, and the first two games of the series are early afternoon affairs.
Whatever, you'll still probably be watching in some form or fashion when 1:20 pm CT rolls around. CSN Chicago will have the Sox broadcast, with ABC-7 carrying the Cubs version of things. Since you're probably more partial to the former if you're reading this, make sure you know which local provider has that coverage.
You can also stream the game in its entirety via Facebook Live, on both the Cubs and ABC-7 Facebook pages. Wednesday's game from G-Rate will also be available via FB live on both pages.
.@kylehendricks28 returns to the mound as we host the #WhiteSox.

Game preview: https://t.co/YHp4ZR1Ywp #CrosstownCup pic.twitter.com/UrbiMLXmlj

— Chicago Cubs (@Cubs) July 24, 2017