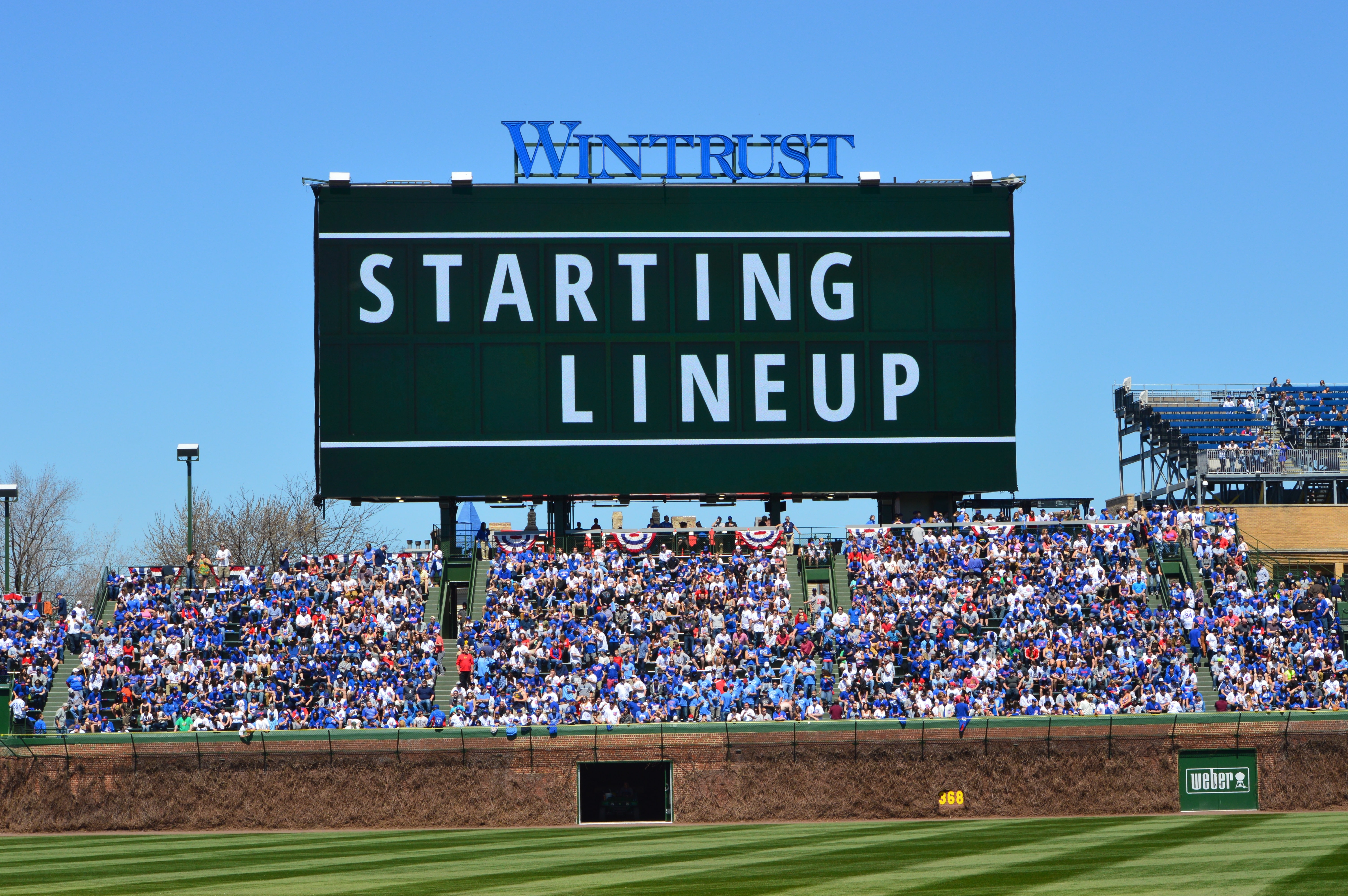 Chicago Cubs Lineup: Zobrist, Almora, Happ in Outfield Against Rodon
The top spot has gone back and forth over the last several games, but Ben Zobrist is back in the leadoff role and playing right field as Jason Heyward sits against a left-handed starter. Kris Bryant, Anthony Rizzo, and Willson Contreras slot into their normal roles, followed by Ian Happ batting fifth and playing left.
Albert Almora Jr. and his 1.032 OPS vs. lefties will be manning center in what is only his third start of the second half. He's basically a platoon player at this point, but you can't blame Joe Maddon for that when Almora has put up a paltry .581 OPS vs. righties. Oh, then there's the matter of Happ and Jon Jay playing well.
Javy Baez and Addison Russell hold down the middle infield and the bottom of the order. Baez has a .979 OPS against southpaws, but has fallen back into his free-swinging ways of late. He's had a couple of at-bats during which he's gone up flailing against a series of sliders that were nowhere close. That's something to watch against Carlos Rodon, a big-time slider guy (more on that below).
Though his season stats don't paint a pretty picture, John Lackey has posted quality starts in four of his last five outings and has a streak of five such starts against the White Sox. Never mind that only two of the games from that latter sample have come since the 2010 season (none between 9/28/10 and 7/1/15), it's cool to cite.
When it comes to Lackey's streaks, the one Cubs fans are probably more familiar with is him giving up home runs in nine of his last 10 games and in all but three of his 15 starts this season. The White Sox are 24th in baseball with only 107 longballs, but we saw yesterday that even unknown Punch-and-Judy hitters can park it in the yard when they get hangers.
All of the offerings in Lackey's pitch repertoire have cost the Cubs runs this season in terms of overall value, though the fastball has been better of late. The big Texan isn't missing as many bats as last year and he's walking men at a higher rate, but the home run has been his undoing. More specifically, giving up hard contact early in games has really cost Lackey and the Cubs.
Consider that 12 of the 25 homers he's given up have come when facing an opposing order the first time through. Opponents have a .951 OPS against Lackey on that first rotation, .863 on the second, but then only .636 the third time. In contrast to traditional results, Lackey actually gets better as the game wears on, which means the first couple innings may tell the story.
Just before the Cubs selected Kyle Schwarber — who's out of the lineup with a lefty on the mound — with the fourth pick of the 2014 draft, the White Sox took NC State's Carlos Rodon. Neither is having what anyone would call a great season, though obviously for very different reasons and under different circumstances. Rodon has only made four MLB starts this year after being sidelined by left biceps bursitis and he has performed poorly in three of them.
Though he did not allow an earned run to the Yankees over five innings in his first start, they pushed across three runs on six walks while striking out only twice. Rodon struck out 10 Athletics in his second start, but has given up 11 runs on six homers and has struck out eight while walking six over his last two outings(9 IP).
He's had a hard time locating the fastball, leaving it up in the hitting zone too frequently. The real issue, however, is that he hasn't established the slider, which had previously been his best pitch. And I'm talking by a wide margin. While the fastball and change have cost him nearly 33 runs, the slide-piece has been worth 22.4 (and that's with -2.1 this year).
As you'd expect, the burly southpaw works the breaking pitch down and in to righties (down and away to lefties). But he's throwing it nearly 2.5 mph slower than he has in the past, which makes it both easier to lay off and easier to hit. Consider than a .153 average against it over 394 at-bats in 2015 and 2016 has become a .261 average this season (only 23 at-bats).
If Rodon is spinning cement mixers, it could be a really long day for him out there. Then again, and this might just be recency bias, the Cubs sure seem to have a knack for helping struggling pitchers find their mojo. Seeing how the offense has been playing in the second half, I've got a feeling the Northsiders get to Rodon early and often.
First pitch from Wrigley is at 1:20 CT and will carried by both WGN (Sox broadcast) and CSN Chicago (Cubs).
Here is today's #Cubs starting lineup.

Game preview: https://t.co/yKC2GmcMUC pic.twitter.com/AL3ZpVL93I

— Chicago Cubs (@Cubs) July 25, 2017