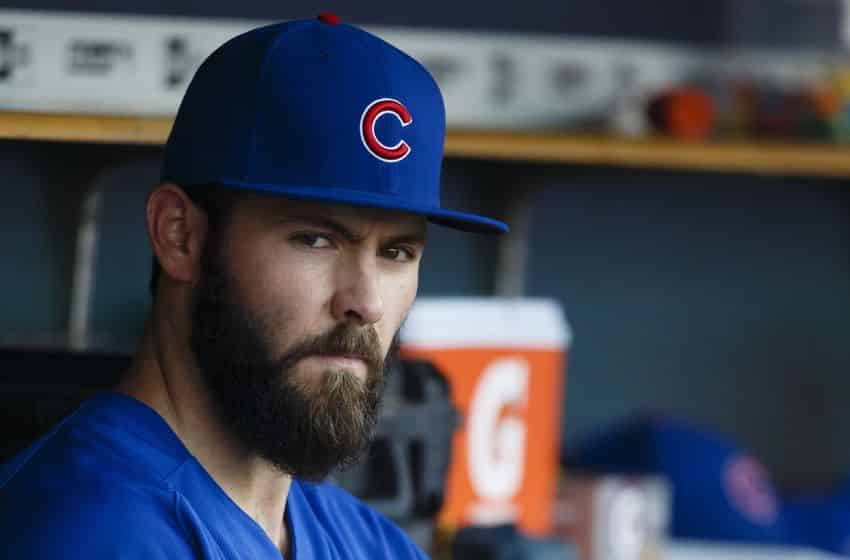 The Rundown: Jake Arrieta Decent Again, Hawk Still Mad at Lackey, Trade Rumors Fly
Okay, so there are lots of times when I say that I'm going to make these short and I often fail to follow through on that. I mean it this time, though. It's my kids' first day at a new school, so I'm trying to tap this out between rounds of pancakes and coffee (the latter for me).
Jake Arrieta looked pretty solid against the Sox last night, holding them hitless into the 5th inning and allowing only two runs on two hits while striking out five and walking two. I'm not going so far as to call it a vintage outing — he's had four higher game scores this season alone — but he displayed nice movement on his pitches and was working in the zone. And at least one of the walks he issued involved some borderline pitches that could have gone either way.
More encouraging was the return of the curveball, which Arrieta had really backed off of over the last few games. He used the change a little more too, also a good sign. Those came at the expense of the fastball, which he'd been throwing at an unsustainably high rate recently. Not that the results had been bad, mind you, but it's much better to see Arrieta working with his whole repertoire.
Broadcast heaven
When it came to seeing Arrieta pitching against the Sox, fans of both teams had all kinds of opportunities last night. The game was carried by the normal broadcasts on ABC-7 (Cubs) and CSN Chicago (Sox), then ESPN had the trio of Jason Benetti, Rick Sutcliffe, and David Ross. And the Cubs had a Facebook Live broadcast on their page. Pretty cool.
I spent my time on ABC-7 for the most part, but did find myself flipping to CSN to catch a little bit of Hawk and Stone Pony. At one point, I tuned in in the middle of a Kyle Schwarber at-bat and found myself trying to adjust the volume of my television. There was absolutely no commentary between the first two pitches I saw, which came in the middle of the at-bat.
Perhaps Hawk was still busy chewing on the salty cud of his displeasure with John Lackey.
"He's full of sh–, and you can print that," the retiring broadcaster told the Chicago Tribune's Colleen Kane. "He's full of it. He always has been.
"I was hoping that they would drill his ass big time because he's an idiot. At that point, the game was not the issue. It was Lackey. He's in the pennant race. This is a big-boy game. There's no bullsh– here. He's putting Bryant and Rizzo in jeopardy."
Man, this is just on a whole 'nother level of bad, which is saying something. Hawk is a great character, or caricature, but he's going way too far off script with this one and just comes off looking like a red-assed old man who's unwilling to use common sense. Whatever, the quotes made me laugh.
I didn't get into the ESPN broadcast, but did catch one tidbit via 670 The Score's Matt Spiegel. When rookie Yoan Moncada took Arrieta deep for his first home run, Benetti mentioned that it was the first time the pitcher had given up a dinger on an 0-2 count in six seasons. Could file that under the first section too.
All the tradez
You couldn't throw a rock on Twitter without hitting a rumor involving Sonny Gray or Yu Darvish, the former of whom was named as a major target for at least three or four teams that I can think of off the top of my head.
With Stephen Strasburg headed to the DL with a nerve impingement in his elbow (which sounds like a not-minor thing), the Nats suddenly have more of an impetus to make a move. And with Adam Eaton locked in at CF for a few years, they might be willing to part with a coveted prospect to do it.
And how about the whole Strasburg saga? Here's a guy who's had Tommy John and who leaves a game with forearm discomfort (which can be a precursor of elbow issues, and apparently was in this case) and who then denies anything is wrong. There was a report that he wasn't going to get an MRI and that he was set for his next start, then this DL business. Who's the manager there again?
Anecdotal as it may be, there's no doubt Dusty Baker is being mentioned as a culprit here. Throw in the team's potential acquisition of another injury-plagued starter and you've got a nice powder keg of takes ready to blow.
Below are some of the various reports flying around, a sign that the next few days are going to be quite fun.
Sources: #Nationals interested in Yu Darvish, although they would prefer to acquire a controllable starting pitcher. @MLBNetwork @MLB

— Jon Morosi (@jonmorosi) July 26, 2017
#Athletics also have shown interest in Victor Robles, in their conversations with the #Nationals on Sonny Gray. @MLB @MLBNetwork

— Jon Morosi (@jonmorosi) July 27, 2017
Source: #Mariners have shown interest in Sonny Gray; multiple teams, including #Yankees, remain involved. @MLB @MLBNetwork

— Jon Morosi (@jonmorosi) July 27, 2017
Sources confirm: #Nationals in on Gray, as @JonMorosi said. Deal might hinge on whether WAS would move Robles. 1/2

— Ken Rosenthal (@Ken_Rosenthal) July 27, 2017
There's also word that the O's are looking for a big haul in return for Zach Britton, which, yeah. But the reports are that they don't think he's ready to be full-time lock-down closer as he continues to work back into form after missing much of the season with a pair or trips to the DL.
The reliever market is starting to take shape as well, after the Rockies acquired funky-throwing veteran rental Pat Neshek from the Phillies for three pitching prospects. One of said group was ranked No. 21 on MLB Pipeline's updated list of Colorado's top 30 prospects, but the other two were unranked. Not a bad price, but Nesheck's age (36) and rental status mean he's not nearly as expensive as guys like Britton or AJ Ramos.
More news and notes
With a win and a Brewers loss, the Cubs have moved into sole possession of first place in the NL Central. It's the first time all season they've been 6 games over .500 as well.
The Cubs reportedly asked the Mets about Seth Lugo, an oft-injured starter with electric stuff and several years of control. He's 27, so the amount of control is hard to fathom, but he's not arb-eligible until 2020 and isn't a free agent until 2023. That also means he'd be super expensive, prospect-wise. You think the Cubs could get the Mets to believe the still have Starlin Castro to trade?
Now for a couple of funny items from late last night. Apologies to those of you who are viewing at work and can't view the media in these tweets.
If your club don't hit, you must throw a fit. pic.twitter.com/nbhPY0he38

— Evan Altman (@DEvanAltman) July 27, 2017
Adrian Beltre was told to move into the on-deck circle, so he moved the on-deck circle over to him and was ejected for it pic.twitter.com/PfYIxlFkCo

— bird hating account (@atf13atf) July 27, 2017