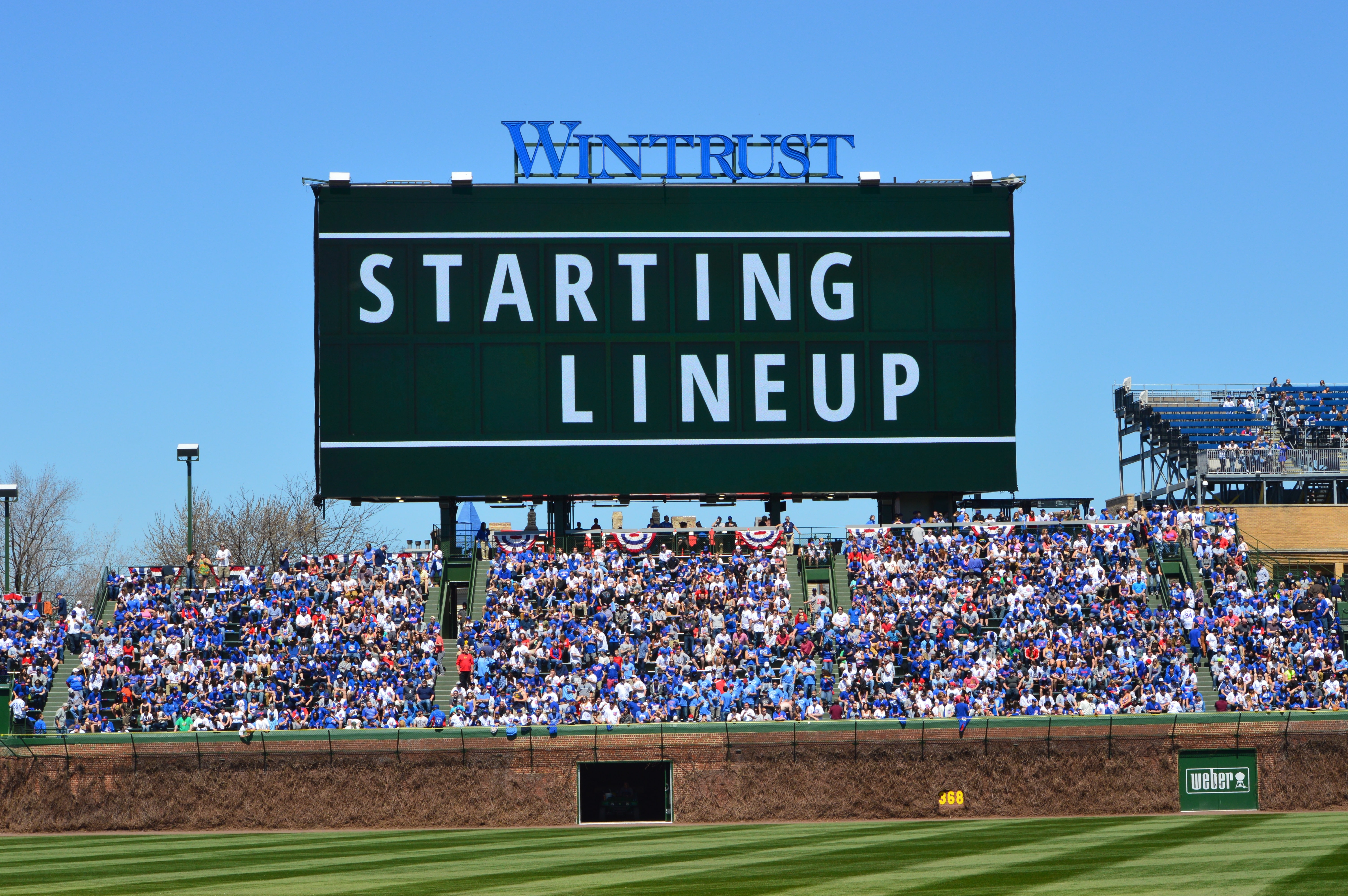 Chicago Cubs Lineup: Jay, Almora, Baez Highlight Order Tailor-Made to Face Suter
Despite the overall consistency in the Cubs' lineups over the last few weeks, the leadoff spot has been rotating around. Jon Jay is in there today playing left as Ben Zobrist (presumably to rest the left wrist) and Kyle Schwarber get a day off with a lefty on the mound for the Broors.
Jason Heyward, the other member of the leadoff triumvirate, moves down to the fifth spot behind the core of Anthony Rizzo, Kris Bryant, and Willson Contreras. Albert Almora Jr. has a 1.002 OPS against southpaws and has a .907 OPS with a .369 wOBA and 126 wRC+ in July (31 PA), so he's patrolling center.
Addison Russell is in at short and Javy Baez will try to get back to an approach that offers a semblance of success. I've got a feeling he'll have a nice game coming off of that ugly platinum sombrero the other day.
Jose Quintana will be making his third Cubs start against a Brewers team that has posted a .769 OPS (sixth in NL) and 95 wRC+ against left-handed pitchers. The entire roster has only 30 at-bats against the new Cub, though, so it's hard to say how they'll fare against him.
After a dominant performance in Baltimore, Quintana came to earth a bit and took a while to find the feel for his pitches in his first home start against the Cardinals. Adrenaline no doubt played a role in both of those wins, but Q should really start settling in as he grows more comfortable with his new situation.
After working out of the pen for most of the first half, the Brewers moved lefty Brent Suter to the rotation when Chase Anderson went to the DL. All he's done in his last four starts is put up a 1.96 ERA with a 2.50 FIP, striking out 20 batters and walking only four.
Suter is a ground-ball pitcher who doesn't give home runs (only two in 38 IP this season) and doesn't walk batters (2.37 BB/9 overall, 1.6 BB/9 as SP). Seeing that and then looking at his velo numbers, the guy reminds you of a slightly taller, left-handed version of Kyle Hendricks.
A mid-80's fastball makes up about 70 percent of Suter's offerings, followed by a slider that he throws roughly 19 percent of the time and a change that fills the other 11 percent. He's got a curve in the bag too, but doesn't pull it out very often. And the pitch mix varies by hitter handedness, so that's something to keep an eye on.
Suter will work the fastball across the middle of the hitting zone, but generally tries to throw it outside depending on the batter. He could leave it right over the heart, though, so that's something the Cubs will need to be ready for. He's obviously a guy who works around the plate, so this is a game in which aggressiveness could really pay off.
The slider is quite a bit different from what the Cubs just saw from Carlos Rodon, who frequently buries the breaking pitch on a right-handed hitter's back foot. Suter keeps it outside to righties to try to get in through the back door, but he goes to the opposite corner against lefties to get them chasing outside. Good thing Javy isn't a lefty anymore, huh?
Left-handed hitters are unlikely to see the change at all, as Suter uses it almost exclusively to get righties on the outside edge of the zone. He may not go to it much at all, though, seeing as how opposing hitters are slashing .571/.600/.643 against his offspeed offering this season. Suter has faced far more righties this season due to his relief role, but he doesn't have very marked platoon splits and actually gives up a higher wOBA to lefites.
The other thing about that relief role and stretching out into the rotation is that the the lithe lefty tends to tire quickly. Though he doesn't often make it into a third time through an opposing lineup, his numbers spike when he does. You know what that means? If this game is tight late, the Cubs are going to bring Ryne Sandberg in to hit a home run off of Suter.
First pitch from Miller park is set for 7:10 CT on CSN-Chicago Plus.
Here is tonight's #Cubs starting lineup in Milwaukee.

Game preview: https://t.co/bPGJDTNIfi pic.twitter.com/rk6l1KghAS

— Chicago Cubs (@Cubs) July 28, 2017