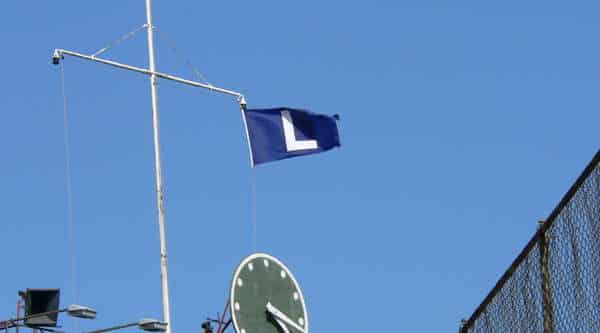 CI Recap (7/28/17) – Brewers 2, Cubs 1: Don't Get All Defensive, Cubs Lose Despite Great Plays
The Cubs looked to extend their division lead against the second-place Brewers on Friday. A soft-tossing lefty pitcher derailed those plans and pulled the Chicago lead back down to a half game.
Cubs starter Jose Quintana did not look as sharp Friday as he did his first two starts. First baseman Jesus Aguilar singled in the 2nd inning, after which Hernan Perez doubled over Jason Heyward's head in right. An RBI groundout by Manny Pina made it 1-0 Milwaukee.
Heyward robbed Ryan Braun of a two-run homer in the 3rd inning with a leaping play at the wall. Braun, classy as ever, threw a fit and spiked his helmet on the ground, kicking the dirt after the catch.
Orlando Arcia knocked home another run with a grounder in the 4th inning. Braun had a chance to extend the lead with the bases full later in the frame, but he popped up and lead remained 2-0.
That was all Brewers starter Brent Suter needed. The finesse lefty worked at warp speed and kept the Cubs off the board, benefiting from a lot of well-hit balls that found gloves. He kept up the strong run as a starter and went seven strong innings.
Former White Sox reliever Anthony Swarzak (who saved the Cubs loss on Monday) came in for Suter and finally the Cubs tallied. Javy Baez had looked lost his last 10 at-bats, but all he needed was a hanging Swarzak curve. He hit that hook 449 feet off the facing of the suites in left for a solo shot.
Milwaukee closer Corey Kenbel walked Anthony Rizzo to begin the 9th, but retired the next three to strand Rizzo at third as the Brewers closed out a 2-1 victory.
Stats That Matter
Jose Quintana was good despite giving up a fair amount of hard contact: 6 IP, 2 R, 4 H, 6 K, and 3 BB. The lack of run support must have given him flashbacks of the South Side.
The Cubs as a team hit into a lot of bad luck on Friday, including several warning-track fly balls. Good thing it's just a one game thing.
Javy Baez needed that bomb in the 8th inning. He was in one of his deep cold streaks, so maybe this is a spark for a nice run.
Bottom Line
The Cubs dropped a game they could have easily won Friday. If they win the next two they still come out 2.5 games ahead. So the next two are big.
On Deck 
The Cubs look to even things up on Saturday at 6:10 CT. Kyle Hendricks makes his second start off the DL against Junior Guerra in a game that can be seen on WGN.