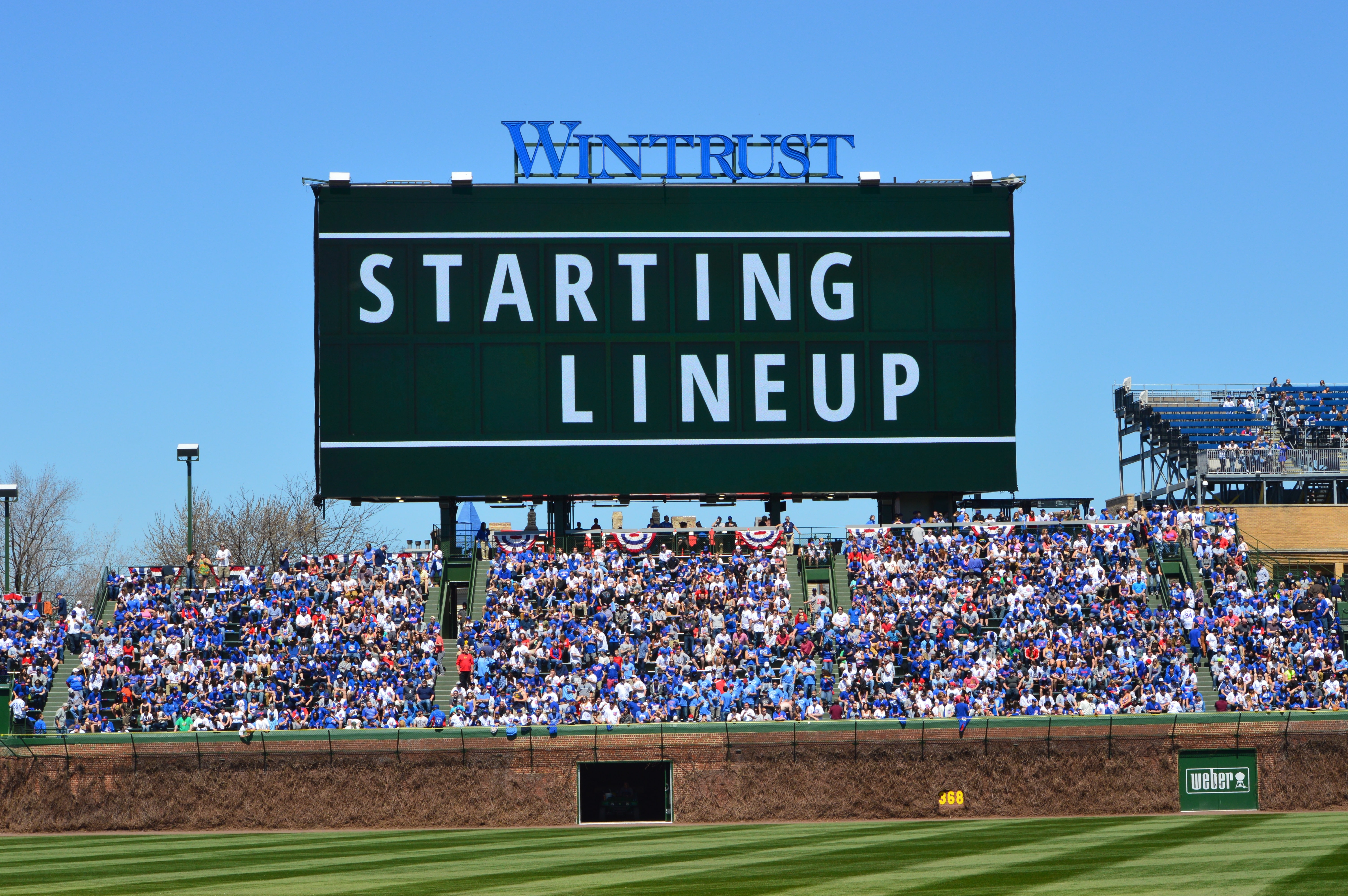 Chicago Cubs Lineup: Zobrist Leads Off, Happ in CF, Baez at Short to Back Hendricks
Ben Zobrist returns to the leadoff role and will play second base tonight, followed by Kris Bryant and Anthony Rizzo. Willson Contreras and Kyle Schwarber are next, with Ian Happ in center and Jason Heyward in right. Javy Baez takes over at short as he looks to get back on track. Pounding another mammoth homer would help.
Kyle Hendricks didn't look great in his first start back from a month-plus DL stint, but he was admittedly taking things a little easy. We'll get the chance to see whether time and confidence add a little more juice to fastball that was sitting 84/85 and looking all too hittable his last time out. Hendricks has fared well against the Brewers in the past, holding the hitters on their current roster to a .505 OPS over 87 at-bats.
Ryan Braun has really struggled, compiling a .343 OPS with five strikeouts against the soft-tossing Cubs starter. And Domingo Santana is 0-for-11 with eight K's, which I'm told is a very bad ratio. Hendricks would do well to keep those numbers where they are, though he may not need to if his offense does what it should be able to.
Junior Guerra is basically John Lackey Light, which is to say that he's not as big but still gives up home runs just as well as the original. Only one team has failed to homer off of the 32-year-old righty in 12 starts this season and his 2.45 HR/9 mark sits behind only Amir Garrett (2.93) and Bronson Arroyo (2.92) for the worst in the league (min. 50 IP). Likewise, his 5.37 BB/9 ranks third behind only Alex Meyer (5.61) and Blake Snell (5.43).
Guerra's 5.22 ERA tells you a bit about how not-great he's been pitching, but would you believe he's lucky it's even that low? A 7.12 FIP offers damning evidence that Guerra has been the recipient of a fair bit of good fortune. He induces ground balls at only a 33.3 percent rate that is identical to the hard contact he allows. In other words, opposing batters hit the ball hard and they hit it in the air against him.
A low-90's fastball that he throws two-thirds of the time (mostly four-seam, some sinkers) sets up Guerra's splitter and a slider that ranks among the worst in baseball in terms of value (-2.76 runs per 100 pitches). The slider is pretty much never in the zone and it's a pitch Javy's going to need to lay off of tonight. The four-seam might have a little run away from righties, but Guerra pretty much throws it right over the plate, and the sinker stays in on the hands of righties.
There are no platoon splits to speak of, with righties and lefties posting nearly identical OPS (.863/.857) and wOBA (.364/.367) numbers against Guerra. None of the Cubs have ever faced him before, but that should not matter tonight. What I'm saying is that Junior Guerra is not a good pitcher and I'll be both surprised and upset if the Cubs don't hammer the hell out him right out of the gate.
First pitch from Miller Park is set for 6:10pm CT and can been seen on WGN.
Here is tonight's #Cubs starting lineup.

Game preview: https://t.co/clwQfuswnR pic.twitter.com/Xhxx7olITD

— Chicago Cubs (@Cubs) July 29, 2017