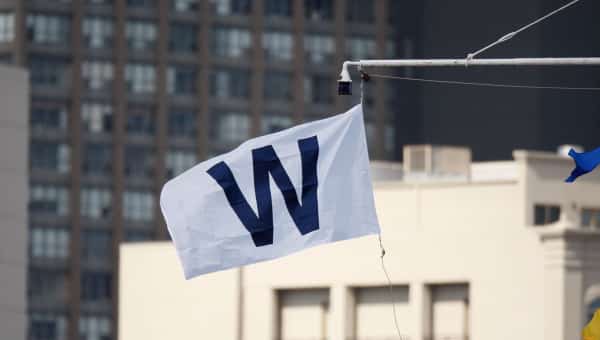 CI Recap (7/30/17) – Cubs 4, Brewers 2: Lackey Pitches Well, Offense Wakes up Late
John Lackey continued the excellent stretch of Cubs pitching with six strong innings, though it took the Cubs offense a little while to get into the swing of things.
Both starting pitchers began the game pumping strikes across the plate and worked quickly. Heading into the 6th inning, only an 74 minutes had passed since the first pitch of the game was made. They didn't maintain that quick pace, which shows how the hitters on both sides were creating pressure situations for the opposing pitchers.
Lackey pitched extremely well today, allowing five hits, walking two, and striking out seven while only giving up two runs. His only blemish was a two-run homer off the bat of Domingo Santana in the bottom of the 6th that barely got out. Lackey had his slider working today, and got a couple swinging strikeouts using that pitch.
Justin Grimm pitched a solid 7th inning. I really hope he is able to figure things out, because he has the potential to be a stout reliever if he is able to put everything together. He has a wicked fastball and a nasty curve ball that makes me feel things every single time he gets somebody to swing at it.
Hector Rondon pitched really well in the eighth inning. He got Ryan Braun to swing at a slider that wasn't close to a strike, and froze Travis Shaw on a fastball on the outer edge. It looks as though he's figuring things out, and I hope he does as well.
Wade Davis did what Wade Davis does, which is pick up saves. He allowed a single to Manny Pina, but then got Jesus Aguilar to ground into a 5-4-3 double play to end the game.
The Cubs offense was not patient for a good chunk of the game against Brewers starter Zach Davies. Through five innings, he was sitting comfortably at 55 pitches. That changed in the 6th after two outs had been recorded. Jon Jay hit a single to center, Kris Bryant followed that with a double, and the Cubs finally broke through on an infield single courtesy of Willson Contreras. Addison Russell followed that up with another single that drove in Bryant.
Davies threw 24 pitches in that inning, 14 of which were strikes. The bats did a lot better than they had Saturday, striking out only eight times. The Cubs did not draw a walk, however, which shouldn't be cause for alarm just yet. They still sit at third in the majors in walks drawn with 392 free passes.
Victor Caratini hit his first career home run off the batter's eye in the top of the 7th, and he was not a cheap on. He crushed it with an exit velocity of 103 mph and an estimated distance of 417 feet. You could tell right off the bat that the eventual game-winner was gone off the bat.
Kris Bryant joined in on the fun when he lined a homer off of the left field foul pole.
Jason Heyward went 2-for-4 today, with both of those hits going to left field. It is a beautiful thing to see when Heyward's consistently going the other way. If he can keep doing so, I imagine his OPS will climb.
Stats that Matter
John Lackey's home run allowed was his 26th, just behind Ricky Nolasco and Masahiro Tanaka for most in MLB.
The Cubs are now 2.5 games ahead of the Brewers in the NL Central.
Bottom Line
The Cubs increased their division lead by one after a successful trip to Milwaukee. They're still looking great, even if there was not much offense this weekend. The pitching has been excellent here in the second half, which is more important than the offense, in my humblest of opinions.
On Deck
The Cubs have an off day tomorrow before heading back to Chicago to welcome the Arizona Diamondbacks to town on Tuesday night at 7:05pm CT.