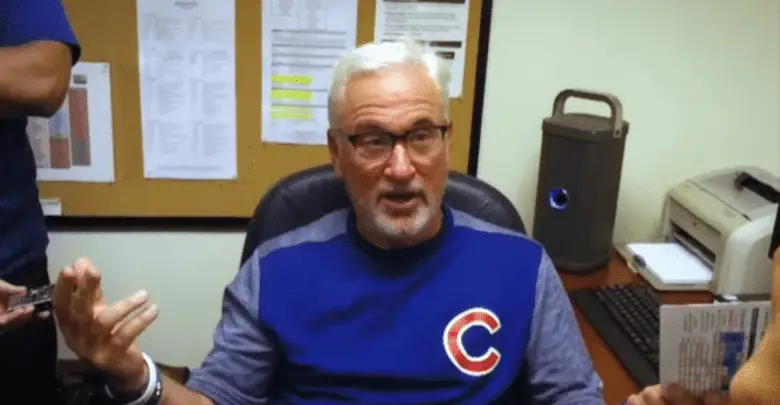 Maddon Shuffles Lineup After Calling Out Cubs' Lack of Contact
Depending on the venue, taking all kinds of whiffs could result in a contact high. Unfortunately for the Cubs, they're playing baseball and not attending an Umphrey's McGee concert.
Up until the moment Jason Heyward launched a game-winning homer to right-center in the 11th inning, the Cubs offense had looked lost against some rather pedestrian Brewers pitching. They struck out 17 times, which is ironic when you consider that the only regular to avoid a K was the man who wears that number on his back.
Wait, what?
"We needed [Heyward's homer run]," Joe Maddon said while perusing what appeared to be the game notes from his office in the visitors clubhouse at Miller Park after Saturday's extra-innings win. "We were not piecing anything together. Struck out 17 times, twice, in a week or whatever."
The Cubs have indeed struck out 34 times between wins Saturday in Milwaukee and last Tuesday against the White Sox at Wrigley. While results rule the day, the process can't be ignored. And when that process involves flailing away helplessly at pitches way outside the zone, sometimes with what can only be described as a compulsion to swing, the issues need to be addressed.
"That's…we gotta do a much better job," Maddon said. "I am disappointed in that, the lack of contact, the lack of adjustments. We have to get better with that or we're not going anywhere offensively."
Maddon was quick to point out that the absence of Kyle Schwarber, Ian Happ, and Javy Baez from today's lineup was not punitive in nature, explaining that it was about providing John Lackey with the best possible defense. But there's a little spin in there nonetheless. Those three have been responsible for 15 of the 34 K's, with Baez accounting for eight of those.
Happ is hitting .125/.250/.125 with a 35.7 percent K-rate over his last 28 plate appearances, while Baez is at .130/.167/.261 with a 50 percent K-rate in 24 PA's since a run of four consecutive multi-hit games. Schwarber isn't mired in quite the same slump, though he's struck out seven times in his last 15 trips to the plate.
And while these players provide the most recent example of the shortcomings Maddon is describing, they're far from the only ones. Several hitters throughout the lineup have put up some ugly at-bats of late, and that's just a fact of life in this game. The problem isn't with the Cubs not achieving perfection, but with them not really doing enough to avoid abject failure. In individual moments, that is. The final results have largely been great.
Baez is an easy target because when he's goes into swing mode, it's so blatantly obvious that a pitcher could strike him out on a sweeping slider that doesn't even start out in the zone. What makes it even worse is that we've see just how good a hitter he can be when he stays within himself and takes what pitchers give him.
None of this is permanent, though. Maddon is simply sending a blunt message about what it's going to take to maintain a regular spot in the lineup with this crowded roster. And if these guys are able to settle in and make those adjustments? Boy howdy, the rest of the Central is going to go up in smoke.