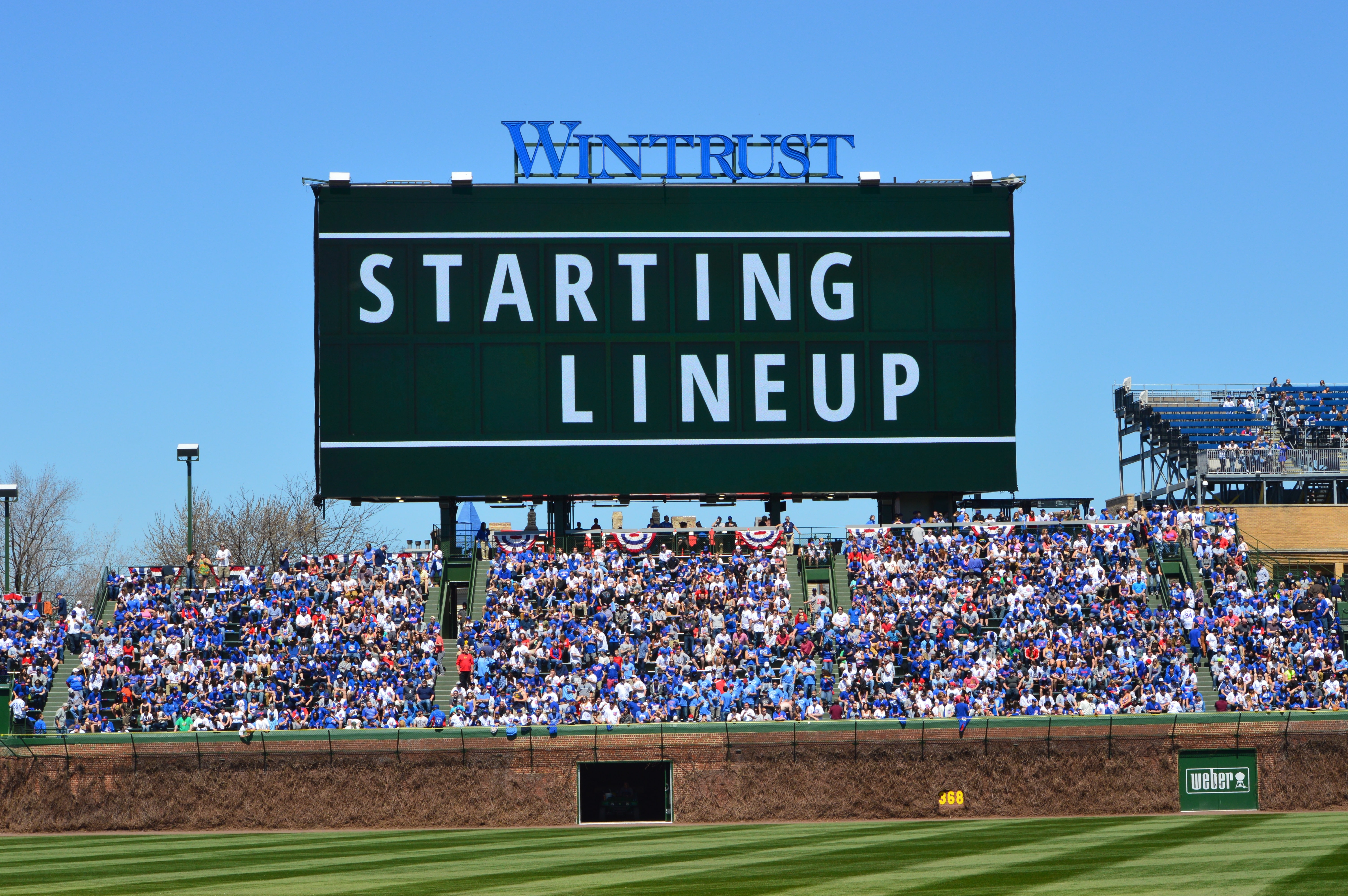 Chicago Cubs Lineup: Rizzo Lone Lefty as New-Look Cubs Try to Rattle Corbin, Snakes
As we found out from Joe Maddon earlier this afternoon, Anthony Rizzo will be the only left-handed batter in tonight's lineup. Ben Zobrist will play right and bat on that side with a lefty on the mound, followed by Kris Bryant and then Rizzo.
Willson Contreras will catch, followed by the suddenly relevant Albert Almora Jr. in center, and Addison Russell at short. Javy Baez will be playing second, which puts Ian Happ in left and batting ahead of Jon Lester. This is the first time Happ is starting in the eighth spot and it's his eighth time starting in left. I hope my counts are right there, because that's a fun bit of trivia.
Lester has allowed half as many runs (5) in three second half starts — all of which have lasted at least seven innings — as he did in two-thirds of an inning in his final first-half start (10). In fact, he's only allowed 10 hits over the last 22 innings. So that's good. Though four of those knocks have been home runs, they've all been solo shots.
The real key has been pinpoint accuracy, as evidenced by the 20:2 K/BB ratio Lester has posted since the break. When you don't put men on base, you can afford a longball now and again.
The Diamondbacks are 25th in MLB with a .691 OPS against southpaws and their .296 wOBA ranks 26th (13th in NL). What's more, their 25.5 percent K-rate is third-highest in the NL. The only hitters on Arizona's roster with 10 or more at-bats against Lester are Chris Iannetta and Jeff Mathis, so I'm not even going to bother looking at individual matchups.
I suppose I should note, though, that Paul Goldschmidt has only posted an .825 OPS against left-handed pitching. And if that doesn't sound very encouraging, consider that he's got a 1.061 OPS when facing righties.
Patrick Corbin sounds like a name you'd hear on one of the myriad injury law commercials that will play during tonight's game, but he's actually the D-backs' starting pitcher. Seriously, he's got a uniform and everything. But while the 6-foot-3, 210-pound lefty appears decidedly mediocre when you look at his season stats, he's been anything but over his last eight starts.
Corbin has a 2.83 ERA and 3.03 FIP and has given up as many as three earned runs only once in that stretch. He's struck out at least five each time out and has walked two or fewer seven times. That comes from keeping the ball on the ground and limiting home runs by using a four-seam/sinker/slider/change combo and working at the bottom of the zone.
Three of those pitches are less than stellar, but the slider has really been a weapon for Corbin. He uses it as his out pitch and it's generated 73 of his 112 strikeouts (65.2%) on the season. What's more, it has only been responsible for four ball fours. I'm not very smart when it comes to all these cybermetrics [sic], but I think an 18.25 K/BB ratio is pretty solid. Corbin's fastballs, on the other hand, have only a 1.21 K/BB ratio.
In short, Cubs hitters need to avoid letting this guy get into two-strike counts.
As we saw with Carlos Rodon a short while back, Corbin will put that slide-piece on a righty's back foot, which means burying it down and away to lefties. When he's able to hit his spots just at the lower edge of the zone, lefty hitters have a 41 percent whiff rate against the pitch. Righties aren't much better, whiffing at a 34.7 percent clip on sliders that stay down and in.
Again, the Cubs are going to have to exercise more discipline that they've shown lately, even if they have won both recent games in which they've struck out 17 times. While you might think that means being patient with Corbin, I think the key tonight will be staying aggressive early in counts. While the D-backs starter is in the zone with only 44.6 percent of his pitches, he throws first-pitch strikes to 65.3 percent of the batters he faces.
What's more, the heat map of Corbin's four-seam and slider location is lit up across the heart of the zone like a Christmas tree. No Cubs in the lineup have more than six plate appearances against Corbin, but righties have absolutely feasted on him to the tune of .309/.362/.510 this season. So I expect Kris Bryant to continue his hot streak and I've got a feeling that Willson Contreras will announce his presence with authority as well.
You'll get to find out whether I'm right at 7:05 CT in a game from Wrigley that can be seen on CSN Chicago.
Here is tonight's #Cubs lineup for the homestand opener.

Game preview: https://t.co/jsBqUkyhfv pic.twitter.com/KcdDxDTquM

— Chicago Cubs (@Cubs) August 1, 2017