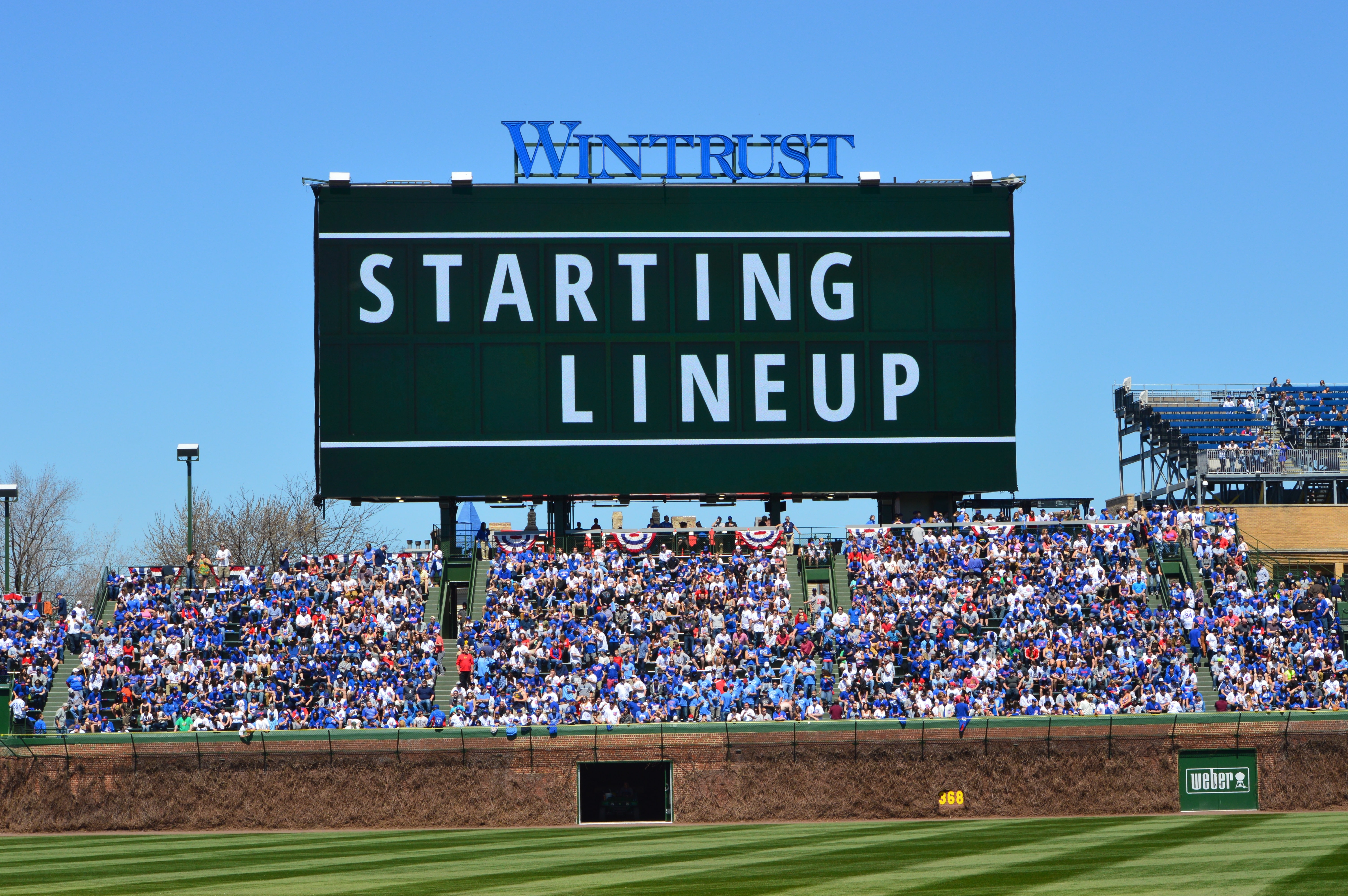 Chicago Cubs Lineup: Jay Leads Off, Javy at Short as Cubs Face DBacks' Second Zack Attack
Jon Jay continues to make his presence felt, batting in the leadoff spot once again. As per usual, Kris Bryant and Anthony Rizzo follow, with Willson Contreras and Kyle Schwarber behind them. Ian Happ is playing second and batting sixth.
Jason Heyward and Javy Baez, playing short today, complete the order. Javy has been generating some really good contact of late, but he's going to see a steady diet of sliders today and I'm a little worried about how that'll work out.
Jose Quintana will be making his fourth start in a Cubs uniform and his second in the home whites, and this one is a doozy. He's facing a strong team in the rubber match of a series and will be opposed by another very solid veteran pitcher. Q will need to be on his game early in this one.
If you were given a lineup of random dudes and forced to choose the one most likely to compete for the Cy Young award, chances are not good that you'd not select Zack Greinke. The righty is of relatively average height, he's pretty scrawny, and he doesn't have a sweet beard. But what he lacks in appearance, he more than makes up for in stuff.
Following a disappointing debut season in the desert, the ace starter has regained his form and is pitching to a 2.84 ERA with a 3.18 FIP. His 9.84 K/9 mark is his highest since that forgettable 2011 season with the Brewers (10.54) and his 1.78 BB/9 are the second-fewest of his career.
The change in performance can be at least partially attributed to the slider, which Greinke is throwing more than ever this season. Even though it only accounts for a quarter of his pitches, it has been responsible for 69 of his 149 strikeouts (46.3%). But don't let that make you think the other pitches aren't dangerous.
It all starts with the fastball, which he's done a much better job of locating this year. Greinke will work away to hitters on both sides of the plate, but really likes that low-outside corner against righties. When he struggled in 2016, it was largely due to leaving that pitch in the zone too much. The curve can come to either side, though it tends to work more over the plate.
The change will tumble toward right-handed hitters' back feet, while the slidepiece darts down and in on lefties. Greinke can command all of these pitches and has confidence to work with all of them at just about any time. There's not much to say about other than he's really good and the Cubs are going to have their work cut out for them.
Their best bet may be to simply wait Greinke out, as he tends to fade a little bit as the game goes along. They will also need to be patient at the plate. Despite those walk and strikeout numbers, Greinke is not a big-time strike-thrower. In fact, he only works in the zone roughly 40 percent of the time, the lowest percentage of his career and the fourth-lowest among qualified pitchers this season.
I've got a bad feeling about this matchup, which probably means the Cubs will bang the ball all over.
First pitch is 1:20 CT TBD due to thunderstorms in the area and will be broadcast on CSN Chicago.
Here is today's #Cubs lineup for the rubber game against the #Dbacks.

Game preview: https://t.co/nGm8PN2zS2 pic.twitter.com/DwxLm6uPmn

— Chicago Cubs (@Cubs) August 3, 2017