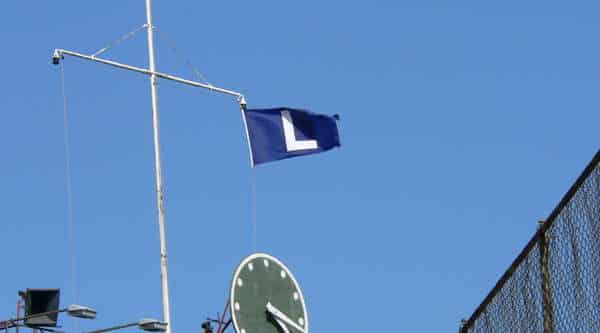 CI Recap (8/3/17) – D-Backs 10, Cubs 8: The Goldy Zone, Goldschmidt Leads D-Backs To Win
The Cubs and Diamondbacks played a rain soaked marathon of a rubber-game Thursday at Wrigley Field. After nearly seven hours, Arizona's MVP-candidate first baseman won the series for his team by hitting his third home run of the day.
After a rain-delay that lasted ninety minutes to start the game, the Diamondbacks jumped all over Chicago starter Jose Quintana. Gregor Blanco and Adam Rosales singled to open the game and came home when Paul Goldschmidt blasted a three-run homer to left field. Brandon Drury followed with a solo-blast off the scoreboard in left.
Another rain-delay hit in the top of the 2nd inning, this one over thirty minutes. When the game resumed Willson Contreras took Zack Greinke deep to left to cut the lead to 4-1.
Goldschmidt struck again in the top of the 5th against Quintana. This time it was 1-2 fastball the big first baseman hit on to Waveland. That two-run moonshot made it a 6-1 lead. With an ace like Greinke on the hill that lead felt insurmountable.
That may have woken the Cubs offense as they finally began to show faint signs of life. Javy Baez tripled in the 5th inning and scored on a Greinke wild pitch to make it a four-run deficit.
The 6th inning is where things got really interesting for the Northsiders. Kris Bryant and Anthony Rizzo hit back-to-back singles to put men on the corners for Contreras. WillCo wasted no time crushing the first pitch he saw for a three-run bomb to left-center. Suddenly it was only a 6-5 advantage for Arizona.
Baez reached on an infield hit in the 7th, ending Greinke's day. Javy stole second and Jon Jay walked against lefty Andrew Chafin. Archie Bradley then retired Bryant, but walked Rizzo to get to Contreras, who else? Willson did what Willson does, he hit it right back up the middle to score two and give the Cubs a 7-6 lead.
The Diamondbacks wasted no time in responding to the Chicago offense. Carl Edwards walked two batters to open the 8th inning. New addition Justin Willson came on and allowed two consecutive singles, including a two-run single by Jake Lamb to give the Snakes an 8-7 edge. A great catch by Ian Happ avoided further damage and preserved a one-run deficit.
The Cubs answered again in the bottom of the 8th as the rain began again. Jason Heyward and Baez walked, then Ben Zobrist singled to load the bases with only one out. Jon Jay hit what looked like a possible double-play ball, but shortstop Adam Rosales bobbled it and Jay beat out the relay to tie the game at eight runs apiece.
The game entered a third rain delay before the top of the 9th inning. Wade Davis had warmed up before the thirty minute delay and came back out after and struggled. Goldschmidt pounded his third homer of the game to put the D-Backs ahead. For good measure JD Martinez made it back-to-back homers and Arizona took a 10-8 lead.
Fernando Rodney put two men on in the bottom of the 9th, but closed out the game for the D-Backs win.
Stats That Matter
On any other day Willson Contreras is the hero of this game. Two long home runs and six total RBI, only Goldschmidt's heroics prevented this from being the Contreras game.
Javy Baez was on base three times Thursday with a triple, single, and a walk.
The Cubs bullpen was not good: 4 IP, 4 R, 7 H, 7 K, 2 BB, 2 HR. After the Cubs offense rallied to take the lead solid relief work may have earned a win, but it was not to be this game.
Bottom Line
The Northsiders showed a lot of fight coming back against an ace like Zack Greinke. Unfortunately they let their opponents most dangerous hitter beat them, and beat them he did. Three home runs by Paul Goldschmidt isn't something that many teams can overcome.
On Deck
The Nationals come to town Friday at 1:20 pm CT. Kyle Hendricks faces off against Tanner Roark. MLB-Network (out of market) and WGN will provide the television coverage.