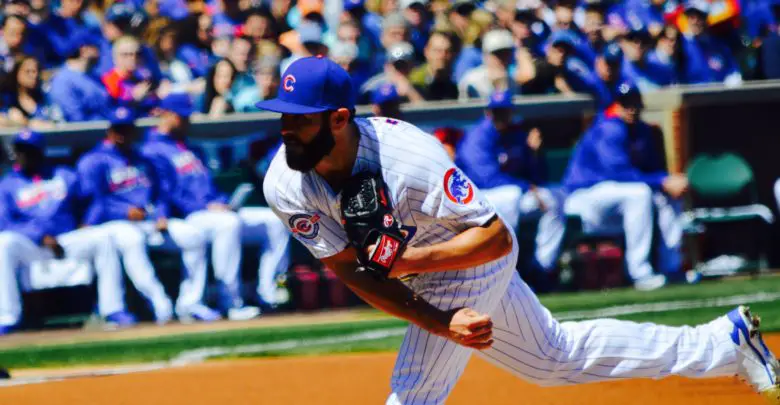 Jake Arrieta Used More Secondary Pitches Against the DBacks, Got Lots of Whiffs
Jake Arrieta's start against the Arizona Diamondbacks Tuesday night spawned flashbacks to his Cy Young days. During those historical late summer games in 2015, the righty normally threw sinkers at a 58 percent rate. But by the time the calendar turned to July this year, he started using the pitch over 70 percent of the time, contributing to a 86 percent contact rate in that span.
Arrieta's spike in contact allowed was surprising because the highest contact rate in MLB is 85 percent, thrown from the fingertips of the Giants' Ty Blach. That's right: the soon-to-be free agent was giving up more contact than some of the worst starting pitchers in MLB.
But in his most recent August start against the Arizona Diamondbacks, Arrieta started to use slightly more secondary offerings. His slider and curve made up 27.3 percent (13.7 percent each) of his pitches against the team that plays in a circus park buried deep in the 120-degree desert. That's significant because Arrieta's slider/curve usage was higher than in any July start.
And guess what happened as a result of the bearded pitcher throwing more breaking pitches? DBacks hitters only made contact on 72 percent of his pitches. Ask Goldy what he thought of the slider.
Arrieta looked familiar against the team whose announcer had trouble figuring out why the Wrigley scoreboard existed (likely because he's used to video boards showing t-shirt tosses). For the first time since June, he threw over 27 percent sliders and curves and under 70 percent sinkers. While he still doesn't quite resemble the heavy slider pitcher we've grown accustomed to seeing, Arrieta's first August start suggests he is finally feeling more comfortable with his secondary pitches.