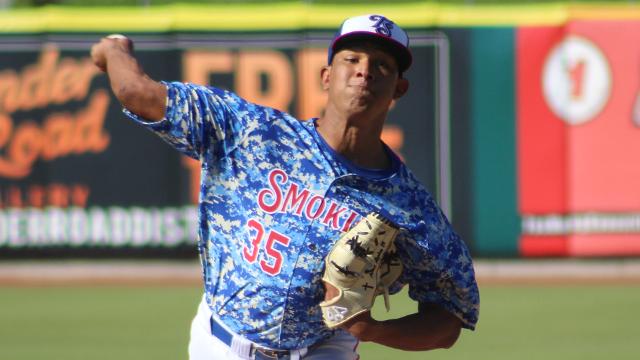 Which Cubs Prospects Have Got Next?
Eloy Jimenez, gone. Dylan Cease, gone. Jeimer Candelario, gone. Even Ian Happ and Albert Albert Almora Jr. are gone, though only from the prospect ranks.
Just four months ago, that group comprised the Cubs' top five prospects. But trades and promotions have effectively evacuated the upper echelon of the farm system and left many to claim that the cupboard is bare. So who's going to step up to fill the void?
In looking at the next group of players to make it to Chicago, one only need to look to AAA Iowa and AA Tennessee for candidates who could arrive over the next year to help out. I feel confident in saying that we can rule out any position players. No one on the 25-man roster is going anywhere until at least after 2018. And even that is less than certain.
So that leaves pitching.
The Cubs will have several openings between the bullpen and starting rotation next year and they will use all avenues of talent acquisition to fill those spots. That may center on free agency, but here are a few prospects to watch through August, fall instructs, and spring training. Some of these guys could be in the discussion for a roster spot in 2018, or maybe even a bullpen spot this year.
Dillon Maples – It took a while, but he's got it. In fact, he has always had "it." Now he has confidence and a cutter to go with his upper-90-s fastball and slider/curve "thingy" (that's what Maples calls it). He has dominated two levels this year and is now working on a third. Based on talent and ascension, he will get a precious 40-man spot this winter to escape being selected in the Rule 5 draft.
Jen-Ho Tseng – I loved him in 2014 as an 18-year-old at Kane County. The changeup fell off the table then. He will turn 23 this fall and should have a shot to compete for a starting spot at the back of the rotation in 2018. More than likely, he will be used as starting pitching depth for next season and be stored at Iowa. Still, I cannot wait to see him in camp next spring.
Craig Brooks – He is in Tennessee right now. In July, the right-handed reliever did not allow a run and struck out 25 in 13.1 IP. It took him several months to figure it out at Myrtle Beach, but just four weeks at AA Tennessee. I cannot wait to see how his mid-to-upper-90's heat will play at Iowa and in spring training.
Adbert Alzolay – Long term, I like his stuff better out of the pen, but he is stretched out now in his second year of starting after being a reliever/piggyback starter in Eugene in 2015. He's remained pretty healthy despite his small frame and is throwing at 96 into the 6th and 7th innings. The secondaries still need some work, so hopefully he can get those improved at AA before the spring.
Matt Carasiti – He came over this summer in the Zac Rosscup trade from the Rockies and I have watched him pitched a couple of times. He doesn't have that "out" pitch, but throws in the middle 90's does know how to pitch. You don't get to be the closer in the All-Star game in a hitter's league for nothing.
Long Shots – Duane Underwood and Trevor Clifton
They have both been around for a while, with Underwood in his second season at AA and Clifton in his first. Underwood still throws in the upper 90's, but he either commands it or he doesn't, and that can change from inning to inning. He just turned 23, so don't expect the Cubs to give up on him anytime soon.
As for Clifton, he was outstanding through the All-Star break at AA, but has struggled in six second-half starts. He's a mentally tough kid and I still believe in his talent.  At times, he is humming right along and then runs into the big inning or a big fly. His walk rate is up a bit after being way down last year. At just 22, he's worked hard to get here and he'll continue to do so. This might be just a bump in the road for him to get past.