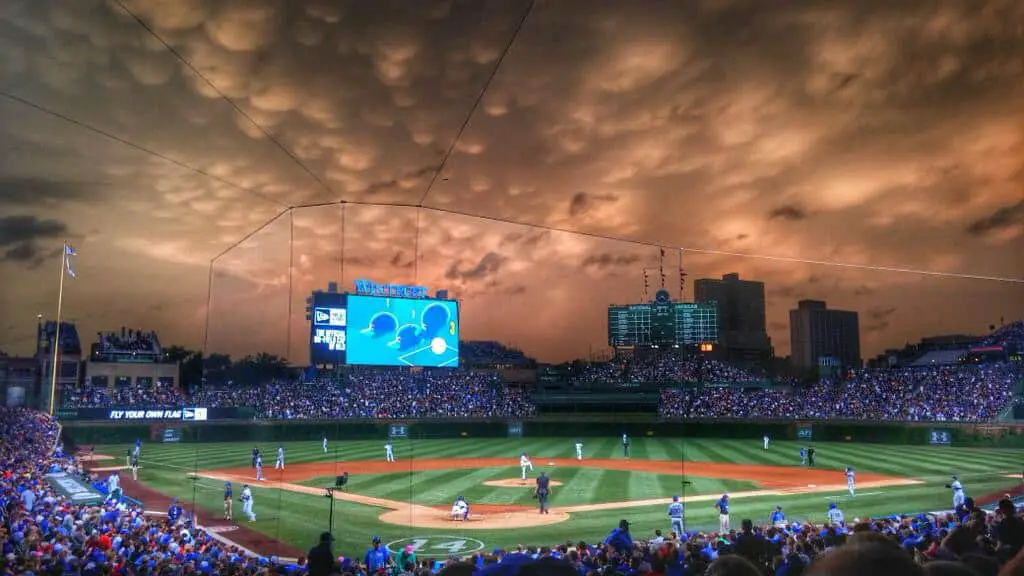 The Rundown: Night Game Struggle, Russell's Foot Trouble
"I think 107 years indicates that it wasn't such a good idea," Joe Maddon said with more than a small measure of humor about the Cubs' historically day-game-heavy schedule.
Those afternoon start times were awesome for kids growing up and watching their team every day on WGN, but there are several factors involved in wanting to move more games to the evening. A city ordinance currently limits the Cubs to 35 scheduled night starts, with an allowance for eight more that could be flexed due to nationally televised games. The Cubs would like to move that total from 43 to 54, which is the average number of night games other teams play.
"We just play too many day games during the week," Maddon explained. "We just do. I'm just being honest. Guys need their rest. When you're constantly going night-day or day-day-day and it's hot during the summertime, it matters."
Mark Grace was saying the same things back in the 80's, though his lament regarding the difficulty of playing a day game after a night game had more to do with overcoming hangovers. These Cubs don't have quite the same proclivities for the nightlife that we saw in the erstwhile Mayor of Wrigleyville, but it makes sense that they'd want to maximize this competitive window by leveraging every possible advantage.
Of course, it's the actual mayor of Wrigleyville — and all of Chicago, for that matter — the team will have to convince in this case. And Rahm Emanuel is having none of it. His objection has nothing to do with competitive advantages, but is rooted in the team's true motivation for increasing their night game allowance.
"They chose to use those evening opportunities for concerts," the mayor said. "They could have used it for night games. But then, they would have to share it with Major League Baseball. The concerts they keep all for themselves like they do the beer on the plaza" the mayor said.
"They made those choices. Now, they want to change the consequences of the choices they made."
You know, he's not wrong. Maddon and the players can talk all they want about the rigors of playing more often in the withering humidity of the Chicago summer, but I think we all know the real reason the Cubs want to do this. Not that there's anything wrong with that. That's okay if that's who they are. And who they are is a billion-dollar business trying to capitalize on the last great American sports story. Can't blame them for that.
Well, unless you're a politician. Maybe the Cubs can take some of the money they saved by trading for Jose Quintana and, you know, grease a few palms.
Russell's right foot
After seeing how the Cubs had handled nagging injuries to other core members of the roster earlier this season, I was more than half-expecting them to keep Addison Russell active. But shortly after we saw that he'd been scratched from Friday's start, we got news that a foot issue was going to be checked out and that the DL was an option. Only minutes later, that became a reality.
"[The strained foot has] been going and he's probably kept it kinda quiet," Maddon said Friday. "I don't even know if it impacted those last couple throws that he made. We just thought it was wise to get it settled down right now."
This is where having a wealth of middle infielders really helps out, but I think this is also a matter of the Cubs getting smarter with the 10-day DL. We saw them manipulate that shorter shelf time with John Lackey just prior to the All-Star break, giving his foot some rest in order to bring Kyle Schwarber back from Iowa.
With Russell playing so well here in the second half, there may have been some temptation to keep him on the active roster so as to limit his time out of the lineup. On the other hand — or  foot, as the case may be — you want to make sure that he's completely healthy when he does return. Speaking from recent experience as an accomplished beer-league softball shortstop, I can say that foot strains will linger for a long time if you don't flat-out rest them for more than a week.
So as long as Javy Baez doesn't remain stuck in full swing mode, the Cubs will be just fine for the next week and a half.
More news and notes
Cubs first-round draft pick Alex Lange was dominant in his professional debut
The Dodgers claimed Dylan Floro off waivers from the Cubs
Al Albuquerque has signed a minor-league deal with the White Sox
Indians lefty Boone Logan — who I had really wanted the Cubs to pursue — will not need surgery to repair a lat injury, but will likely be out for the remainder of 2017
MLB Trade Rumors has a list of the top 25 waiver-trade candidates (Justin Verlander is 25th)