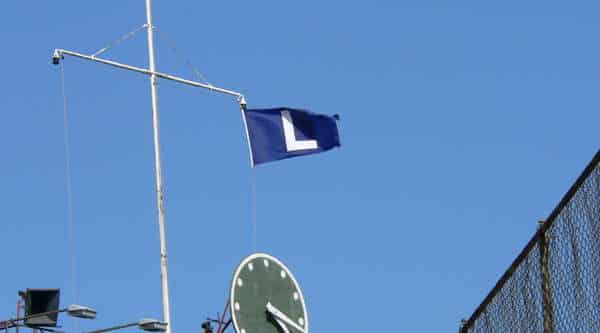 CI Recap (8/6/17) – Nationals 9, Cubs 4: Eighth Inning of Death Strikes Again
The Cubs tried to win the rubber game of their season series with the Washington Nationals Sunday afternoon, but managed to waste a good starting performance and huge game from their stud catcher with another bullpen meltdown.
Jon Lester was sharp early for the Cubs, striking out the side in the top of the 1st. Young Nats starter Erick Fedde matched Lester with a scoreless bottom half. Chicago rallied against Fedde with two outs in the 2nd inning, when Ian Happ singled and moved to second on Jason Heyward's base knock. Javy Baez made it three consecutive singles with a grounder up the middle to score Happ.
Washington answered back immediately in the top of the 3rd. Wilmer Difo tripled over the head of Jon Jay in center to set up the score. Brian Goodwin hit a soft liner to shallow left with one out and it looked like a catchable ball, but Kyle Schwarber missed it for an error. It was scored a sacrifice fly and an error, although I'm not sure Difo could have scored had he tagged.
Willson Contreras stayed red hot in the 4th inning, blasting another long solo homer to left off Fedde to give the Cubs the lead once again. Lester looked very good on the mound, moving through the middle innings and giving the Nats very little to work with.
The Cubs padded their lead in the bottom of the 6th, when my all-time favorite all-time Cubs catcher (sorry Rick Wilkins) pounded his second home run of the game (No. 21 on the season) out to left. Schwarber atoned for his error and made it back-to-back homers with a poke of his own into left.
Lester ran out of steam in the 7th, giving up a Daniel Murphy double and allowing a run to score when Anthony Rendon followed with another double. Kris Bryant attempted to throw behind Rendon but the ball got away and the runner moved to third. Matt Wieters crushed one to center that Jay made a terrific catch on, but Rendon scored to make it 4-3 Cubs.
Mike Montgomery ended the 7th and allowed an infield hit to Bryce Harper with one down in the 8th. Joe Maddon tried Carl Edwards one more time in a key spot, which was an unmitigated disaster. Ryan Zimmerman doubled and Murphy was intentionally walked to load the bases for Rendon, who Edwards hit with a pitch to tie the game at four. Then Wieters bombed a grand slam to center, and just like that the Cubs were buried 8-4.
Brian Goodwin made it 9-4 with a home run of Koji Uehara in the 9th.
Stats That Matter
Jon Lester looked really sharp before fading a bit late: 6.2 IP, 3 R, 6 H, 7 K, and 1 BB. It was another quality start for Lester who has been great since his bad start against the Pirates.
Willson Contreras is 2007 Alfonso Soriano hot right now. Two more no-doubt homers on Sunday give him 10 in the second half; he is quickly becoming a star.
Carl Edwards Jr. has been a total mess in the second half and the Cubs cannot afford to see him in any high-leverage spots in the near future.
Bottom Line
It seems like the 8th inning has been nothing but trouble for the Cubs in 2017. Another winnable game dissolved into a brutal loss thanks to a bullpen meltdown. If they are going to make a playoff run, innings like that have to stop.
On Deck
Chicago looks to rebound from a disappointing homestand in San Francisco Monday. Jake Arrieta battles Matt Moore at 9:08 CT, the game airs on ESPN and WGN.