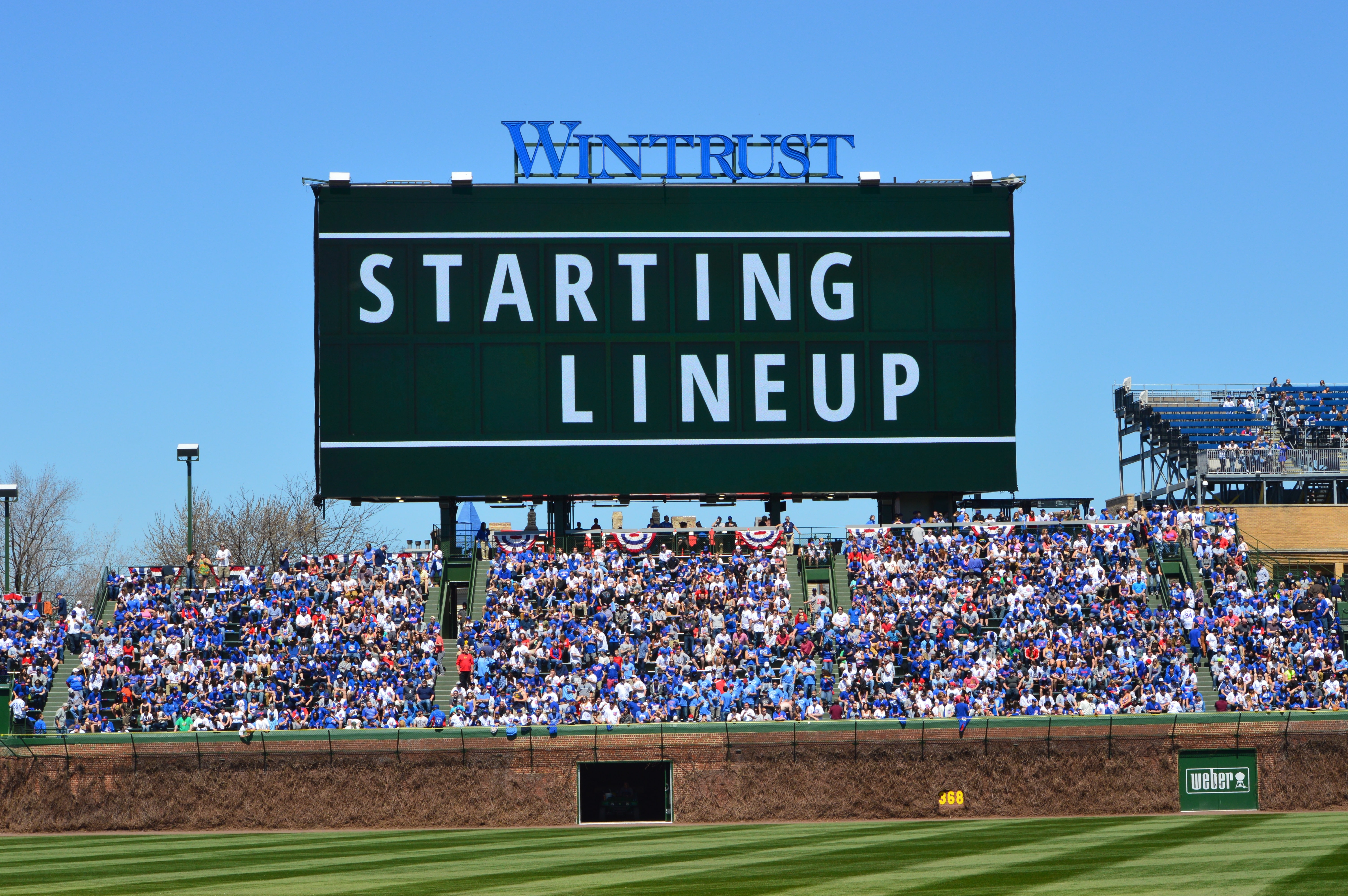 Chicago Cubs Lineup: Jay Leads in LF, Almora in CF as Cubs Look to Pin Moore to Mat
A trio of Giant lefties may mean some very similar lineups for the Cubs as they kick off a short western swing. Jon Jay is leading off and playing left, followed as usual by Kris Bryant and Anthony Rizzo.
Willson Contreras, the freshly minted NL Player of the Week, will try to maintain his streak of reaching base in 20 straight starts. Ben Zobrist is at second, Albert Almora Jr. is in center, with Jason Heyward and Javy Baez rounding things out.
Jake Arrieta has been money since the start of July and has taken several big steps toward rebuilding both his current and future value. Long revered for his nasty breaking stuff, Arrieta began to lean hard on the sinker for a few starts before employing more of his secondaries in recent outings. Perhaps that was a way for him to re-center himself or build back confidence.
One aspect of Arrieta's game that has been missing even with the improved results are the strikeouts. While he's at 8.74 K/9 on the season, that number has been only 7.14 over the last six starts. Walks are down a little bit too, though, and you can't complain about a 2.08 ERA. Then again, a 3.96 FIP and .167 BABIP are signs that perhaps there's a fair bit of good fortune involved in the results.
Arrieta has been giving up more hard contact and less ground-ball contact in in the past, but those marks are down and up, respectively, during this solid stretch. That's contributed mightily to the low BABIP number, as weak grounders aren't nearly as likely to find holes. There's a good chance we see these trends continue against a Giants team that features of baseball's worst offenses.
San Francisco has the NL's lowest hard-hit percentage (28.2) and their 89 home runs rank dead last, 17 behind the Pirates. Their .293 team wOBA and 81 wRC+ are both the lowest in MLB. The moral of the story here is just to not let Buster Posey beat you.
Giants lefty Matt Moore isn't having a great go of it in this, his first full season in San Francisco. Traded from Tampa last season, the veteran starter performed well down the stretch for the playoff-bound Giants. And while his fall-off hasn't been quite as steep as that of his team, Moore's 5.80 ERA and 4.73 FIP aren't really beacons of hope.
Control has been a real issue all season, but has really been off over the course of the last 11 starts (57.2 IP). Moore has walked 3.90 batters per nine innings and has allowed 76 hits in that stretch, good for a 1.75 WHIP. It doesn't take a strategic genius to understand that putting nearly two runners on base in every frame is a bad way to prevent runs.
Moore's issues stem from the fastball, which he's throwing a little over half the time, and the cutter, a pitch that he's utilizing more frequently. The trouble is that he generates very few swinging strikes with either and gives up a ton of contact in the air (30.3% line drive, 42.1% fly) on the four-seam. And whereas he used to zip the cutter in on the hands of righties, he's now leaving it over the plate far too often.
Left-handed hitters have absolutely crushed Moore this season, slashing .371/.449/.643 with 19 extra-base hits from just 149 total batters. Righties have naturally fared a little worse, though the numbers even out a little bit in San Francisco. Pitching at home, Moore has allowed a .795 OPS to lefties and a .768 to their counterparts. He's neither a fast or slow starter, but is decidedly mediocre from the leadoff hitter through three rotations of the order.
All things considered, seeing Moore on the mound should have Cubs hitters salivating. The curve and change have given them some trouble in the past, but the breaking and offspeed stuff they'll see tonight should offer a chance to right the ship somewhat.
Here's to hoping the bats get hot early and make the 9:08 CT start time worthwhile. You'll be able to watch on WGN or ESPN, depending on your location.
Here is tonight's #Cubs starting lineup against the #SFGiants.

Game preview: https://t.co/t6MnK0cNkh pic.twitter.com/xGjhFoeshk

— Chicago Cubs (@Cubs) August 7, 2017