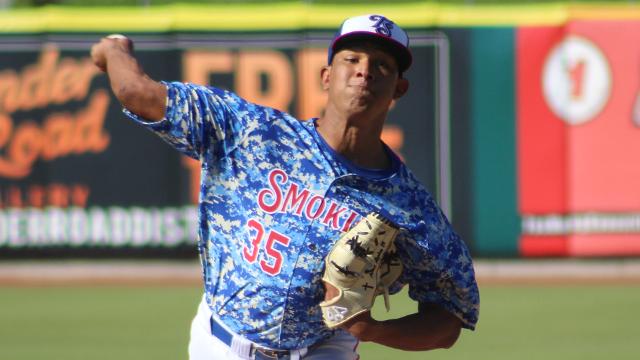 Getting to Know Fast-Rising Cubs Pitching Prospect Adbert Alzolay
What a difference a month makes, huh?
Over the course of the last month (actually just 20 days, to be exact), the Cubs organization has welcomed a few new faces to the big-league team in exchange for several top prospects from the farm system.
After losing Eloy Jimenez and Dylan Cease to the White Sox in the Jose Quintana trade, the Cubs parted ways with Jeimer Candelario and Isaac Paredes in Sunday's trade with Detroit. Needless to say, the Cubs prospect rankings now have a few new names at the top of the board, one of which that has darted up the list since the start of the season.
Adbert Alzolay is a 22-year-old, right-handed pitcher from Venezuela currently plying his trade for the Tennessee Smokies. Alzolay did not find himself named on many of the Cubs' top 10 prospect lists heading into the 2017 season. In fact, a few of those rankings did not even have him in their top 30.
However, that is not to say Alzolay has come out of nowhere. Theo Epstein discussed Alzolay as a potential breakout pitcher during a press conference back in December 2015. With the season he is currently putting together, it is safe to say that the fire-balling starter is proving Epstein correct.
After beginning the season with High-A Myrtle Beach, where he posted a 7-1 record to go along with 23.8 K% and 6.7 BB%, Alzolay was promoted to Double-A Tennessee on July 6. Since joining the Tennessee rotation, Alzolay has not missed a beat, striking out nearly a quarter of the batters he has faced while his FIP is right around 2.50.
Alzolay took some time to answer some questions for me on Twitter. He is still getting acclimated to English, so I included some of the key points he brought up during our discussion below.
• He started playing baseball when he was six years old after his grandfather brought him to a baseball field for the first time
• He is not trying to model his game after any specific player, however he noted that he enjoys watching Max Scherzer pitch
• While Alzolay loves everything about pitching, his favorite thing is striking someone out. He stated that any pitcher in baseball can throw a pitch for a strike, but good pitchers throw quality strikes where they are able to locate their pitches
• The day that he signed with the Cubs (11/28/2012) is still one of the most memorable days of his life
• He said the best part about being a member of the Chicago Cubs is that they are more than just a team. They are playing to win championships, but they are also very involved in the community.
• He describes himself as an aggressive pitcher and takes pride in his ability to work quickly and not give hitters time to think about what is coming.
• Some of his superstitions include:
-Taking a shower two hours before the game
-Always putting on his right sock first
-Wearing the same undershirt and compression shorts for each start
• His dad is his role model and has played a big part in his life. The most important lesson he learned from him is to be the same person on and off the field and to always be respectful and humble.
• His advice to young players is to work hard, follow your dreams, and be humble.
I would like to thank Adbert for taking the time to speak with me and provide such detailed responses. Best of luck the rest of this season!