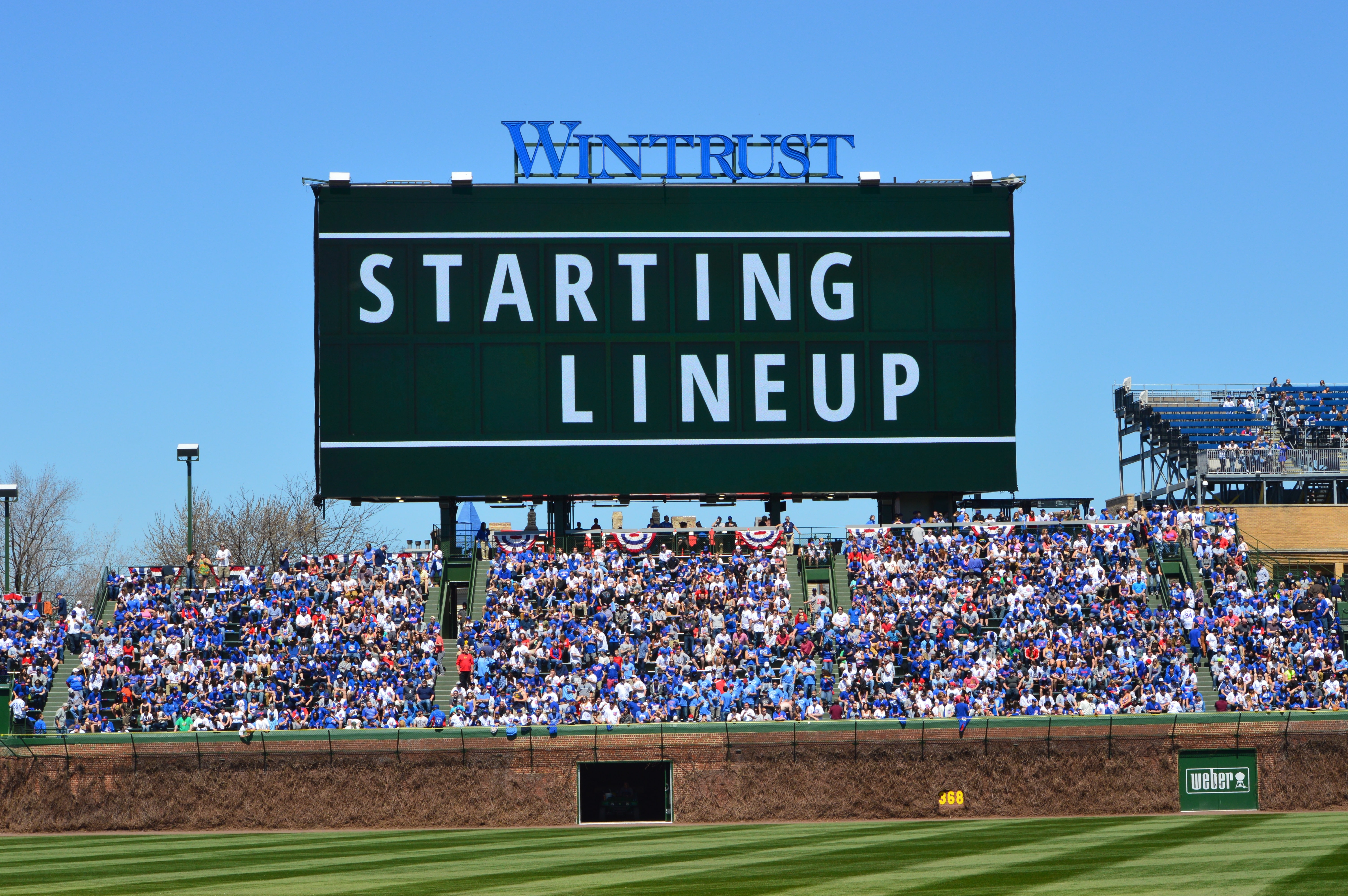 Chicago Cubs Lineup: Zo Leads Off, WillCo at 1B, Schwarber in LF as Cubs Face MadBum
Well this is certainly an interesting lineup. Ben Zobrist is back in the leadoff spot and playing right for this afternoon's game, followed by…Albert Almora Jr.? Kris Bryant is batting third and Willson Contreras is in the cleanup role and…playing first base?
Ian Happ is batting sixth and playing second, with Kyle Schwarber in left. Alex Avila is catching and batting eighth. After sitting against the first two southpaws in the series, neither of whom is nearly as tough as Madison Bumgarner, I'm pretty surprised to see Schwarber in the lineup at all. Then again, I had jokingly suggested yesterday that that's exactly why it would happen.
Kyle Hendricks has been the subject of much consternation this season, what with the decreased velocity and iffy results. His fastball has remained in the mid-80's even after coming back off the DL with tendinitis in his hand, a sign that perhaps the malady wasn't the root cause. Our Brendan Miller discovered that a higher release point could be to blame, so it's entirely possible the Cubs are aware of some potential fixes as well.
That's something to look for this afternoon as Hendricks looks to take the rubber game in San Fran. He hasn't faced these Giants hitters too often, but he's done well against Buster Posey, limiting him to a .523 OPS in 12 plate appearances. Denard Span is the only Giant who has hit a home run against Hendricks, and the overall lack of power bodes well for the Cubs starter.
Opposing Hendricks will be Bumgarner, who's making his sixth start after recovering from a shoulder injury suffered while riding a dirt bike on an off-day. MadBum struggled in his first two starts, allowing a pair of home runs in each, but has gotten back to his old ways of late. He's given up only three earned runs over the last 19 innings and is looking once more like a perennial Cy Young contender.
One interesting note is that Bumgarner has been better against righties this season, a change from his normal splits. Part of that is owing to the fact that he's faced only 46 lefty batters against 196 righties. His pitch mix is relatively similar to years passed, though he does appear to be throwing more changeups and fewer sliders this season.
Cubs hitters haven't really been able to do much against the burly lefty, though Jon Jay (who's out today after seemingly establishing himself as the regular leadoff hitter) has posted an .841 OPS in 23 plate appearances. And Ben Zobrist has a 1.288 OPS in 13 plate appearances. Nothing upon which to base any conclusions, but it's at least worth noting.
First pitch is set for 2:45 CT and will be carried by CSN Chicago.
Here is today's #Cubs starting lineup.

Game preview: https://t.co/qIhl0px9EW pic.twitter.com/LPlvQjPG0R

— Chicago Cubs (@Cubs) August 9, 2017