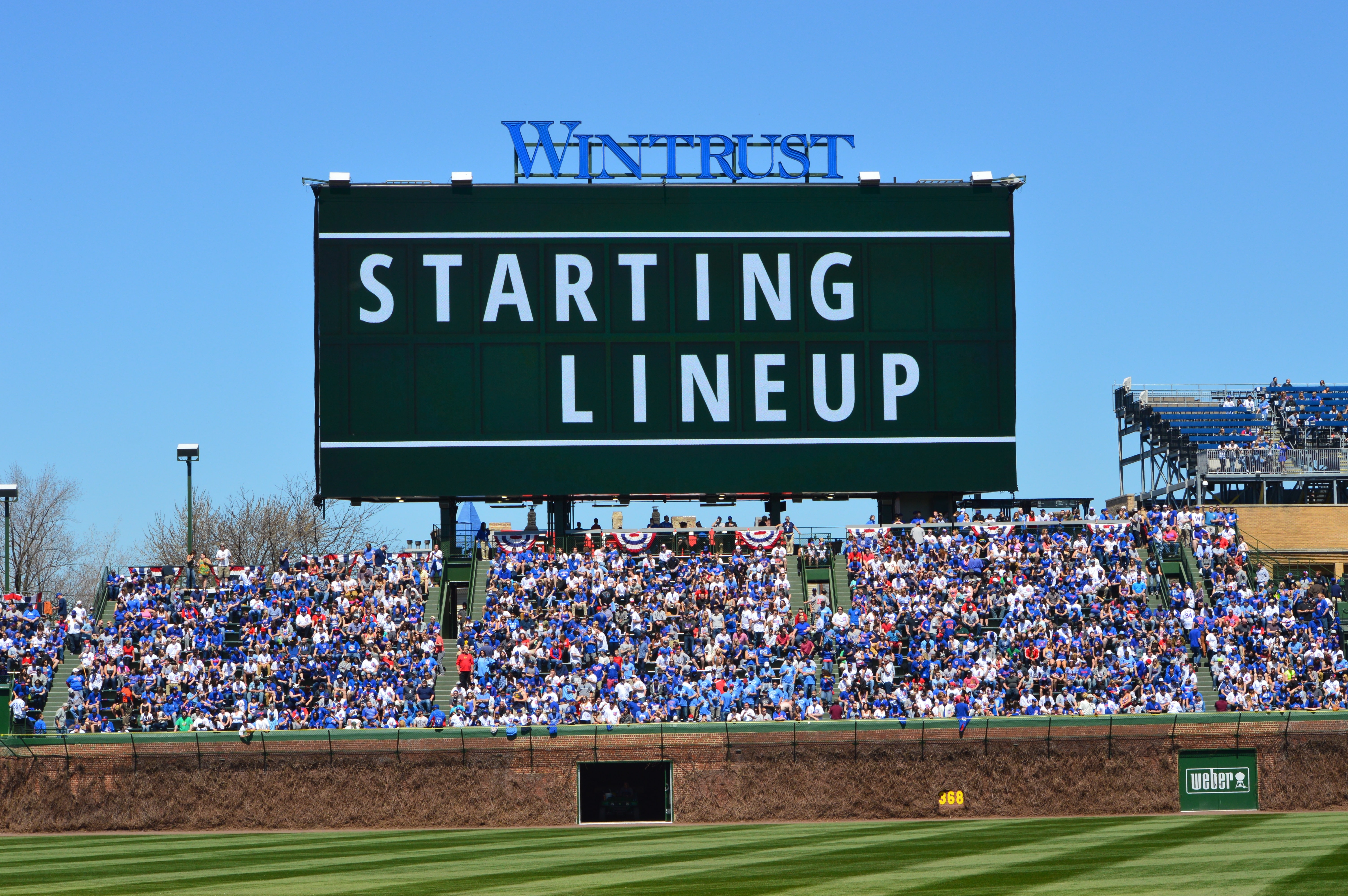 Chicago Cubs Lineup: Almora Leads Off, Zobrist Batting Cleanup and Playing Right, Heyward Sits
Albert Almora Jr. leads the way for the Cubs Saturday evening in Arizona. Almora started the scoring the last time the Cubs faced Patrick Corbin with a two-run single in the first inning. He is currently slashing .346/.430/.543 against LHP, and could provide a nice spark from the leadoff spot for Joe Maddon's offense.
Friday night's home run hitters will both stay in the lineup, with Alex Avila catching and hitting eighth and Kyle Schwarber playing in left and hitting sixth. Jason Heyward sits this evening with birthday boy Ian Happ, who homered off Corbin at Wrigley in their last meeting, patrolling second base and hitting fifth. Ben Zobrist is out in left tonight and batting cleanup.
This pitching duel is a rematch from earlier in the month, when Jon Lester had a monumental game but couldn't manage to get credit for the win. As you no doubt recall, the veteran starter notched his 2,000th strikeout and hit the first home run of his career. The rest of the offense had Lester's back, roughing up Patrick Corbin for 7 earned runs, including a trio of homers, in just three innings.
Assuming you're already pretty familiar with the Cubs half of the matchup, here's how we previewed the D-backs southpaw prior to that game (which was less than two weeks ago and still holds true):
Three of those pitches are less than stellar, but the slider has really been a weapon for Corbin. He uses it as his out pitch and it's generated 73 of his 112 strikeouts (65.2%) on the season. What's more, it has only been responsible for four ball fours. I'm not very smart when it comes to all these cybermetrics [sic], but I think an 18.25 K/BB ratio is pretty solid. Corbin's fastballs, on the other hand, have only a 1.21 K/BB ratio.
In short, Cubs hitters need to avoid letting this guy get into two-strike counts. As we saw with Carlos Rodon a short while back, Corbin will put that slide-piece on a righty's back foot, which means burying it down and away to lefties. When he's able to hit his spots just at the lower edge of the zone, lefty hitters have a 41 percent whiff rate against the pitch. Righties aren't much better, whiffing at a 34.7 percent clip on sliders that stay down and in.
Again, the Cubs are going to have to exercise more discipline that they've shown lately, even if they have won both recent games in which they've struck out 17 times. While you might think that means being patient with Corbin, I think the key tonight will be staying aggressive early in counts. While the D-backs starter is in the zone with only 44.6 percent of his pitches, he throws first-pitch strikes to 65.3 percent of the batters he faces.
What's more, the heat map of Corbin's four-seam and slider location is lit up across the heart of the zone like a Christmas tree.
It's tempting to look at the Cubs' offensive outburst in that earlier game and think that they're destined to be much less explosive this time around. Corbin has been much better at home, holding hitters to a .735 OPS (.991 on road), that includes a mere .603 OPS from lefties facing him in Phoenix. And he's only given up one homer to a left-handed batter at Chase Field, which is one less than he allowed to Cubs lefties on August 1 at Wrigley.
I've got a feeling, however, that Cubs hitters will have Corbin's number yet again.The splits are too extreme and he's only faced 57 lefty batters at home, so the sample isn't really solid enough. Then again, it's not really the lefties he'll have to worry about tonight.
We'll find out whether I'm right at 7:10pm CT in a game that you can catch on WGN or whatever local affiliate picks up the broadcast. MLB Network will carry it to homes beyond the Cubs' blackout region.
Here is tonight's #Cubs starting lineup.

Game preview: https://t.co/tKwmSMQ1Av pic.twitter.com/CsiZw0OZNp

— Chicago Cubs (@Cubs) August 12, 2017