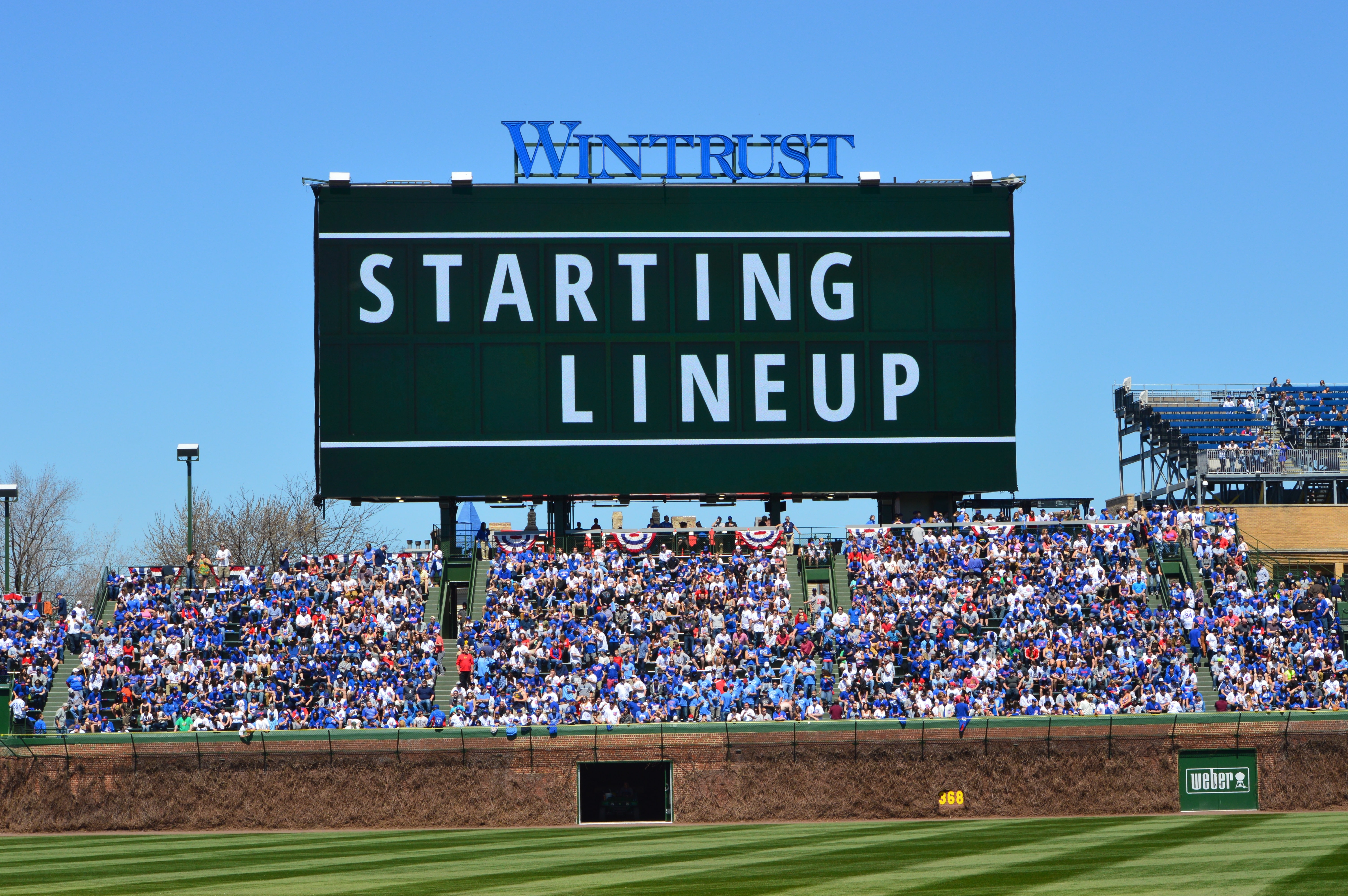 Chicago Cubs Lineup: Jay Leads Off, La Stella Second, Caratini Catching in Rubber Match
Jon Jay resumes his familiar role at the top of the order while Tommy La Stella bats and plays second, with Kris Bryant batting and playing third and Anthony Rizzo dropping back to the cleanup spot. Back from Iowa after Willson Contreras went to the DL with a hamstring injury, Vic Caratini starts at catcher and bats fifth.
Kyle Schwarber hit sixth, Jason Heyward bats seventh, and Javy Baez round out the bottom of the order. War Bear homered Friday in his return to site of his season-ending knee injury last year, but the odds are against a repeat performance (more on that below).
This is the second straight repeat pitching matchup from these teams' earlier series back at Wrigley. Jake Arrieta was fantastic in that tilt a couple weeks ago, allowing only one earned run over seven innings, but was saddled with the loss when his offense failed to score at all.
Arrieta has been throwing the ol' horsehide up to the plate with excellent results lately and he's done it with varying strategies. For a while there, he was leaning on the sinker at an unsustainably high rate, almost as though he was starting from scratch in an effort to get his mechanics right. In that last game against the Diamondbacks, however, Arrieta threw fewer fastballs and more cutters and curves than in his four previous starts.
That trend continued against the the Giants, when the former Cy Young winner once again decreased the sinker usage while throwing more cutters than he had since his May 14 start against the Rally Cats. Keep an eye on how early and often Arrieta goes to his secondaries, as well as whether he's able to command them. Avoiding walks has been key to his improved performance over the last month-plus, and he'll need to keep the bases clear against a hard-hitting opponent.
Arrieta's counterpart once again is former Cubs farmhand Zack Godley, who stifled his former team over six innings. Here's our look at the 27-year-old righty from the preview of that first game:
Godley is a big-time ground-ball guy, generating worm-burners at a 57.5 percent rate with a sinker/curve/cutter/change repertoire. That grounder percentage is the seventh highest in baseball among pitchers with at least 80 IP this season, and it's got an interesting statistical counterpart. Godley allows opposite-field contact at a mere 19.1 percent rate, seventh lowest in baseball.
He gets those numbers by pounding the ball down, down, down. The sinker generally works over the plate, but those ancillaries all hammer down and away to righties and in to lefties. The latter group has managed only a .641 OPS against Godley, though that's 103 points higher than their right-handed counterparts have mustered thus far on the season. The curve has been particularly nasty, limiting opposing hitters to a .417 OPS.
And he'll roll the yakker up there nearly as often as the fastball, disguising it well by utilizing a similar arm slot for both. Well, he's trying to do that with all of his pitches, but the curve is easily the most dangerous. Adding to the deception is the speed, since Godley throws the curve with an average velo of nearly 84 mph, significantly harder than the MLB average of 78.6 mph. That's just part of it, though.
"My curveball isn't like a lot of people's," Godley told AZ Central's Nick Piecoro. "Usually if it's a good curveball, I don't really have a hump in it at all; it's usually kind of flat and it goes straight down. That's when I know it's going well."
That will be a challenge for a Cubs team that hasn't necessarily fared well against breaking stuff, particularly lately. They'll need to be wary of the curve and might need to hope Godley doesn't have the feel for it. Either way, we're probably in for a slow start tonight. Godley allows only a .468 OPS and .208 wOBA the first time through the order. Those jump to .808 and .344 the second time through, though, so he can be gotten to.
Interestingly enough, Godley achieved great results despite not staying true to his normal MO. He allowed more line drives and flies than usual, and not by a small margin. The Cubs also tagged him for far more hard contact than he generally gives up. Furthermore, Godley's 4.40 SIERA (a pitching measure you can read like ERA or FIP) and xFIP were among the highest he's posted this season.
But that start took place on the road, where Godley hasn't been as effective as he's been at home. Opponents have an aggregate .567 OPS against him at Chase Field, including a .526 from lefties (151 points lower than he allows to them on the road). If the Cubs are going to get to him, they're going to have to generate some elevation on batted balls this afternoon. Either that or get a little luck from the BABIP gods and have some of those grounders find holes.
First pitch is 3:10 CT from Phoenix and can be seen on ABC-7.
Here is today's #Cubs lineup for the finale in AZ.

Game preview: https://t.co/rJVmu3uCOE pic.twitter.com/mobuvQDIJ9

— Chicago Cubs (@Cubs) August 13, 2017