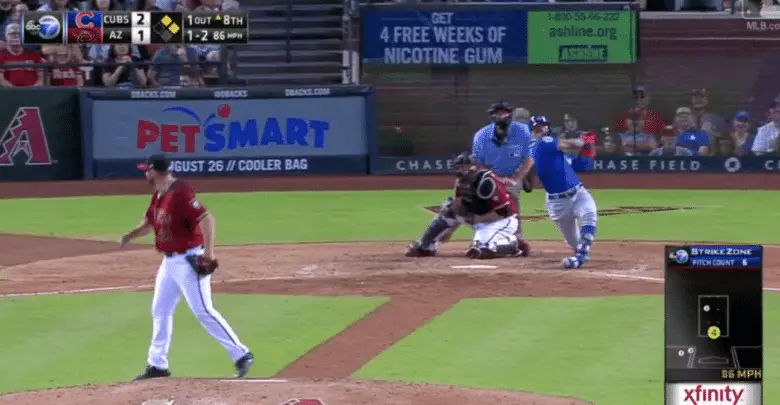 Watch: Javy Baez Breaks Game Open with Monster Shot
With the Cubs hanging onto a precarious 2-1 lead in the 8th, the Diamondbacks chose to walk Jason Heyward in order to face Javy Baez. Reliever Jake Barrett has actually been a little better against lefties in his limited MLB tenure, but Baez was clearly in swing mode during his previous at-bat. He looked to be engaged in more of the same as Barrett went slider, slider, slider to gain a 1-2 advantage.
Common sense would tell you the stout righty should have gone back to the well again with a sweeping breaking pitch that could have hit the left-handed batter's box and gotten a strikeout. Instead, he went with a splitter, aptly named because that's what it did to the plate. Rather than take a nosedive, the pitch stayed high enough for Baez, who was not shortening up his swing with two strikes, to club 463 feet.
And now, for his next trick, the great El Mago will make a baseball disappear…
Javy Bye-ez. pic.twitter.com/HzFTfOmiVk

— MLB (@MLB) August 13, 2017