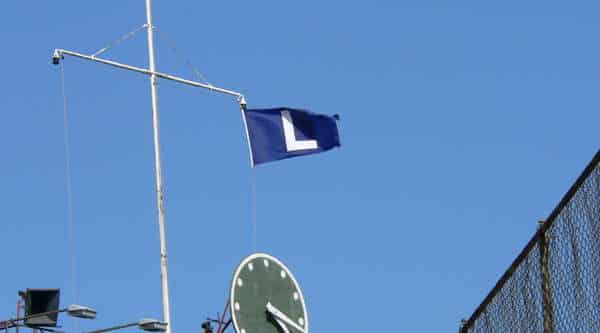 CI Recap (8/17/17) – Reds 13, Cubs 10: The Airshow's in Town
The Cubs looked like they were going to get blown out early, then a frantic comeback electrified Wrigley. Once again, however, the beleaguered Chicago bullpen made it a tough loss instead.
The Reds jumped all over Jon Lester in the 2nd inning. Adam Duvall punched a single to right and Eugenio Suarez blooped a ball over Javy Baez's head. Scooter Gennett hit a weak single to center to score one and a Phillip Ervin broken-bat flare scored another.
Lester then retired two straight before walking Billy Hamilton to load the bases. Jose Peraza dropped another lob-wedge single in front of Jon Jay to score two more. Joey Votto finally made hard contact with a three-run opposite field home run.
Duvall then reached on an error and scored when Suarez doubled to center. It was at this point that Lester signaled for the trainer and left the game with what is being called a tight left lat (but that could be a bruised ego too). Mike Montgomery entered and walked Gennett before allowing a double to Ervin. Suarez scored, but Kyle Schwarber threw to Baez who got Grown Man Named Scooter at the plate, mercifully ending the inning.
A 9-0 Reds lead seemed insurmountable, but the wind was howling straight out so the Cubs had a shred of hope. Ian Happ took Scott Feldman deep in the bottom of the inning to make it a 9-1 game.
Things really got interesting in the bottom of the 4th, when Kris Bryant hit a solo shot to open the frame. Anthony Rizzo doubled and scored when Alex Avila poked a two-run homer into the basket in left. Happ made it back-to-back with an absolute bomb to dead center. Baez decided to make it three in a row with a blast to left, (the last time Chicago hit three straight was 2003).
The Cubs went right after that 9-6 deficit in the bottom of the 5th against reliever Michael Lorenzen. Schwarber hit yet another dinger to left field to cut the lead to two. Bryant singled and scored on a Rizzo double and then Avila doubled to score Riz and tie the game at 9-9.
Montgomery totally shut down the Reds over his 4.1 innings of work. With the score tied, Joe Maddon, for reasons unclear, went with Justin Grimm in the 7th. Suarez walked and Grimm allowed a long two-run shot to left from Ervin that gave Cincinnati an 11-9 lead.
After a line-drive double play ended the Cubs 6th, they were able to score in the 7th. Ben Zobrist hit a fly to the wall in right and Ervin settled under it, but then missed it for a triple. Happ hit a sacrifice fly to left to cut the lead to 11-10.
Justin Wilson got the 8th and went full Wild Thing Ricky Vaughn, walking two on eight pitches. Brian Duensing took over for Wilson and got a fly out, but Peraza tagged from second to move to third. Gennett hit a hard grounder that Baez made an incredible stop on, but came up just short of a miraculous double play, allowing a run to score.
Hector Rondon walked two men in the top of 9th, an infield hit deflected off Happ's glove at second, and Ervin came all the way around from second and scored. Raisel Iglesias entered in the 9th and saved the 13-10 Cincinnati win.
Stats That Matter
Mike Montgomery allowed the Cubs to get back into the game: 4.1 IP, 0 R, 3 H, 4 K, and 1 BB. Unfortunately the rest of the pen continued to struggle mightily.
Suddenly Kyle Schwarber is red hot, picking up three more hits including a homer to push his average above .200. If he can go on a tear it dramatically improves the Northsiders' offense.
Ian Happ had quite a day on Thursday: a sac fly and two bombs is a very good sign. After his terrible slump to start the second half he could be coming on too.
Bottom Line
It would have been nice if the Cubs had come back and won this game, but the Reds offense was too much. The biggest issue is the health of Jon Lester. Despite his rough outing today, missing him for a significant time would be a huge blow.
On Deck
The Toronto Blue Jays come from the great white north to face the Cubs for three. Friday's 1:20 CT start pits Jake Arrieta against JA Happ; it's broadcast on MLB Network (out of market) and CSN Chicago.