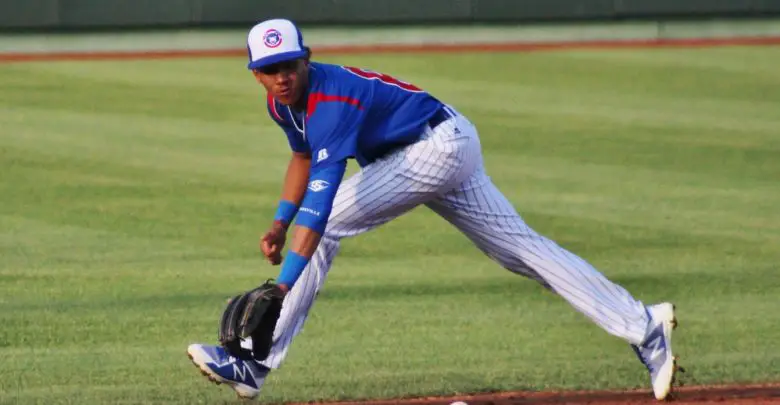 If Cubs Prospects Were Stocks, Who Would Be Worthy of Your Investment?
Baseball America recently released its new top 100 list to include 2017 draft picks, but there were no Cubs prospects to be seen. There were three former Cubs, sure, but no one who is currently in the system. Over the next year, though, I tend to believe one or two Cubs prospects might make it onto either MLB.com's or Baseball America's Top 100. If I wanted to put money on a few of them in particular, I would have a wide array of choices in which to invest.
There are long-term investments like recent high school picks Luis Vazquez and Nelson Velasquez, not to mention several young international free agents who are currently in the Dominican Summer League or in Mesa. It's going to take a while for them to approach Top 100 status.
Then you've got those mid-range players who could take a couple years to develop before they hit the top 100. Miguel Amaya's defensive attributes garner attention but the bat still lags behind a little bit. 2017 first-round pick Brendon Little is a perfect example of someone who is going to take a couple years to develop and a lot of that is because of his age and lack of experience. Then again, his curveball could accelerate his development.
And despite the persistent talk that followed the big trades this summer, there are some very talented players who could quickly rise through the ranks to establish themselves as big names.
What follows is not a look at my full portfolio, but I've got a brief prospectus to give you an idea of where I'm putting my money.
Jose Albertos – Currently at short season Eugene, I believe the 18-year-old pitcher is the top prospect in the Cubs' system. He should be a top 100 prospect by the middle of next year if he continues to pile up innings and gain experience. He's setting a nice foundation this year, but next year will really propel him. If things go well the last two weeks, he could make a list this winter.
Alex Lange – I really like what he brings to the table and I think once he gets going as a full-time pitcher next year, he is going to shoot up the rankings. Even though he was drafted behind Little, Lange's experience in the SEC will move him along at a much faster rate. I would not be surprised to see him on a list before anybody else.
Adbert Alzolay – I am extremely impressed that he has been able to maintain his velocity and health over the course of this year as a starter. He doesn't have the biggest frame, which makes his ability to sustain a 96/97 mph fastball into the 6th and 7th innings that much more impressive.
Duane Underwood – Something is happening for the 23-year-old right-hander. I don't know what it is specifically, but I do know that he is able to command his pitches better, get more strikeouts, and work deep into games. Over the past month he has a 1.33 ERA in five starts. If he can do that at the beginning of next year for AAA Iowa, he may find himself in Chicago by the middle of the summer.
Aramis Ademan – He has the most tools of any position player currently in the system, but has yet to put everything together. We have seen brief glimpses of greatness as well as stretches of inconsistency. His bat is further along at this point then many people thought it would be and his defense has not peaked.
Mark Zagunis – Right now, I don't think there's a better pure hitter with a better eye at the plate in the organization than Zagunis. He's close to a 20 home run pace this year in spite of starting the year at less than full health. I don't really know if he fits the mold of a top prospect, but his exceptional plate approach elevates him high above many others. The problem is not his floor, it's his ceiling, so he's kind of like a money market account.
Kevonte Mitchell – We have seen glimpses of the super-athletic Mitchell busting out this season. Of the five months that make up the 2017 season, he's had one good one, two mediocre ones, and two excellent ones. He's been very impressive in the second half, especially in August, and he could take the Carolina League by storm next year. Physically gifted, he is as imposing a figure as anyone in the Cubs system. It's just a matter of him continuing to display better pitch recognition and approach.
Oscar de la Cruz – Injuries have put his career in slow motion. It was forearm tightness last year and a shoulder strain this season. But when healthy, he throws 93-95 with ease and can command a curve and a change along with his fastball. For him to make any list, he has to get healthy and put in some innings.
As always, I should warn you that past performance is no guarantee of future results and that there is risk with any prospect. The Cubs have made a decided shift in their asset allocation over the last year or so, going pitcher-heavy as they promoted and traded the top position players in the system. That's going to be an interesting trend to monitor, particularly as the needs of the big club shift accordingly with all the big bats set for years to come.
Where would you be putting your money if given the opportunity to invest in the Cubs farm?