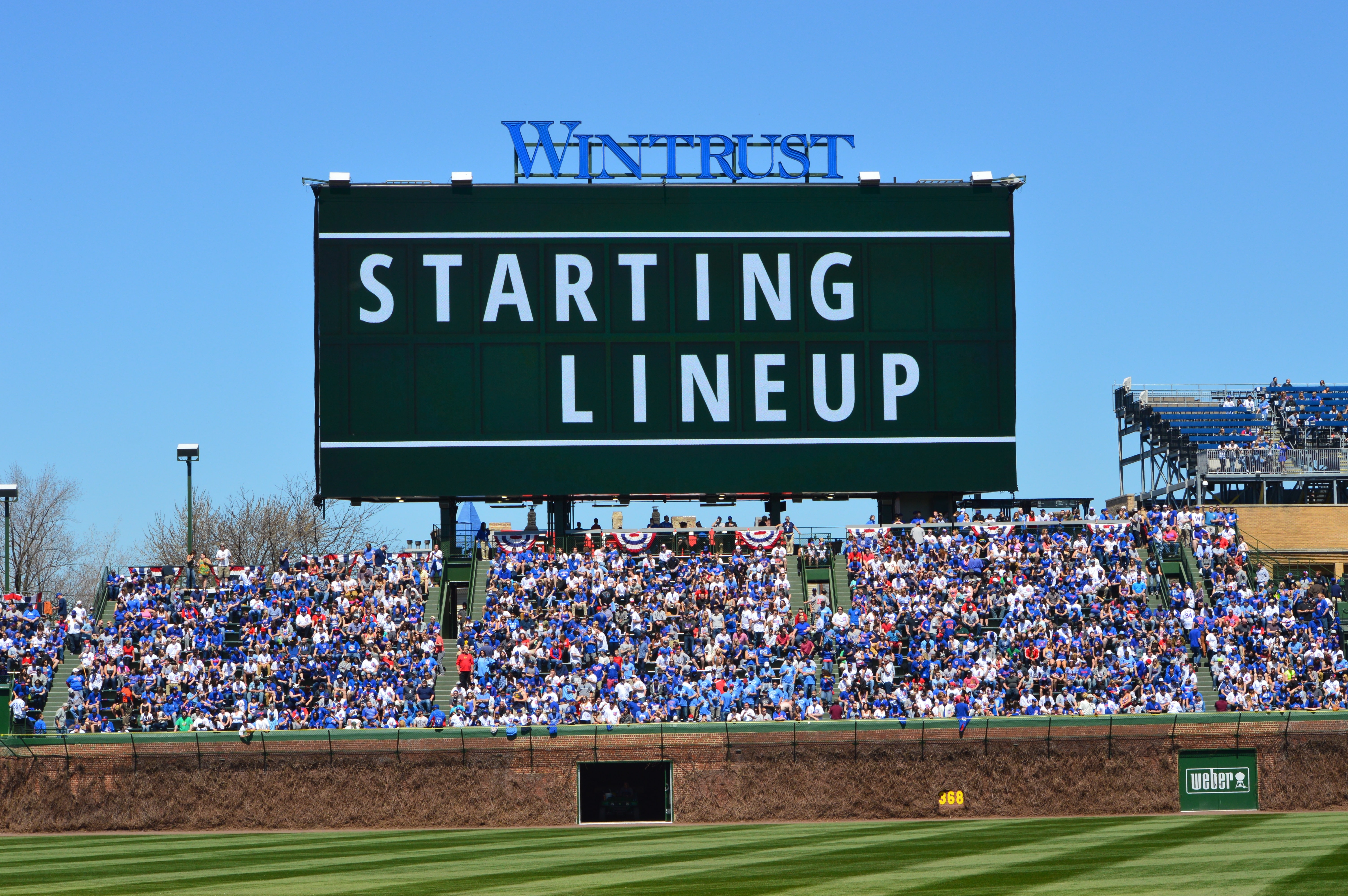 Chicago Cubs Lineup: Almora Leads Off, Zobrist Cleans Up as Happs Battle for Supremacy
Noted southpaw slayer Albert Almora Jr. is batting at the top of the Cubs lineup this afternoon and will be looking to boost his .940 OPS against lefties. Interestingly enough, however, Almora's damage has mostly been done on the road, where he boasts a 1.073 OPS. When batting at Wrigley, he's got a .736 OPS against left-handers and a .915 against right-handers.
Kris Bryant moves back up to the second spot, with Anthony Rizzo batting third and Ben Zobrist batting fourth and playing left. Ian Happ will be vying for surname superiority as he bats fifth and plays second, with Vic Caratini catching and giving the Cubs three consecutive switch-hitters. Jason Heyward mans right with Javy Baez once again at short.
Jake Arrieta has been nails over his last six starts, allowing two or fewer earned runs in each and limiting walks for the most part. That's perhaps an illusory stat, as he's twice walked three batters in that stretch, though it's a good sign that he's doing it while using his secondary pitches more often. He has gotten into trouble at times when he misses the zone with breaking stuff and is forced to throw strikes.
Also important to Arrieta's recent run has been the ability to limit the longball. He's given up only seven homers in his last 77.1 IP (0.81 HR/9), including only two dingers in his last five home starts (29 innings, 0.62 HR/9). After yesterday's debacle, it'd be nice if he could maybe continue that trend.
J.A. Happ is a big-time fastball pitcher and he'll use a four-seam/sinker combo for over 70 percent of his pitches, offsetting them with a hard change, slider, and curve. None of them are exceptional, but the big lefty does get a lot of swings and misses with the fastball (11.2 percent SwStr). He also gives up a lot of fly-ball contact on that offering, though the 10.7 percent HR/FB rate is much lower than his overall 15.2 percent rate.
Happ will work the four-seam away to hitters on both sides, but the sinker has a little arm-side run and will generally stay on the same side of the plate. The change — which averages over 86 mph — will stay down and away to righties and generates a ton of grounders. The slider is going to hit the opposite corner, but doesn't miss many bats. As such, it's much more a change-of-pace offering than a wipeout pitch.
The former Phillie has made only 17 starts after missing about half of April and nearly all of May with elbow inflammation, but he's been really solid all season long. One thing to look for today is his control, which has been spotty over his last seven starts. Happ has walked 20 in 39.2 innings (4.54 BB/9) over that stretch, leading to a 4.80 FIP that's nearly a full run higher than his corresponding ERA.
On the flip side, he hasn't given up a home run over his last four starts (24.2 IP) and has been getting a lot of medium-ish contact on the ground. The splits reveal that he's been much harder on lefties this season, though the sample is really small. Does the AL East just not have any lefty batters or what? Happ has only faced 68 lefty hitter vs. 351 righties, which strikes me as odd.
The road splits aren't very encouraging for the Cubs, as Happ has held righties to a .228/.282/.393 slash when pitching outside of Toronto. And he's been remarkably consistent even after turning over the order, so he's not really a guy you can wait out or wear down easily.
This has the feel of a very frustrating game for the Cubs, particularly after yesterday's power surge was eventually blacked out. I hope I'm wrong, even though I pretty much never am (that's sarcasm, folks), and that we see the Cubs beat up the blue birds to keep the Redbirds at arm's length.
First pitch is 1:20 CT and can be seen on CSN Chicago.
Here is today's #Cubs starting lineup vs. the #BlueJays.

Game preview: https://t.co/OFPTA3hhQU pic.twitter.com/K6CJT94XDC

— Chicago Cubs (@Cubs) August 18, 2017